Advertisement
How to find the best estate agent
Choosing an estate agent is important – but how do you separate the good agents from the bad? Our expert guide will help you find the best estate agent.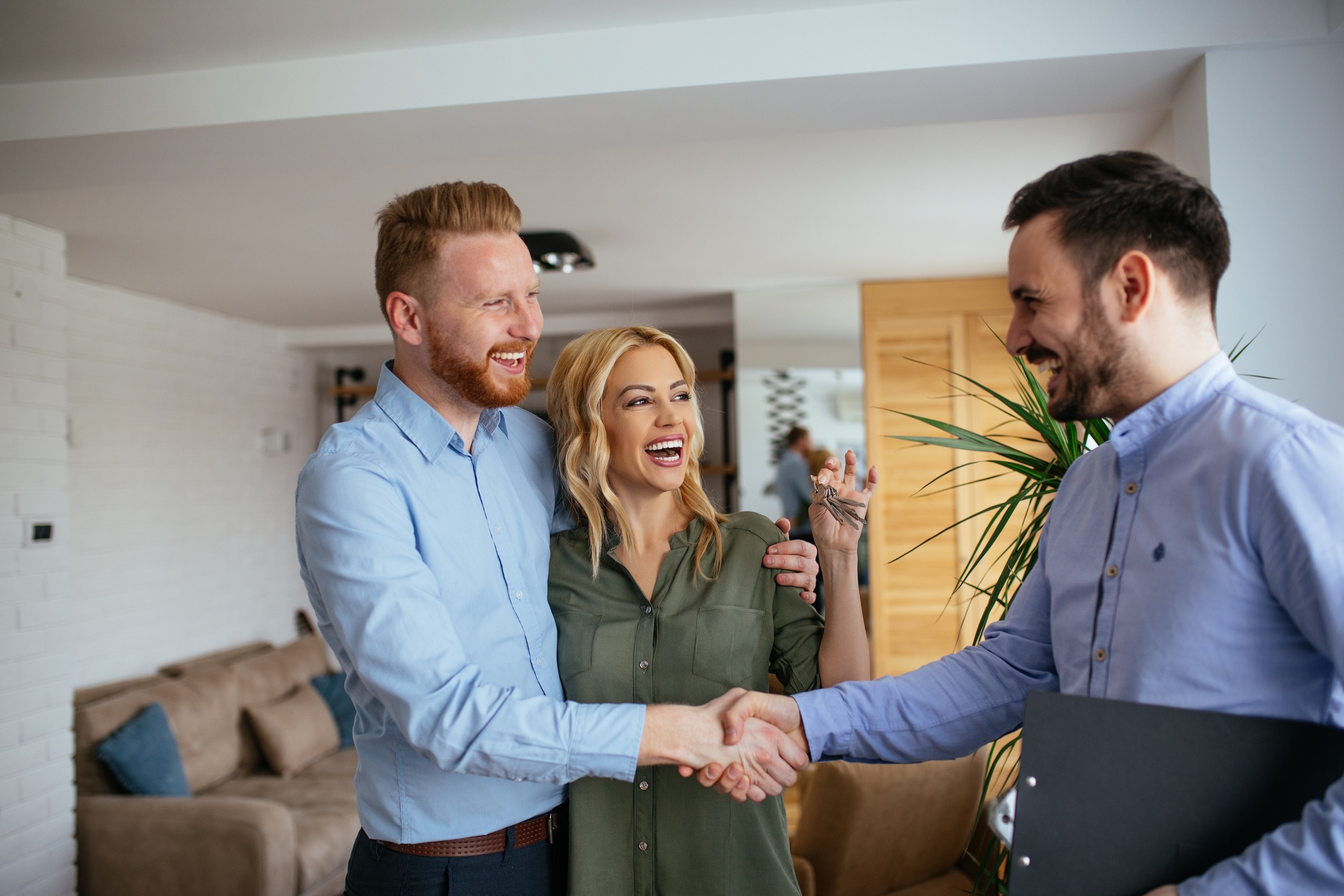 Remember: the agent works for you
When you sell property, it's vital that you find the best estate agent for you. It's wise to keep in mind that high street estate agents work for commission, which means that you're in a strong position – if they don't sell your property, they don't get paid. That's why shopping around for the best estate agent to sell your house is so important.
Choosing sole or multiple estate agents
The first decision you have to make is how many estate agents you should use. Home sellers usually select just one estate agent. This can be simpler to manage and is usually cheaper as agents will charge more for multiple agency arrangements. Using one estate agent also avoids the risk of the seller paying double commission (see possible traps below).
Select a shortlist of estate agents
When it comes to choosing the best estate agent to sell your house, it helps if you can shortlist your options to three. Use the list below to help you draw up a shortlist, then invite the handful of estate agents round to do a valuation. In drawing up a shortlist you should:
Ask family, friends and neighbours – it's always good to have a personal recommendation
Compare local estate agents based on the facts: how quickly they sell property, how close they come to achieving the asking price and how successful they are. Our free, impartial EstateAgent4Me tool helps you find the best estate agents in your area.
Make sure the estate agent has experience of selling property like yours.
Look at the properties that the agent sells on Zoopla and Rightmove. Are the pictures well taken, and the descriptions clear and relevant?
Do not feel pressured to hire the estate agent you bought your house from. Obviously, if you were impressed by how they sold your house to you, you might decide to go with them again, in which case, add them to your shortlist.
What is their viewing policy? Check they will accompany potential buyers when you are out, or all the time if you want them to take the lead.
Find out about their standard terms & conditions, particularly their standard commission rate and typical tie in period
Check the performance of your estate agent
Invite your shortlisted estate agents to your home to discuss their offer and conduct a valuation. This is a good opportunity for you to ask them some further questions to help find the best estate agent to sell your home, such as:
How quickly do they sell homes? What's their track record with achieving the asking price?
What is their reasoning behind the value they're proposing to market your property at?
Are they members of an accredited independent ombudsman service? They must be either a member of the Property Ombudsman or the Property Redress Scheme
Will details of your property be shared with their colleagues? It's good if more than one person in the office can talk enthusiastically and with knowledge about your property
What would they do if your property was not selling as quickly or at the price you expected?
Are they open at weekends? A surprising number of agents only work during the week, and perhaps do half day on Saturday, which means they are less accessible to potential buyers
Find and compare local estate agents with our free tool: compare fees, success rate, speed of sale and track-record achieving asking price
Find an Estate Agent
in your local area and review how successful they are at selling homes
Find an Estate Agent
Video: top tips to finding the best estate agent
See our video with our top tips for finding the best estate agent for you.
Beware of estate agent valuations
Estate agents know that one of the main reasons people pick them is the valuation they give. They take two general approaches:
Some estate agents give deliberately optimistic valuations, to win your business and make you think you can get a higher price with them, only to reduce the price a few weeks later following a lack of viewings.
Other estate agents insist they are giving a realistic price, and tell you not to be fooled by falsely high valuations
You will need to try to establish the best price that meets your objectives. The agent should come armed with evidence of local sold prices to support their valuation.
Check how often the agent achieves their recommended asking price using our free estateagent4me tool which shows agent performance using actual sales data.
It can also be helpful to use something like our free instant home valuation tool or checking sold prices on Land Registry for a rough guide to what your home should be worth.
It's always advisable to take the advice of the estate agent, but ultimately it's worth noting that it is you and not the agent who decides what price to put the property on at.
How much do estate agents cost?
In terms of fees, overwhelmingly, estate agents charge a percentage fee, which can be anywhere between 0.75% and 3.0%+VAT of the agreed selling price for  your home depending on the type of contract you opt for with your estate agent. See How many estate agents should I use?
You should negotiate with the estate agent on the fee and aim to get a fee that is 1.2% incl VAT on the agreed sale price for a sole agency contract.  The average estate agent fee including VAT is 1.42% (according to research by the Advisory).
For higher value properties – such as over £500,000 – agents are often prepared to accept even lower fees, and perhaps go below 1.2%.
Fees should be advertised inclusive of VAT. But check with your estate agent.
You may be able to get your shortlisted agents to compete on cost, but make sure you understand all about estate agents fees before you make a decision.
Find and compare local estate agents: check typical fees, success rate & asking price achieved
Property marketing strategy
In choosing the best estate agent, it's important to establish how they plan to market your property. You need to understand what their plans are, and be comfortable with their approach. You should ask them:
Which portals are they are using? You want your home listed on the big property portals namely Zoopla, Rightmove and OnTheMarket. You could also look at alternatives like Boomin.
Will they use premium listings on Rightmove or any other features (e.g. virtual video tours) to showcase your home? And will this come at an additional charge to you?
Will they advertise your property in local newspapers? Which ones? If you are selling a more expensive property, will it feature in any national newspapers or magazines?
Will your property feature in their window? For how long?
Traps to watch out for in the estate agent contract
When you hire an estate agent, you will be bound by their terms and conditions, so it's important to understand what to watch out for with estate agents' contracts. Some of the biggest things to be careful of include:
Will you have to pay extra for marketing and other costs, such as taking professional photos and putting up For Sale boards? These basics should be included in the commission fee
Do they insist on "sole selling rights"? If so, it means that even if you find a buyer yourself, you still have to pay the agent their fee. If you do give away sole selling rights to an agent, it must only be for a very limited period.
Are you paying commission when they sell the property, or if they find a "ready, willing and able purchaser"? The latter would mean you still have to pay the agent a fee even if the sale falls through because you have had to pull out – such as if you lost your job. You should only use an agent who expects a fee as a result of exchange of contracts.
Does the agreement have a time limit? This allows you to change agent if you are not happy. A normal period is 12 weeks, but can be as little as four. Agents might not like it, but try to get a no-penalties notice period of two weeks.
What about online estate agents?
Online estate agents are much cheaper than conventional high street estate agents. But usually you pay this cheaper fixed fee upfront rather than on a no sale no fee basis and they vary in terms of what packages and prices they offer. Fees for online estate agents can be less than £100.  And fuller service offerings that include traditional estate agent services like sales negotiation and progression start at about £1000.  Use our estate agent fee calculator to see how commission compares with fixed fees from online estate agents. Online agents often have online tools to track viewings, viewing feedback and offers.  Most online agents charge extra for accompanied viewings.
Compare online estate agent packages – fees, packages, ratings
Choosing the best estate agent to sell your house
In summary: