How to sell your house at auction
Let buyers fight it out at auction and hopefully they'll drive up the price of your property - but you need to know what you're doing and how to make sure the auctioneer doesn't take advantage.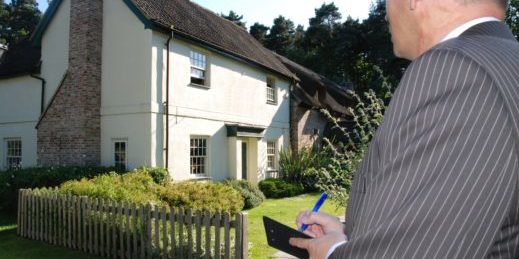 Why sell at auction?
If you're looking for a speedy sale and certainty that a buyer won't bail on you then auctions are a good way to go. Once the hammer falls the buyer has to put down a 10% deposit, then they have a month to give you the remaining 90%.
Demand from multiple buyers can help quickly drive up the price, especially when they're all in the room together desperate not to miss out on the chance to own your property.
If you have an unusual or run down property you may find it hard to advertise to conventional buyers but auctions are often attended by expert buyers or people looking for a project who will know enough about the market to understand the value of your property.
If you need to sell up quickly – perhaps you're moving out of the area or you need the money urgently – then an auction may also be for you. As long as there is enough interest and you've set a realistic price your property should be sold by the end of the auction.
How much does selling at auction cost?
You should expect to pay your auctioneer around 2.5% of the price you get for the property and you also need to find out if there will be advertising costs.
You will also need to pay a solicitor to help with the legal side prior to the auction and on the day. Solicitors fees vary so shop around for a good price and service.
How do I choose an auction house?
Look at their promotional material for other houses – do you trust these people to show your property in its best light?
An established auction house might be more expensive but it is also more likely to know how to market your property to the maximum number of potential buyers.
You might find though that a less well known company is more accommodating and cheaper, so you'll need to shop around and weigh up the pros and cons.
Should I accept offers in advance of the auction?
If you've decided to sell with an auctioneer and you've paid the necessary fees why would you then sell it before it even goes to auction?
When a buyer tries to persuade you to sell before going to auction you know they're keen so why not let them fight it out with all the other potential buyers – if they're that keen they'll be happy to pay what it's really worth.
And now you know what one buyer is willing to pay you can use that knowledge to set your reserve price (see below).
There's also the worry that the buyer knows something you don't, so putting the property up for auction might give you a more realistic idea of what people are willing to pay.
Don't let anyone pressurise you into going to auction
The sale is binding from the moment the hammer falls and you will sign and exchange contracts there and then. So there is no time for second thoughts or cold feet – if you think an agent is pressurising you, then step back and speak to your solicitor.
How do I set the reserve price?
Your reserve is the lowest price you will accept – this is kept private between you and the auctioneer. If all the offers are lower the auctioneer will withdraw the property from the auction.
If someone offers your reserve price or above the auctioneer will drop the hammer and you won't be able to back out, so think it through. See our guide what price should I sell my house for?
If your house has been on the market already and you haven't had any offers for the price you wanted, maybe you're being unrealistic and you need to lower your expectations before going to auction.
Don't worry if you realise you've set your reserve a bit too high, you can still negotiate with a buyer after the auction.
How do I set the guide price?
Your auctioneer will help you with this – it's the price that the public is allowed to know and you can use it to lure buyers in. It's just an idea of what the house is worth, so even if you put it lower than the reserve you won't have to accept it.
What else should I do before auction?
The auction house should be doing their best to market your property but never trust your agents to do all the work for you. If the right kind of buyers aren't in the room on the day you could lose out.
It's in your interest to make sure the property is looking its best and open for viewings from perspective buyers in the weeks leading up to the auction.  See some helpful tips in making your home more saleable and valuable
You should also do your part to make sure the news gets out to as many potential buyers as possible. Publicise your property to your friends on social media and put the word out to your family and colleagues.
How quickly will the sale proceed after auction? 
One of the benefits of auctioning your home is that it's quick – it might take just a month to go up for auction, then the sale could be completed within 28 days. But this also means you need to be ready to move quickly once the sale has been made.
Selling via the modern method of auction
In recent years a new type of auction has become popular known as the modern method of auction. Used by some estate agents the modern method of auction allows buyers to bid on a property online. The buyer will pay a non refundable reservation fee and but will have longer completion timescale, giving the buyer time to sort mortgage finance. Take a look at out guide on the pros and cons of online property auctions