Advertisement

How do I break the housing chain?
Being stuck in a housing chain can be stressful and expensive – and mean you don't get the home you want. If just one person drops out, then the whole property chain can collapse, and you and everyone else on it can be back to square one. Fortunately, there are things you can do to break housing chains.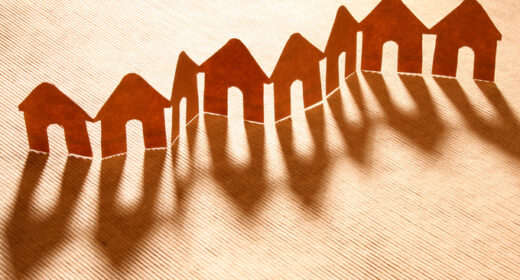 The advantages of breaking the housing chain
Breaking the housing chain is good because:
It makes house buying far more predictable. You are not subject to events beyond your control. It is very frustrating to lose the house you want, and thousands of pounds, because someone you have never met can't arrange a mortgage.
It puts you in a strong position when buying. Many sellers would prefer to take a buyer who has the cash in the bank than enter a waiting game where their sale is dependent upon you finding a third party to buy your house.
You are less likely to be gazumped. If you put in a decent offer the buyer is unlikely to take another if it means entering a property chain.
How to break the housing chain
There are three main ways to break the housing chain:
selling before you buy
getting a bridging loan
not selling, but increasing the mortgage on an existing property to use as deposit
For further advice, see Buying and selling at the same time and Should I sell my home before I buy a new one?
Selling before you find a house to buy
One of the ways to break the housing chain is to sell your home and go into rented accommodation while you look for a new home to buy.
Advantages of selling and renting before you buy:
You remain in control of the sale of your own house. Because you won't need to make a quick sale, you are not under pressure to sell cheaply.
Those with time on their side are usually in the strongest negotiating position.
You may get a better price when you buy a new property if you find a seller who is keen to move quickly.
You will know exactly how much you can spend because you'll have the money from your sale in the bank. Buying your new home won't be dependent on you achieving the expected price on your existing one.
If prices are falling, then houses get more affordable as you wait.
Disadvantages of selling and renting before you buy:
Rent is often more expensive than the cost of paying a mortgage. If it takes a while to find a property to buy, rental costs can be considerable.
If prices are rising fast, by the time you've sold your house and sorted out somewhere to rent, a new house will be much less affordable. For example, if you rent for a year, and prices rise by 10% in that year, then you be able to afford 10% less.
When you are ready to sell, see our advice on: what price you should sell for and how to find the best estate agent
Bridging loans
Another way of breaking the housing chain is to get a bridging loan so that you can complete on the purchase of your new home before you sell your existing one. Bridging loans are a way to borrow money in the short term. They 'bridge the gap' if you need to buy one property before selling another. Unlike mortgages, bridging loans can be arranged quickly if speed is important.
However, getting a bridging loan can be risky, and costly. But, if you have found that dream home and need to put down a deposit for the mortgage, then it might just be worth getting a short-term loan secured against your property, and paying it off once you sell.
Advantages of using a bridging loan:
It breaks you out of the chain
Demonstrates to the buyer that you are serious about buying
Let's you buy that dream house
Disadvantages of using a bridging loan:
Bridging loans are a secured form of borrowing, so you'll need to put up an asset against the loan. This means you risk losing that asset, for example a property, if you can't repay the bridging loan.
You pay for the convenience of fast, flexible finance with a higher interest rate.
Bridging loans can come with a range of fees that add to their expense.
Try to sign for a bridging loan once you have exchanged contracts. You will waste money if you get a bridging loan and are gazumped.
If you are unable to sell your house soon after buying your new home, you may struggle to pay back the loan as the interest builds up. Put your property on the market first and ensure that there is some interest in it before taking out a bridging loan.
You may be under pressure to accept a lower price for your old house to pay off the loan as soon as possible if you find your property isn't selling.
If property prices are falling, you may be left without the means to pay off the loan. Only get a bridging loan if you hold most of the equity in your current property.
Read our Bridging Loans explained guide for more about how bridging loans work.
As there are unregulated products out there – use a specialist broker such as Chartwell Funding, who can scour the market for you 
Extending the mortgage on your existing home
One way to break a chain is by extending the mortgage on your existing home and using that money as a deposit for the mortgage on the new property. You can then either:
Rent out your old home, and use the rental income to pay the mortgage on that property. This can be a good property investment. This transaction is known in the trade as "let to buy". You are letting out your old property to pay for a mortgage that helps you buy a new one.
Sell you old home at your own pace. You will have two mortgages for a while. But, you will be able to use any profits from the sale of your old house to pay off some of your new mortgage.
You can only do either of these if you have a low loan to value ratio (LTV ratio) on your existing mortgage. If you don't, you will not be able to extend your mortgage enough to pay for a deposit on your new house.
If you can use this tactic you will break the chain, making it more likely that you will get the house you want.
What to be aware of if you are going to extend your mortgage:
Arrange to extend your mortgage as soon as possible. It is best to do so once you have exchanged contracts. If the purchase falls through and you have increased your mortgage, you will end up with higher mortgage debt accumulating interest.
Try to avoid mortgages with early repayment penalties. You will be lumped with extra costs if you are planning to pay off some of the mortgage on your new house once you sell your current one.
If you need to sell your current home to afford the monthly payments on the extended mortgage, be sure that there is interest in your property before increasing the mortgage.  You don't want to be in a position where you cannot sell your home and cannot afford the mortgage payments.
Be aware that you may have the stamp duty surcharge to pay if you temporarily own two homes.
Get free remortgaging advice from our award winning mortgage brokers at L&C today