Guarantor Mortgages Explained
Find out everything you need to know about guarantor mortgages, from how they work, who can get them, the benefits and the pitfalls.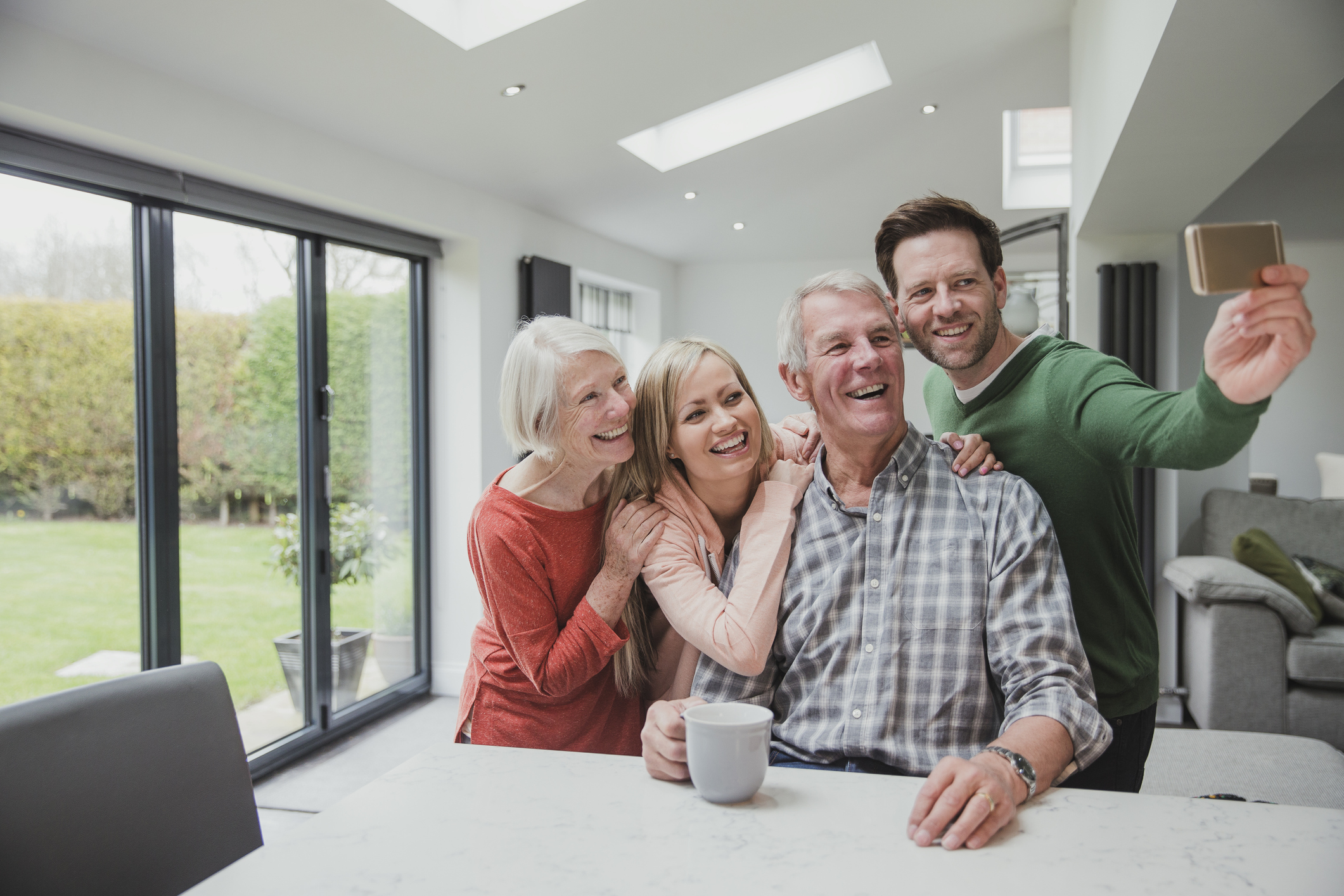 What are guarantor mortgages?
When you take out a guarantor mortgage, someone – typically a parent – takes on some of the risk of the mortgage by acting as a guarantor. This usually involves them offering their savings or their home as security against the loan and committing to making the mortgage payments if the borrower defaults.
One condition of guarantor mortgages is that the guarantor won't own a share of the house and won't be named on the title deeds.
The main advantage of taking out a guarantor mortgage usually means the borrower can take out a larger mortgage than if they apply for a traditional mortgage on their own. And some guarantor mortgages will let you borrow 100% of the property's value. This means you won't need to save up for a deposit.
However, there are risks for the guarantor to consider. This is because if the borrower is unable to make the repayments, there could be serious consequences. These could include the guarantor losing their savings or their home, depending on which they used as security against the mortgage.
Who are guarantor mortgages for?
Guarantor mortgages could be a good option for a range of circumstances including:
 Low earners: When lenders decide how much you can borrow, your income will be the key factor they use. So having a guarantor could enable you to borrow more.
Small (or no) deposit holders: With guarantor mortgages, you can borrow up to 100% of the property's value. This isn't the case with traditional mortgages where you can borrow a maximum of 95% LTV. This may make them an appealing option for people with either no deposit or a deposit of less than 5%.
Those with a poor credit score: Another factor lenders will look at when you apply for a mortgage is your credit history. If yours is poor, you may be more likely to get a mortgage with a guarantor.
Those with little or no credit history: And it's not just a bad credit history that can make lenders wary – if you've never taken out credit such as a credit card and proved you can pay it back, that can cause issues too.
Who offers guarantor mortgages 2021?
Lenders that offer guarantor mortgages include Newbury Building Society, Loughborough Building Society and Tipton & Coseley Building Society. And while they may not call their products guarantor mortgages, Halifax offer a Family Boost mortgage and Barclays offers a Springboard Family Mortgage that operate in a similar way. See below for more information on both.
For the most up to date information on which lenders offer guarantor mortgages, it's a good idea to speak to a mortgage broker. They'll also have expert knowledge on different lenders' lending criteria so they'll be able to advise you on which lender is most likely to accept you – and recommend the best deal for you. You can get fee-free advice from our partners at mortgage brokers L&C and start the process online now or over the phone.
Mortgage Finder
Get fee free mortgage advice from our partners at L&C. Use the online mortgage finder or speak to an advisor today.
Find a mortgage
Guarantor mortgages for first time buyers
Guarantor mortgages can be particularly appealing to first time buyers. With the average deposit first time buyers put down in 2021 just shy of £59,000, according to Halifax, many have struggled to get on the property ladder. So, many parents who want to help their child buy their first home are turning to guarantor mortgages.
Do you want to help your child buy a home? It's important to seek mortgage advice. Speak to our partners at award-winning mortgage brokers L&C. You'll get fee-free expert advice.
What are the different types of guarantor mortgage?
Guarantor mortgages may come with slightly different names and have different eligibility criteria. But there are two main types:
1. Guarantor Mortgages that use savings as security
Some guarantor mortgages allow you to use savings as security. With these mortgages, the guarantor puts cash into a special savings account that is linked to the mortgage. This is typically 5%-20% of the property's value. The guarantor will agree for the money to be held for a period of time or until the amount you owe falls below a certain threshold. The guarantor can earn interest on the money deposited. However, it's typically at a lower rate than that they may be able to get elsewhere.
However, if the borrower misses any mortgage payments, the lender may keep the guarantor's money for longer. And if the lender has to repossess the property and sell it and if they get less than is owed on the mortgage, they may take the difference from the guarantor's savings.
The Barclays Family Springboard Mortgage doesn't call itself a guarantor mortgage, and specifies that 'Helpers' aren't guarantors, but it works along these lines. The buyer can put down as little as 0% deposit. And the Helper puts down 10% of the cost of the property in a linked savings account for 5 years. Providing mortgage payments are kept up this will be returned to the Helper with interest after five years.
While the Halifax Family Boost Mortgage may not be called a guarantor mortgage on its website, it also operates in a similar way. No borrower deposit is required. Instead, a family member puts 10% of the property purchase price into a 3 year fixed term savings account. This will be returned with interest after the 3 year period is up, as long as mortgage payments are up to date. 
2. Guarantor mortgages that use property as security
With these guarantor mortgages, a legal charge is placed against the guarantor's property. For example, a lender may ask to secure 20% of the amount you want to borrow against your guarantor's property. The guarantor would typically need to have a substantial amount of equity in their home or own it outright. The charge will typically remain on the guarantor's property until a certain percentage of the new mortgage has been paid off.
It may be a useful option if you don't have savings you can use to help your child. However, the risks are potentially huge. This is because if the borrower defaults and the lender repossess the property and sells it for less than the outstanding mortgage balance, the guarantor could face having their own home repossessed.
The best way to find out more about what products are available to you is to speak to a broker. You can get fee-free advice from our partners at L&C. Give them a call today!
Guarantor buy-to-let mortgages
With buy-to-let mortgages, you buy a property planning to let it out. The amount you borrow is based on how much rent the property can generate compared to the cost of the mortgage. Lenders will typically want your expected rental income to meet at least 125% of the monthly interest payments. They may also require you to have a minimum salary, typically £20,000-£25,000. And the minimum deposit is generally 20%-25% of the property price. While the cheapest deals typically need a deposit of 40%. So, if you want to invest in a buy-to-let but you don't meet this criteria – and you have a family member willing to be your guarantor, it may seem like an appealing prospect. However, guarantor buy-to-let mortgages are much less common than a standard guarantor mortgage. So, it's a good idea to speak to a broker to talk through your options.
Find out more in our guide Buy-to-Let Mortgages Explained
Who can be a guarantor for a mortgage?
People often ask parents or older relatives to be their guarantor. This is usually because they have a larger income and a good credit history.
In order to be a guarantor, you'll generally need to have:
Savings or property: Depending on the type of guarantor mortgage you take out, your guarantor will either need to have savings that they are happy to have locked away in an account, usually for several years. Or, if your guarantor is using their property as security, lenders will usually require them to have a certain amount of equity in the property. While some lenders demand the guarantor has fully paid off their mortgage.
A good credit history: This will give the lender confidence that the guarantor can manage their finances well.
Taken legal advice: Some lenders make this a requirement to make sure guarantors are fully informed on the risks they are taking. Even if it isn't a requirement it's still wise to to take independent legal advice to make sure you are fully informed before proceeding.
A family member: Some lenders require your guarantor to be a family member.
What are the risks of being a guarantor on a mortgage?
When you agree to be a guarantor on a mortgage, there are serious risks to consider carefully before proceeding. If the person you're acting as guarantor for can't make their mortgage payments, you may be asked by the lender to pay. Or the lender may take the money from the savings account associated with the mortgage, if you used your savings as security against the mortgage. And they may extend the time you cannot withdraw your savings for. The lender could also repossess and sell the property. And if this doesn't pay back the mortgage balance in full, they may repossess the guarantor's property, if it was used to guarantee the mortgage.
How much can I borrow for a mortgage with a guarantor? 
Whenever it comes to taking out a mortgage, it's always a good idea to see how much you can borrow. Try our handy free tool to find out how much you can borrow. And if you're considering a guarantor mortgage, but you're not sure which deals are available, speak to our partners at award-winning mortgage brokers L&C. They offer fee-free advice and can talk you through the guarantor mortgage options available to you and recommend the best deal based on your circumstances.
Do guarantors get credit checked?
As part of their checks when deciding on whether or not to lend, lenders will check a guarantor's credit history. If the guarantor has a good credit history, this will increase the chance of the mortgage being approved.
Can I borrow more with a guarantor?
Having a guarantor may mean you can take out a larger mortgage than if you apply for a traditional mortgage on your own. This can happen even if you have a small deposit, or no deposit at all if you're taking out a 100% LTV guarantor mortgage. This is because the guarantor's savings or home are used as security against the loan.
However, bear in mind that lenders will still want to see proof that you'll both be able to afford the monthly repayments. So, it's not a case that you'll simply be able to borrow what your guarantor could borrow if they were applying for a traditional mortgage of their own.
Mortgage Finder
Get fee free mortgage advice from our partners at L&C. Use the online mortgage finder or speak to an advisor today.
Find a mortgage
Do you need a deposit for a guarantor mortgage?
This will depend on the lender; some lenders offer guarantor mortgages with a 100% LTV, which means providing you and your guarantor meet the lender's criteria, you may not need a deposit at all. However, some lenders will require a deposit. Again, it's wise to get expert mortgage advice so you're fully informed on your options.
What are the alternatives?
 Joint Borrower, Sole Proprietor mortgages: These could be an attractive alternative to guarantor mortgages for some borrowers as they don't need someone to put up savings or property to secure the mortgage. With these mortgages, you apply with someone who's willing to accept joint responsibility for making mortgage payments without having a legal claim to the property.
With traditional joint mortgages, both parties would be on the property deeds as well as the mortgage. And this could mean a higher stamp duty bill if the parents already own a property.
But with JBSP mortgages, the parent and child will both be named on the mortgage. But only the child will be named on the property's deeds. This means the stamp duty surcharge can be avoided.
However, both applicants will need to pass affordability checks to show they can afford the mortgage payments. And unlike guarantor mortgages, some of which are offered at 100% LTV, these mortgages will need the buyer to put down a deposit. To find out more, it's a good idea to speak to a mortgage broker.
Equity release: Some homeowners choose to use equity release to let them to unlock cash from their home which they then give to their children to use as a house deposit. However, this can be an expensive commitment and you should consider it carefully and take independent financial advice.
95% Mortgages: If you want to buy a home but you don't have any family who are able to help you financially, there are other options. Mortgages with 95% LTV had all but disappeared at the start of the pandemic. But they made a strong comeback in early 2021 after the Chancellor announced the mortgage guarantee scheme. The scheme is open to first time buyers and existing homeowners. And it applies to all types of properties, new and old that cost less than £600,000. Find out more in our guide on the Mortgage Guarantee Scheme.
Help to Buy Equity Loan Scheme: This also allows people to buy a home with a 5% deposit. But you must be a first-time buyer and you must be buying a new-build property. Also, there are regional price caps on the maximum property price you can buy. These range from £186,100 to £600,000. Read more in our Help to Buy Equity Loan Scheme Explained (2021-2023) guide. With Help to Buy ending in 2023, Deposit Unlock is a new scheme developed by the House Builders Federation to help first time buyers and home movers buy a new build home with a 5% deposit.
Tips for entering a guarantor mortgage
Have an open and honest discussion: It's essential that you have an open and honest chat with your guarantor, or the person you plan to be a guarantor for, before you commit. Discuss all the potential outcomes.
Explore your options: Before committing to a guarantor mortgage it's a good idea to look at other options available to you. Speak to a mortgage broker to find out more.
Get legal advice: Even if it's not required by the lender, taking on a guarantor mortgage is a huge commitment and with serious risks to consider. So, it's a good idea to seek legal advice first.
Set boundaries: If you agree to be a guarantor, it's important to bear in mind it's not actually your home. So, believing you have a say in certain matters may cause conflict. It's best to set boundaries in advance so no one has any unrealistic expectations.
Family Offset Mortgages
With these mortgages, the person who is buying the home applies for a mortgage as normal and secures the mortgage. Then, if the parent has savings they would like to use to help their child, they can put these in a linked account and this will reduce the amount of interest the child pays on the mortgage. So it won't help the child get a mortgage, but it will make their mortgage payments cheaper.
For more information read our guide on off-set mortgages
Mortgage Finder
Get fee free mortgage advice from our partners at L&C. Use the online mortgage finder or speak to an advisor today.
Find a mortgage
Can I stop being a mortgage guarantor?
As a guarantor you won't necessarily have to remain on the mortgage for the whole term. If the borrower's financial circumstances improve, or if they have paid off a certain amount of their mortgage, the lender may agree to change the mortgage's terms.
What happens if my guarantor dies?
If your guarantor dies, what happens next will depend on your lender. Some will require a new guarantor. While others will allow you to pay off some of your mortgage balance with your guarantor's estate. It's important to check your lender's policy on this before you make your mortgage application.