How much do conveyancing fees cost?
We take a look at conveyancing fees and what you can expect conveyancing solicitor fees and disbursements to cost.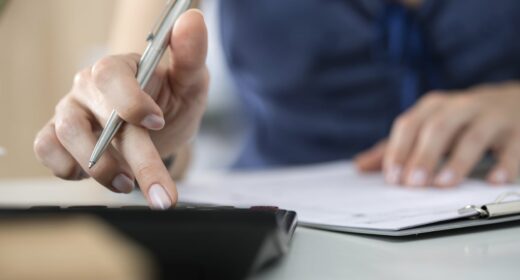 What are conveyancing fees?
Conveyancing fees cover the amount you'll pay to make sure the legal side of a house sale or purchase is handled correctly. Conveyancing fees can be split into two parts: the legal fees (what the conveyancer or solicitor charges for doing the work), and the disbursements (what third parties charge for certain services like searches).
Some conveyancing fees apply to sellers only, and some only need to be paid by buyers.
How much are conveyancing fees?
The price of conveyancing fees will vary depending on a number of factors. The size of the bill can vary depending on location because you may need to pay for additional searches if the property is near a river or coal mine, for example.
How much are the legal fees?
The legal portion of the conveyancing fees bill covers the work done by the conveyancing solicitor themselves. Conveyancing fees do vary but are typically between £850-£1500, plus the cost of disbursements.  Legal fees for leasehold properties are more. The guide and table below, set out the typical costs for disbursements you can expect to pay. These costs are on top of the legal fee for the total conveyancing cost. To get an accurate idea of conveyancing costs, compare conveyancing quotes now.
Compare Conveyancing Quotes
Compare quotes and find the cheapest, nearest and best rated conveyancers from our panel of 120 quality assured firms
Get conveyancing quotes
What are the main disbursements?
Anti-money laundering checks. These legal checks will verify your identity, and are likely to be done by an online company. You should expect to pay extra if you're living abroad or a foreign national. The cost of anti-money laundering checks is £6-£20.
Title deeds. If you're selling a property, you'll need to get a copy of the Title of Deeds, which are most likely held by the Land Registry. Be warned that the cost for leasehold properties is higher than freehold. The cost of getting title deeds is £6.
Searches. If you're buying a property, you will need local authority searches, such as a drainage search and an environmental search, and a planning search if you want to find out about any development planned for nearby. Local authority search range in cost £250-£450.
Property fraud. You will want to check that the lawyer you're sending money to is a real company. Property fraud checks are £10.
Transferring ownership. You have to pay the Land Registry a fee for transferring your name with your buyer's name on completion. The cost of transferring ownership is £200-£300.
Telegraphic transfer or bank transfer fee. You'll need to use a telegraphic transfer to guaranteed funds reach an account on a certain day, as requested by your mortgage provider. Your solicitor will charge a fee for performing the transfer, plus the bank's charge. Bank transfer fees are £20-£30.
Stamp Duty Land Tax. If you're buying a property worth more than £125,000 you'll need to pay stamp duty. Stamp duty costs vary because it is charged on a sliding scale.
Help to Buy supplement. If you're buying with a Help to Buy scheme, you're likely to be charged extra because of the additional legal work that this entails. Help to Buy supplement costs are typically £200-£300.
Gifted deposits. If you are getting help with your deposit, you will likely need to pay more to cover the paperwork to prove that the money comes from a legitimate source. You can be charged up to £100 by law firms if you use the Bank of Mum and Dad for a deposit. You may also be offered insurance which can cost up to £200, but think very carefully whether this is necessary. For more information see our guide on Gifted Deposits Explained
Lifetime or Help to Buy ISA. Your conveyancer will have extra work to do to redeem the Lifetime or Help to Buy ISA bonus but charges are capped at £50+VAT.
Typical conveyancing costs: disbursements and legal fees
Fee
Amount
Buying
Selling
Anti-money laundering checks
£6 – £20
x
x
Bankruptcy search
£4
x
–
Title deeds copy
£6
–
x
Local authority searches
£250-450
x
–
Property fraud check
£10
x
–
Transferring of ownership
£200 – £300
–
x
Bank transfer fees
£20 – £30
x
–
Stamp Duty Land Tax
0-12%
x
–
Help to Buy supplement
£200 – £300
x
–
Gifted deposit
£50 – £100
x
–
Lifetime/Help to Buy ISA
£60
x
–
Average conveyancing fees
Between £850 and £1,500
What are the charges for leasehold properties?
The conveyancing fees for leasehold properties will be much higher, as there are likely to be additional costs. You may need to pay for a Deed of Covenant, for example, which is a legally binding agreement between the buyer and landlord or management company about factors such as carrying out repair work.
Other work could include additional investigations into the length of the lease, as well as liaising with the landlord to serve notices on them or the managing agent, or getting further information about the service charge or management details, for example. The costs can be anything from £100 to £1,000.
Are there any other conveyancing fees to consider?
The most common associated costs have been listed above, however there are occasions when you may need to pay for other fees. One example is that if a seller doesn't have a FENSA or building regulation certificate for their double glazed windows, an insurance policy may be needed.
How can I save on conveyancing fees?
One of the best ways to save on fees is to shop around and compare conveyancing quotes.
Top tip: when comparing conveyancing quotes, ask if all these disbursements are included and if not, whether they are likely to be required.
What if my sale falls through?
Some conveyancing solicitors may offer a 'no sale, no fee guarantee', which means that if your sale falls through, you won't have to pay the full conveyancing bill. Some may waive the legal fees, but it's wise to get a clear explanation of what the guarantee covers before you hire their services. You can find out more with our guide to no sale no fee conveyancing.
Get a no completion, no legal fee guarantee when you instruct a conveyancer from our panel
Remortgaging conveyancing fees
If you're in the process of remortgaging your property, you should expect to pay conveyancing fees as part of this process. Find out more about solicitors and remortgaging a property and the conveyancing process.
Do I have to hire a conveyancer?
While it's not a legal requirement that you hire a conveyancing solicitor, it's a very specialised skill and your mortgage lender may insist that you use a professional. However, it is possible to do conveyancing yourself if you don't have a mortgage.
When do I have to pay conveyancing fees?
You may be asked to pay a deposit when you hire a conveyancing solicitor, and they could ask for up to 10% of the conveyancing fees to be paid. You will usually settle the rest of the conveyancing fees once the sale of the house is completed, although you could be asked to pay for things like local searches before then.
Do I need a conveyancing solicitor to transfer equity?
It's highly likely that you'll need to hire a conveyancing solicitor if you're transferring equity on a property, for example if a relationship ends and the property is transferred to one of the couple. The typical activities that you could be charged for include a bankruptcy search, Land Registry search, identification search and transfer fees as well as the legal costs. If you're planning to remortgage, you'll face other conveyancing costs associated with this.
Find the right conveyancing solicitor
Conveyancy is the area of law that draws the most complaints, according to the legal ombudsman – it accounts for nearly a quarter of all issues reported in 2016. This highlights how important it is to choose the right conveyancing solicitor. See our guide on important questions to ask your conveyancing solicitor before instructing.
It may seem simple and easy to accept your estate agent's recommendation for a conveyancing solicitor, but they may be earning commission on this introduction and their suggestion may not be the best fit. You may prefer to avoid your estate agent's in-house services for this reason. Always shop around and compare quotes for the best deal.
Online companies may come up cheaper when you compare conveyancing quotes, but you need to make sure you fully understand online conveyancing because their services will differ to local firms on your high street.
It's always advisable to choose a conveyancing solicitor who is registered to a professional body and is able to support you throughout the process.
But one of most important things when it comes to finding a conveyancing solicitor is to compare quotes.
Find the right conveyancing solicitor for you – compare quotes & ratings from our quality assured panel
Worried about your conveyancing bill?
Remember: if you are not satisfied with the service from conveyancing solicitor, it is usually possible to change solicitors.  If you are unhappy with your final bill and think you have been overcharged, you have a right to complain.