What sort of survey should I have?
If you've had an offer accepted on a property, you'll be wondering whether you need a house survey and if so which one. We look at different types of house surveys, home survey costs and which type of home survey is right for your property, where to find a good surveyor and - most importantly - how to get the most out of your survey.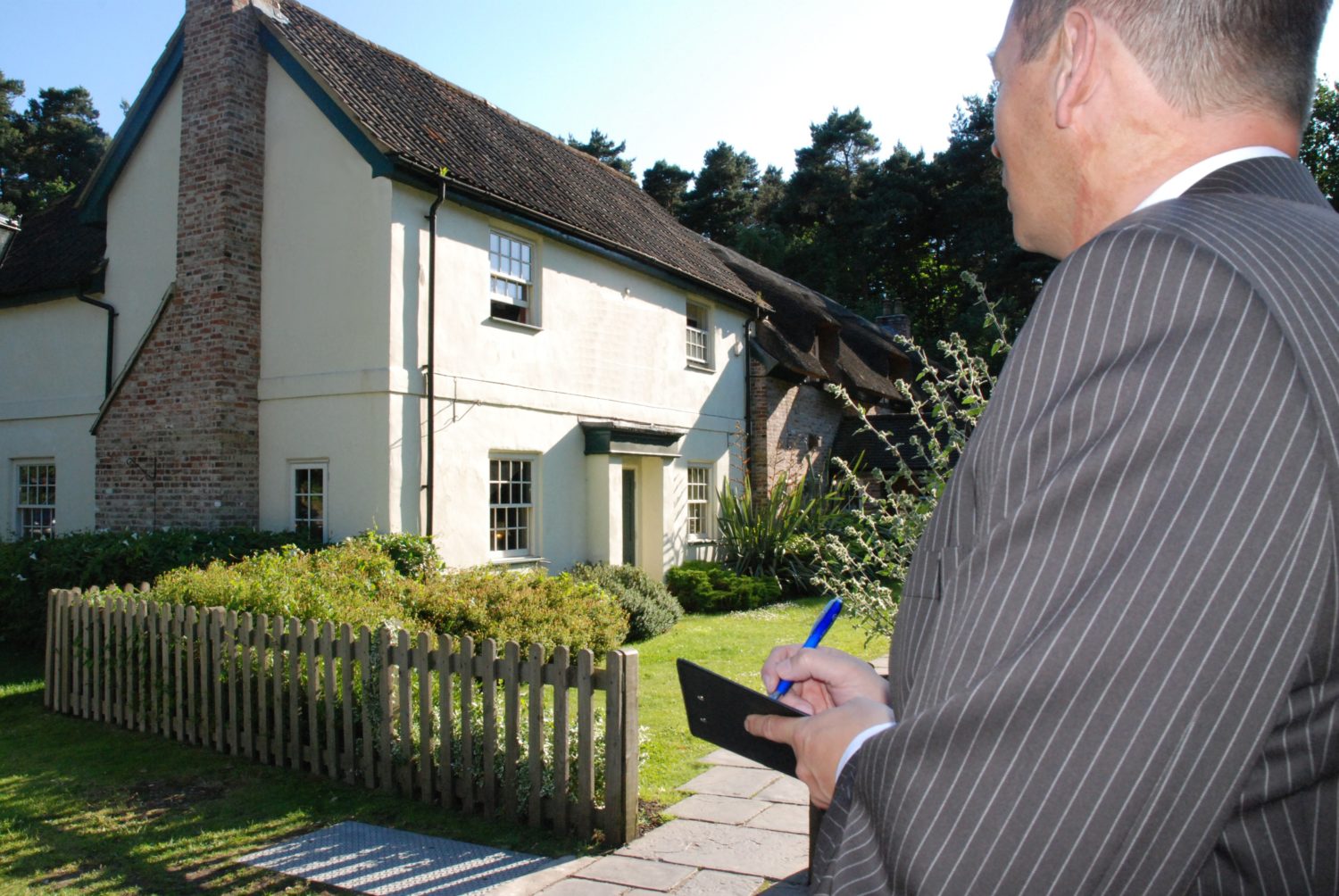 What is a survey?
A property or house survey is a detailed inspection of a property's condition. The surveyor inspects the property and tells you if there are structural problems like unstable walls or subsidence. They will highlight any major repairs or alterations needed, such as fixing the roof or chimney chute. The report from the surveyor also provides expert commentary on the property, from the type of wall to the type of glazing.
Home buyers generally arrange to have a house survey done after their offer has been accepted by the seller. It is usually the buyer who arranges the survey and pays for the survey.
Our guide details the different types of surveys and their costs to help you decide which is best for your needs.
What is a mortgage valuation?
A mortgage valuation is not a survey – it is a cursory look at a property to assess how much the property is worth. It is required by your mortgage lender to ensure the property is sufficient security for the loan. Your lender will insist on using a company they trust and you will have to pay for it. The cost of a mortgage valuation varies depending on the size of the property (from around £350). Some lenders throw in free valuations as part of a mortgage deal; but don't let that sway you.  A deal with a lower interest rate is likely to save you far more over time, even if you do have to pay a bit more for the mortgage valuation.
Who carries out a survey?
Property surveys should be carried out by qualified surveyors  Most qualified surveyors are members of the Royal Institute of Chartered Surveyors (RICS). A RICS qualified surveyor will have professional indemnity insurance.
If you can get a local surveyor, they are likely to have a better knowledge of market values in the area
Equally, if you are buying an unusual house, like a lighthouse or a castle, get a surveyor with experience in that specific field
Survey costs vary from company to company, and depend on the size and location of the property.
Do I need to get a survey?
You do not need to get a survey done on the house you are buying. But a survey can help you avoid expensive and unwanted surprises, like an unexpected rewiring job, as well as giving you peace of mind by telling you that those hairline cracks don't mean the house is falling down. Given the hundreds of thousands of pounds it costs to buy a property, a few hundred pounds on a survey to have the reassurance of an independent, expert surveyor looking over it feels like a good investment.
With the information from the survey you might reconsider whether to buy the property or use the unbiased information you have to renegotiate the price. If you find for example it needs £15,000 of roof repairs, it is reasonable to ask for £15,000 off the price. Alternatively, you might ask the seller to fix the problems before you buy.
We would particularly recommend a survey if:
you have any specific worries about any part of the property
you feel unsure about what sort of condition the property is in
you are looking to buy an old or unusual property
the property has a thatched roof or is timber framed
the building is listed
What sort of survey should I get?
There are a number of different types of survey. What you choose depends on the depth of survey you want and your budget.
Condition Report (survey level one – £300 or more)
A Condition Report is the most basic survey you can get, and the cheapest.  Costs are £300 or more.
The report doesn't go into much detail so may leave you wanting more:
It is designed to complement the mortgage valuation
It provides 'traffic light' indications as to the state of various parts of the property. Green means everything is ok, orange is some cause for concern, and red means serious repairs are vital
It also provides you with a summary of the property's defects and possible risks affecting the home
It does not include any advice nor a valuation
Homebuyers Report or Homebuyers survey (survey level two)
A Homebuyers Report, also called a Homebuyers survey is a more detailed survey and the most popular option according to RICS. There are two options in this category – you can choose to have a homebuyers survey with or without a valuation:
HomeBuyers Report or HomeBuyers Survey (survey only – £350 or more)  
A HomeBuyers Report (Homebuyers survey) will tell you any obvious major problems – obvious rot, subsidence, etc.
The cost of a HomeBuyers Report/ Homebuyers Survey starts at £350.
But, the surveyor is non-intrusive: they will not look behind furniture, nor lift up floor boards or drill any holes, so any report they draw up is limited.
HomeBuyers Report or HomeBuyers Survey (survey and valuation – £450 or more)
The HomeBuyers Report (Homebuyers survey) with valuation includes the detailed survey, plus a valuation and an insurance reinstatement value (how much you would receive were the building to burn down).
The cost of a Homebuyers Report (Homebuyers survey) with valuation is £450 or more.
Home Condition Survey (£400- £900)
Offered by the Residential Property Surveyors Association (RPSA) rather than RICS, Home Condition Surveys are:
conducted by specialists in residential surveys and produced in a consistent, consumer friendly format
include practical information such as broadband speed, damp assessment and boundary issues for the conveyancer to consider
reports are independently checked to ensure consistency and quality
Home Condition Surveys cost between £400-£900 depending on value of property
Building Survey (survey level three – £500 or more)
Building surveys (by RICS surveyors) also called full structural surveys are more expensive, but can be a worthwhile investment:
The price of a building survey ranges from under £500 to about £2000 depending on the size of the home
Building surveys or full structural surveys are extensive surveys and you will be given a detailed report at the end
The surveyor will get into the attic, check behind walls, and look between floors and above ceilings
It includes advice on repairs, and provides estimated timings and costs, and will tell you what will happen if you do not do the repairs
Unless specified, it probably will not include an insurance reinstatement value estimate, or a market valuation.
Survey costs by type of survey
| Type of survey | Estimated cost |
| --- | --- |
| RICS Condition Report (survey level one) | £300 and upwards |
| RICS HomeBuyer Report/ HomeBuyer Survey (Survey only – survey level two) | £350 and upwards |
| RICS HomeBuyer Report/ Homebuyer Survey (Survey and Valuation – survey level two) | £450 and upwards |
| RICS Building Survey (survey level three) | £500 and upwards |
| Home Condition Survey (offered by the Residential Property Surveyors Association (RPSA) rather than RICS | £450 and upwards |
| New-build snagging report | £300-£600 |
See our guide on how much surveys cost in 2021 for more information on costs and why surveys can end up costing more.
Video – What type of survey
Do I need a survey for a new build property?
For new build properties, we recommend a professional snagging survey is carried out.  A snagging survey will identify defects or problems which need fixing before you move in. A professional snagging survey should spot minor issues like a door that's misaligned and catching on the carpet to  something more serious that could affect the structure of your home. These typically cost between £300 and £600.
If the new build you are buying is built and ready, you would ideally carry out a snagging survey before exchange. If it's off-plan then try to carry out the survey pre-completion when you will have more negotiating power to get any problems fixed. This is assuming the developer lets you on site, which often they do not, in which case get a snagging survey carried out as soon as possible after moving in.
Given the number of complaints and calls for help we get from visitors to our website, the HomeOwners Alliance is proud to have teamed up with one of the best known snagging inspectors in the UK, New Build Inspections. Unlike many other snagging companies, they never work for developers or builders so can retain their independence. Get a free, no obligation quote from new build inspectors here.
How do I find a good surveyor?
Going with the surveyor recommended by your bank, estate agent, mortgage lender or other property expert can end up costing you more.
Get quotes from a few local firms and compare.
We often hear complaints that survey reports come with so many caveats that it is difficult to know how to respond to them; ask if you can see copies of past reports – will that sort of report be useful for your situation?
Check your surveyor is a member of the Royal Institution of Chartered Surveyors (RICS) – he or she will have the letters MRICS or FRICS after his or her name. The RICS ensures that all its members maintain professional standards in their work.
How can I get the most out of my survey?
When you appoint your surveyor tell them if there are any particular concerns you have about the property
Walk through the house with them – make sure they look at everything, move furniture and have a good poke around
Ask questions – point out things that worry you and ask about them. It's your house so you should understand everything
 What to do if issues are flagged in your survey
If the property you want to buy has items flagged in the survey, do take a look at our guide "What to do after a bad survey report"