Buying a listed house
Whether it's a chocolate box cottage or an imposing Georgian manor house, many of us dream of owning our own little slice of history. But many beautiful old buildings are listed, which can make owning and renovating them a lot more complicated. Here's everything you need to know about listed buildings before you buy.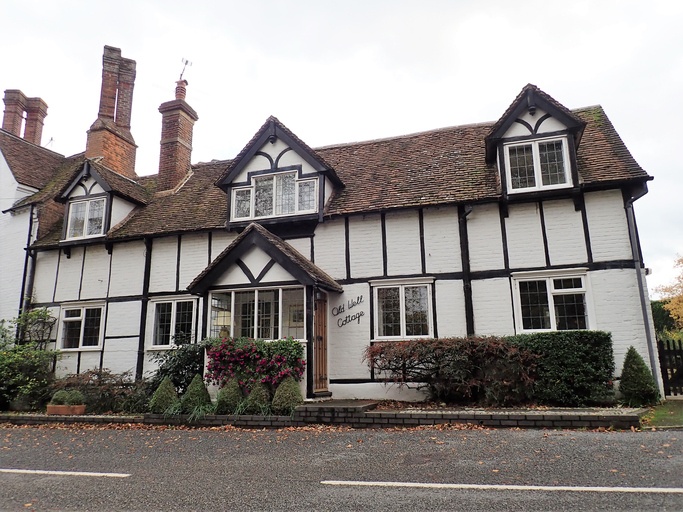 What is a listed building?
A listed building is a property placed on a national register of buildings with architectural or historical importance. The list is aimed at protecting these buildings and maintaining them for future generations.
Pretty much anything built before 1700 – that is still in its original condition – is listed. Most properties built before 1840 are also highly likely to be listed. Buildings dating from 1840 to 1914 may be listed if they are deemed to be of historical significance. This could mean they were designed by a famous architect or are an excellent example of a certain style or technological skill.
Listed buildings are protected by law. This means homeowners will need listed-building consent in addition to planning consent for any changes – inside or out. The idea is to preserve important buildings from alterations that aren't in-keeping or that may cause damage.
If you fail to get listed building consent before you start building work it is a criminal, rather than a civil, offence. While this extra red tape shouldn't put you off buying a listed building, you need to be aware of the challenges and potential extra costs involved before buying.
Buying a listed building? Find and compare building survey quotes from local chartered surveyors now.
What's the difference between Grade I listed and Grade II listed buildings?
According to Historic England, there were 377,587 listed buildings in England as of 2016. Of those over 90% are Grade II which are deemed of special interest warranting every effort to preserve them. Another 5.5% are Grade II*, which is for buildings with more than a local interest. The other 2.5% are Grade I, which are of exceptional interest nationally and historically (think Buckingham Palace).
Home buyers should be aware that a Grade-I listed property will have more restrictions than one that is Grade-II listed.
Listed building restrictions
Listing covers a whole building, including the interior, unless parts of it are specifically excluded in the list description for that particular property.
In some cases, the protection can extend to external structures and gardens. But all listed buildings are different, so you need check with your planning authority what is covered in the listing of the property you want to buy.
Any features that are specifically mentioned in the building's official listing documents cannot be changed. So, make sure you read the property's description and know what you can't change before you buy it.
Compare Conveyancing Quotes
Get instant quotes from regulated and reviewed conveyancing solicitors that cover your area
Get conveyancing quotes
Listed building consent for alterations
This doesn't mean you can't do any alterations or improvements to a listed building. If you want to alter or extend a listed building or alter its character or appearance in any way, you need to seek consent from your local conservation officer. If you are considering buying a home that is listed with a view to making alterations, you might want to speak to the local conservation officer before you exchange contracts and are legally bound to buy.
The local conservation officer will also be able to guide you through the process. Pre-application work and consultation will be critical to submitting plans that are likely to be approved.  Be aware that the work and information you need to support an application for building consent is substantially more detailed than you would need for a planning application.
Improve your chances of getting alterations approved with a local architect. Find architects for your project today 
It is a criminal offence to make unauthorised changes to a listed building, so tread carefully.
Is listed building consent required for repairs?
Quite possibly. This can be a grey area as it really depends what you are doing. Technically, 'like for like' repairs don't require consent, but what classes as a like for like repair varies between authorities.
For example, replacing a few tiles on your roof with matching ones is unlikely to be a problem. But if you plan to replace a window even with an exact replica you are likely to need consent.
If you own a listed building you should get to know your local authority's conservation officer and check with them as to whether any repairs you are planning need consent.
Will a listed building cost more to maintain?
Repairs on listed buildings are often more expensive due to the need for specialist tradesmen. They then have to perform repairs to a certain standard often using natural materials and traditional techniques. 
Depending on how the previous owners have cared for your home it may not cost huge sums to maintain. But, you should stay on top of maintenance and repairs to prevent future problems.
Make sure your roof, guttering, downpipes and drains are all doing their job. Water and damp can cause huge problems in listed buildings. Also, ensure you have a strict rota of services for boilers and electrical equipment. Finally, get the chimneys swept regularly to avoid problems.
If you need to carry out urgent repairs to a listed property you may be able to get financial assistance. There are grants available from Historic England.
Use our service from Checkatrade to find rated local trades to assist with regular maintenance:
Buying a house without listed building consent
When buying a home, we often buy with our hearts rather than heads. But when it comes to buying a listed building, if there are works that have been done without consent, be aware that as the new owner you may be liable to put them right.
So, that gorgeous Georgian property with a pool in the back garden where the original courtyard once lay could prove to be a costly mistake when you've bought it and are then forced to remove the pool because it was built without consent.
You may also struggle to get a mortgage on a listed property that has had work done without consent. Lenders tend to check for this during the mortgage application process.
It's important to also be aware that listed building consent is not the same as planning permission. Work done without planning permission may not be a problem after a period of time. But, work without listed building consent is illegal and no amount of time changes that.
If you aren't sure whether works have listed building consent or not you could speak to your solicitor or conveyancer about whether indemnity insurance could offer protection at the time of purchasing the property Read more about indemnity insurance here.
Do you need specialist home insurance?
It isn't essential, but you need to make sure you choose your home insurance policy carefully. If your home was to be damaged – for example, if there was a fire – then it wouldn't just be between you and the insurer to work out what work was needed and what it would cost. With a listed building, your local conservation officer would also have a say,  plus English Heritage in the case of Grade I or Grade II* properties. Their only concern is getting the property back to its original state, not how much it is going to cost you.
Make sure you have insurance in place that will cover the full cost of repairing your property. Even if that means specific materials or building techniques have to be used.
Here at the Homeowners Alliance we would recommend that you speak to an insurance broker to make sure you get a policy that will provide you with all the cover you need if the worst happens.
Given that you are also responsible for any unauthorised alterations done by previous owners also look for a policy that covers pre-existing works.
We have teamed up with brokers A-Plan to find you the right buildings and contents home insurance cover. Speak to their advisers today to get a quote. 
What extra research should I do before buying a listed building?
The first thing you should do is read its description on the National Heritage List. This will tell you the date it was first listed, the grade of the listing, and a description of the listed property. This description is crucial as it tells you what has been deemed significant about the property and, therefore, what cannot be changed.
You should also check the planning history and speak to the local conservation officer. They can tell you what alterations you may be able to do. Also, check whether any unauthorised alterations have been made in the past.
Do I need to get a survey when buying a listed building?
With listed buildings, more than any other property, it is essential that you get a full buildings survey. Ideally, you want to get this done by a surveyor who specialises in historic properties.
Instantly find and compare quotes from local chartered building surveyors.
Should I buy a listed building?
There are certainly extra hoops to jump through if you take on a listed building, but in return you get to own a unique property and a beautiful slice of the country's history. Furthermore, listed buildings are likely to retain their value more than any other type of property.  Just do your research and know exactly what you are taking on before you sign on the dotted line.