Permitted development: guide for homeowners
There is a whole raft of projects you can complete to extend and enhance your home without needing to go through the onerous process of obtaining planning permission. Find out everything you need to know including what projects are included in our essential permitted development guide.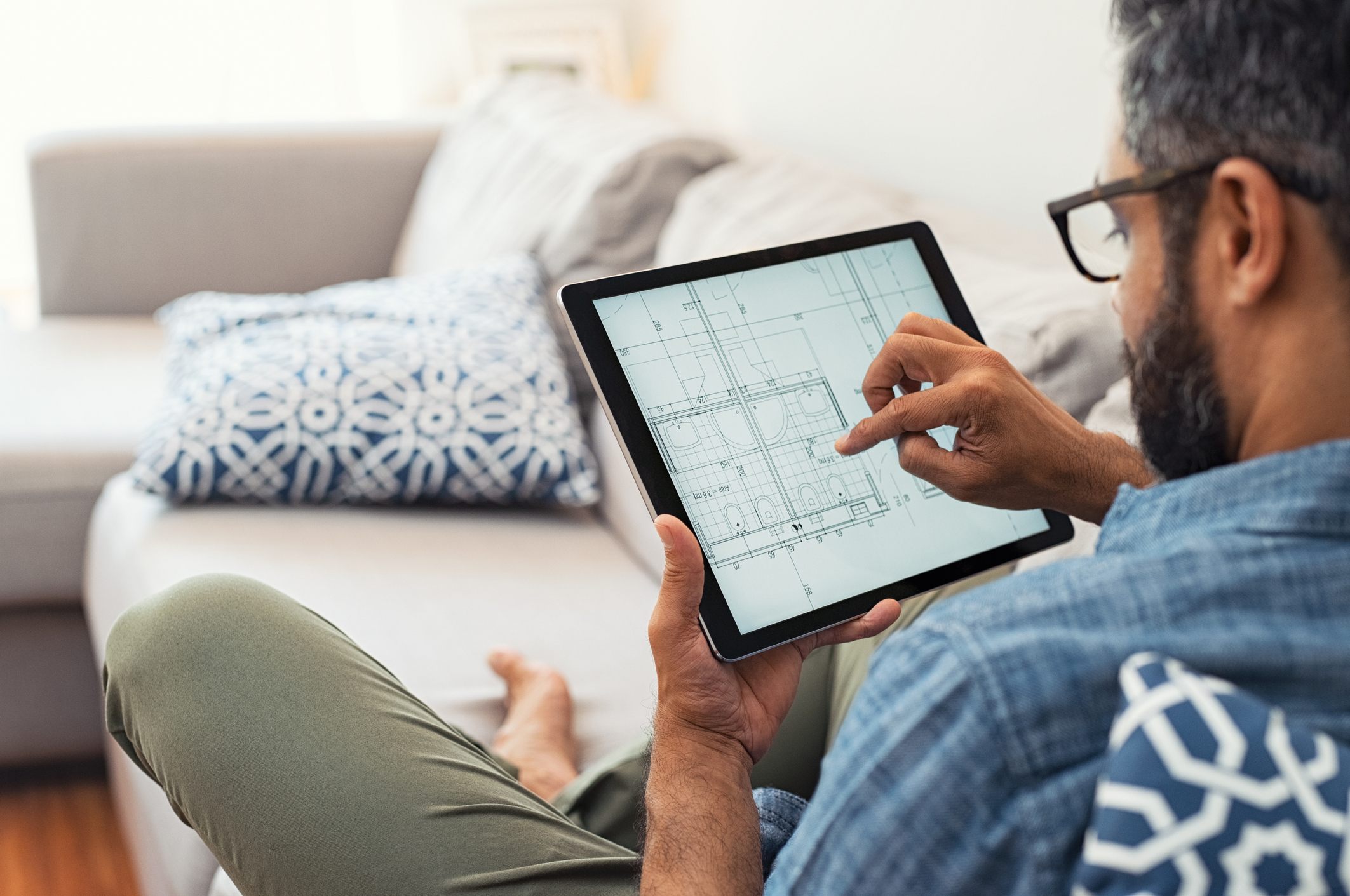 Permitted development guide: what it means
Permitted development rights entitle you to extend or renovate your home without the need for a full planning application. This is a fantastic option for anyone who is looking to avoid the subjective nature of a traditional planning application. Not to mention, the administration, time and costs involved with obtaining planning permission. This permitted development guide will show you what you'll be able to build. So long as, your designs are in line with the guidelines. So whether you would like to take the uncertainty out of the planning process, or live in a strict local planning authority, this could be the best route for you to follow. 
What projects are considered permitted development?
In the last few years, permitted development rights have expanded to encompass a wide range of projects. But, you'll need to be sure your project meets the rules. If it veers beyond what is permitted, you will have to apply for full planning permission.
Here are the major projects you can build under permitted development rights.
1. Two-storey extension 
This is a relatively new addition to the permitted development scheme and an incredible way to add space. A two-storey extension allows you to expand both your ground floor and first floor. Either from the rear or the side of your home. This is probably one of the most common projects homeowners undertake, usually, to give them an extended open plan kitchen-diner at the back of the house and additional rooms and/or bathroom above.
To fall within permitted development rights the double-storey extension should:
Take up no more than half the area of land around the original house. Sheds and other outbuildings must be included when calculating the 50 per cent limit. The term 'original house' means as it was first built or as it stood on 1 July 1948 (if it was built before that date). 

Not extend beyond the rear wall of the original house by more than 3 metres or be within 7 metres of any boundary opposite the rear wall of the house.

Use materials that match the exterior of the existing house.

Have eaves and a roof ridge that are no taller than the existing house. The roof pitch should match the existing house as far as practicable.

For a terraced house, be no more than 3.5m higher than the next tallest terrace.

For any upper-floor windows in a 'side elevation', have obscured glazing and be non-opening (unless the openable part is more than 1.7 metres above the floor).

Not have any balconies or verandas.
All side extensions of more than one storey will require planning permission.
Single storey homes are excluded. 
2. Adding new storeys 
Adding an additional storey to your home is another newcomer to the permitted development scheme. It's one that is a little more complicated than the rest. Since new rules were introduced in September 2020, if you want to build another storey on top of your existing property, you will be able to do this without full planning permission. But there are a lot of caveats to bear in mind. 
Terrace houses will need to ensure the new addition is no more than 3.5 metres higher than their tallest neighbour. Your rights vary depending on whether or not you're converting a commercial space or residing somewhere that is deemed mixed-use. Even how you use the space will affect what's possible (for instance, will it become its own private residence?). 
If in doubt about whether or not your home qualifies for permitted development, speak to your local authority planning department or book a free architectural consultation with Resi. 
3. Loft conversion
If you've got loft space going spare, you might use your permitted development rights to either convert the existing space (a 'room in loft') or extend it with a new dormer. Detached and semi-detached houses are able to add an impressive 50 cubic metres of new space. While, for terraced houses, the allowance is 40 cubic metres. 
For more information, costs and details of how to keep within your permitted development rights, see Loft Conversion: where do I start?
4. Rear extension
You may remember the 'larger home extension' scheme that was introduced in 2012, which allowed you to build rear extensions up to 8m in length. Since September 2020, this has now been brought into your permitted development rights. Detached houses have an allowance of 8m and other homes 6m. However, any rear extension classed as large (longer than 4m for detached or 3m for everyone else), needs prior approval which involves consulting your neighbours on the development. 
There are also height parameters. The extension needs to be less than 4m in height (or less than 3m if within 2m of a property boundary). And, have eaves and a roof ridge that are no taller than the existing house.
A rear extension needs to take up less than 50% of the size of the land around the original house ("original" being when the property was built, or if it was built before 1948, then as it stood on 1st July 1948).
For more advice on carrying out a home extension, see our guide: Home Extension: where do I start?
5. Side extension
Side extensions are a fantastic project for anyone with dead space to the side of their property. They are especially popular with period properties, which often include unused alleyway space.
It should be noted that if you plan on combining a side and rear extension, essentially forming a wraparound extension, it's likely you'll need a full planning application.
6. Garage conversion
Garage conversions are a very popular project to pursue under permitted development. In fact, only 10% of projects undertaken require a full planning application. However, bear in mind, some councils put restrictions on garage conversions, should parking be at a high premium in your area. If you plan on converting a detached garage into a habitable annexe, this too may require a full planning application. 
Read more in our guide Garage Conversion: where do I start?
7. Outbuildings/Garden rooms
Whether you're building a home office or yoga studio, your garden room could be possible through permitted development rights. Where things get a little tricky, is if you plan on creating a new bedroom. Outbuildings intended for habitation typically require traditional planning permission. So, have a think if that spare bed is worth it.
There are also height parameters that you need to work within, so for more information read our guide Garden rooms: where do I start?  
If you're looking to build a separate "granny annex" with self-contained kitchen, toilet, sleeping and living space, that too should fall into permitted development. Read about the size and location parameters in our article "Can I build a granny annex in my garden?"
When might permitted development rights
not

apply?

Not every home can benefit from the above permitted development rights. Notable exclusions include…
Flats

Maisonettes

Listed buildings
If you live in a flat, maisonette or listed property, you'll need to check with your Local Planning Authority whether permitted development rights apply. They may have been removed by what are known as Article 4 directions.
Homes in conservation areas will also find their rights limited or even suspended, and there might be restrictions on what can be done with certain new build developments.
If you live in a leasehold property you'll need to get your leaseholders permission for major alterations. Read our guide Building an extension – how & when to get freeholder consent.
What is an Article 4 direction?
An article 4 direction is a direction under article 4 of the General Permitted Development Order which enables the Secretary of State or the local planning authority to withdraw specified permitted development rights across a defined area.
It is usually enacted because local authorities feel works could threaten the character of an area. They are commonly used in conservation areas. If your home sits in an area where Article 4 is in effect, don't panic. Your project may still be able to go ahead, you'll just need a full planning application in order to get it off the ground. 
To find out whether Article 4 may affect your project, you can either reach out to your local authority for advice or discuss your project with a planning expert. 
Permitted development right changes
As with any planning policy, permitted development rights are liable to change. For instance, in 2020, this scheme underwent a major shake-up. Several large-scale projects were added to the guidelines, including two-storey extensions and the ability to add an additional storey to your property. We've also seen the larger home extension scheme come under the umbrella of permitted development, with the caveat of prior approval being required for anyone looking to add a rear extension larger than 4/3m to their home. 
To make sure your plans are up to date, we always recommend working with a designer or architect with prior permitted development experience.
Do I need a lawful development certificate for permitted development?
A lawful development certificate (LDC) is not compulsory, but not having one in place puts you at risk. For example, if your designs unknowingly deviate from the guidelines, you could face fines and even be asked to demolish your build. 
And when it comes to selling your home, you'll need to prove to your buyers that your projects were completed within the permitted development rights of the time. It is far simpler and quicker to do this if you have a lawful development certificate. You'll then be able to prove to future buyers the space is legal without any delay or uncertainty .
You can apply to your local council for an LDC via the Planning Portal online application service. The application must provide sufficient information for the council to decide the application or else it may be refused. You will have to pay a fee.
If applying for a lawful development certificate feels daunting, you can always have an architect or other planning service manage the process on your behalf. Though securing a certificate will take a couple of months, the peace of mind it provides may make it worth the wait. 
If your application is partly or wholly refused or is granted differently from what you asked for, or is not determined within the time limit of 8 weeks, you can appeal. You can appeal to the Planning Inspectorate.
Do I need to think about the Party Wall Act?
If your project affects either a shared wall or boundary, you need to have a party wall agreement with your neighbour. If this applies to your project, you need to serve a party wall notice at least 2 months before construction begins. Should you receive written consent within 14 days, you'll be able to proceed with your build. If not, then you need will need a party wall surveyor to draw up a party wall agreement.
Find out more in our guide on Party Wall Agreements which details everything from the process, Party Wall surveyor costs and how to find a Party Wall Surveyor.
With thanks to Resi.co.uk, a home improvement and planning platform, for this guide.