Renovation project without an architect
For many people embarking on a home renovation project, investing up to 20% of the budget in an architect is not an option they can afford.  We take a look at how to undertake a renovation project without an architect and the professional input you will need along the way.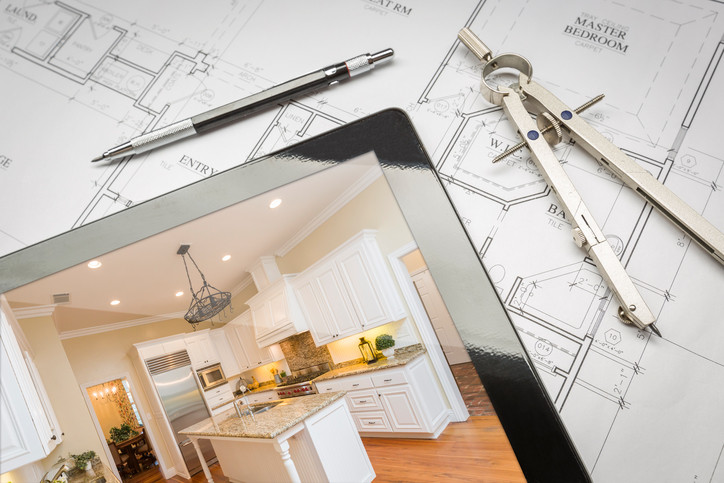 When to do a renovation project without an architect
Whether it's a planned new kitchen, a loft conversion or an extension, most people will at least explore hiring an architect to pull together the designs. An architect can also help advise on permitted development guidelines, help you obtain planning approval, appoint a builder, liaise with the other trades needed and project manage the whole renovation.
But for some, architect fees can represent an unacceptable chunk of their renovation budget. Even when limiting the architect's role to producing plans. According to our Homeowner Survey a quarter of homeowners have put off renovation plans because of architect fees.
For modest or straightforward improvements, many experts say the services of an architect are unnecessary.
It's possible to carry out bigger projects without an architect, if you can't or don't want to afford an architect. But, it's important to have a clear idea of what you will need to do. And, what experts you will need to engage to make your project a reality.
Who can I ask to draw up my plans?
Bear in mind that if you are undertaking a renovation project without an architect, whether you need planning permission or not, you will need detailed scaled drawings. These are drawings of the current building and proposed changes to show to the structural engineer, building contractor and other trades.
You could consider using computer programs available on the market to produce your own early stage plan. Alternatively, for more complicated plans you can ask an architectural technician. They are cheaper than an architect. You can commission them to do a site visit, measure and provide your detailed drawings for you.
Find a local architect or architectural technician to help with detailed plans
Who can I ask to provide structural calculations?
When you're making home improvements that could impact the stability of the building you will also need a structural engineer. They will provide calculations and technical drawings which your building contractor will use during the renovation work.
As a general rule, anything which changes the structure of the property will also need building control approval. To obtain this, you'll need to submit the calculations from a structural engineer to your Local Authority Building Control department before works can start.
Projects which often require the services of a structural engineer include an extension, removing or changing internal walls, modifying doors and windows, loft conversions, removing a chimney breast and so on.
Find a local structural engineer to assist with structural calculations
How to get planning permission without an architect?
You don't need an architect to obtain planning permission. You can submit your plans yourself online via your local authority's website or in person. Having an architect submit your plans will not guarantee they are approved. If you know, for example, that your planned rear extension, is a replica of works next door that was approved last year, then it is likely your plans will also be approved.
You can request a pre-application meeting with your planning department before submitting plans. It comes at a cost but may be valuable in understanding any possible issues with your plans. You can then rectify any issues before paying to formally submit plans.
This meeting and a little research should help you determine local planning restrictions, targets and preferences. So, you can tailor your project accordingly. If you aren't confident doing this yourself, a good planning consultant might be an option to help you through this process.
Get advice from a local planning consultant to help with your planning application
What building regulations do I need to comply with?
For certain types of work – for example, electrical, plumbing, gas, and replacing windows – you need to get a building regulations compliance certificate from your local authority.
For certain jobs, you can also obtain building regulation compliance from a tradesperson who is part of a self-certify scheme.  Traders who can approve their own work are part of a Competent Person Scheme. The most well known schemes are: Gas Safe (gas engineers), APHC (plumbers), NICEIC (for electricians) and FENSA and CERTASS (for window and door installers).
When searching for these tradespeople, ask up-front whether they can self-certify and get the relevant certification when the job is done. You will need this should you ever sell your home.
Alternatively, you could go to your Local Authority Building Control (LABC) department to get approval for these works. Fees vary, according to the scale and type of work being undertaken as well as which part of the UK you live in, but are generally less than £500 for something like an extension.
It is extremely important to discuss all proposed work with your LABC and building control service in advance of any work starting. Failure to meet regulation requirements can result in home owner liability for any remedial work that has to be done. See our advice guide Do I need building regulations approval?
Party wall agreement
A party wall is the shared wall, usually between a terrace or semi-detached house, and divides the homes of two separate owners. It also includes garden walls built over a boundary and excavations close to a neighbour's property (within three or six meters, depending on the depth of the new foundations).
Party Wall Agreements between neighbours are most commonly needed for loft conversions and extensions which require the insertion of steel supports, a damp proof course and/or digging of new foundations.
If you are doing a project which impacts adjoining or shared walls with your neighbours you may need to issue a Party Wall Notice. See our advice guide Do I need a Party Wall Agreement?
Finding the right builder
In the absence of an architect, it is vital to have a contractor that you trust to oversee the building work.
If you have used a structural engineer or architectural technician to draw up or check your floor plans, then ask for a recommendation. Alternatively, ask a family member or friend who have had building work done to share their experiences.
We have partnered with Checkatrade to help you find a building contractor.
When inviting builders to tender for your project it's important to approach at least 5 in the hope of getting a response from 3 of them. Include copies of your plans and technical calculations, and invite them to attend a site visit at your home. Their estimate should breakdown costs, be on company headed paper with full address and phone number and include VAT.
You will understand your project and the costs better if you spend time talking through their estimate. Remember a good rapport can be tremendously beneficial to achieving your goals.
Managing a renovation project without an architect
Managing a renovation project yourself takes a lot of time and energy. A schedule of works and payment schedule can be set out clearly in a contract with your building contractor. Asking your builder to sign a contract protects both you and them.
If you deviate from the original plans or want additional items added during the course of the project, you or the building contractor should get a cost before signing off the work.
Make the building contractor responsible for obtaining Building Regulation compliance for works done and final planning permission sign off. Make sure you have all the certification before making the final payment.
Related reads