How do I find an architect?
It's important that you find an architect who is respected and can ensure the success of your project. Here's how to find an architect to help with your project, how to choose the right one for you and how to formally instruct an architect.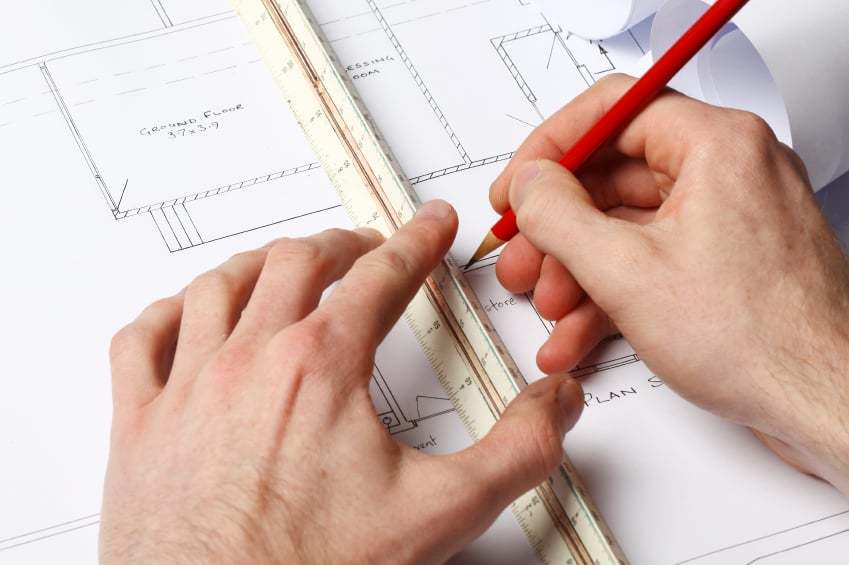 Where do I find an architect?
You need to do your research if you want to find the best architect near you. Start by asking people who have had work done if they would recommend their architect, as nothing can beat the recommendation of someone you trust.
Online databases can help you to get a list of architects. Each architect practicing in the UK must be registered with the Architects Registration Board, so that can be a good place to start the search.
The HomeOwners Alliance has a 'find an architect' service that helps you to see professionals working in your area. You need to fill in a handful of details about your property and within minutes you'll be able to see a list of local suppliers that specialise in architectural design that you can contact.
Use our 'Find an Architect' service to search for an architect in your area
How do I shortlist architects?
When you're trying to find an architect, the number of varying job titles can be misleading. If you're looking to find an architect to complete a larger project, you'd usually want a Registered Architect. Smaller home improvements would typically be handled by Architects, Architectural Technicians or Surveyors. But there's no hard and fast rules.
You should consider these factors when shortlisting architects:
Are they registered with the Architects Registration Board? All architects must be, by law, so make sure you shortlist one that is. This guarantees a certain basic standard of work, and means they will have professional indemnity insurance in case anything goes wrong and you need to pursue compensation.
Are they a chartered architect? You may prefer this, as chartered architects are bound by a strict professional code that means they need to act honourably, independently and efficiently.
What type of architect are they? Do you need someone more creative to bring your space to life, or someone who will execute your idea perfectly?
What level of service do you need? Are you looking for designs to determine budget and get planning permission? Do you need full detailed architectural plans? Or, do you need someone to oversee the entire process until completion?
Are you likely to run into problems with planning permission or building control? If so, it's a good idea to shortlist architects that are familiar with local planning policy and attitudes in your local authority, and can show a track record of successful applications.
Do you live in a listed building? You'll want to get an architect with experience of them, if you do.
Are you worried about the budget? If so, get an architect who is strong on managing costs and doesn't keep trying to push expensive extras on you.
How do I choose an architect?
Once you have found a shortlist of architects, it's important to contact them and make sure that they are available for your project. If they are, you need to give them a brief and then arrange interviews.
The ideal process for choosing an architect is in done across a handful of steps:
Give each architect a brief of the work you want done, a rough budget and ask them if it is the sort of work they do, and whether they are available to do it (the good architects are often the least available). The clearer and more precise your brief is for the architect, the less likely you are to be disappointed by the outcome
Aim to meet at least three architects at your home to discuss the project in depth. You can download a free form that will help you structure this conversation and ask clever questions from the architects.
Ask to see their portfolio, visit their website, even visit other houses they have done. Ask to speak to past clients (if they say no, ask why!)
Make sure you like their style – different architects' work have different feels.
Check how they engage with you – do you feel confident you can work well with the architect?
Ask them directly about their fees, as different architects charge not just different amounts, but in different ways. They can charge by the hour, a flat fee (usually for smaller jobs), and as a percentage of the total build costs (usually for larger jobs); with a payment upfront (30%) to cover initial design work. They might give a vague estimate about expected costs, which you should push them on. If your shortlisted architects give wildly different fees, you should ask them to explain the costs.
Find out what their level of involvement will be. How much detailing will they do? For example, will they establish where the walls will be but not the thickness or detailing like where the electrical sockets will be located?
Compare like for like – fees compared to level of service that will be provided.
Once you've chosen an architect, it's time to instruct them.
How to instruct your architect
It's usual for you to instruct your architect in a meeting. This is when you need to be really clear about what you want them to do, the timings and your budget. You will also discuss the payment schedule, and any penalties for missing these.
Following the meeting, your architect should send you a detailed appointment letter. It can span many pages if the project is complex.
The appointment letter should include:
A detailed breakdown of the work
Budget estimates
A preliminary programme of work – what will happen when
Details of fees and payment schedules
Details of what will be claimable on expenses and costs involved
Whether you will need planning permission, and what their services will be in this respect
If their services will include submission of information necessary to meet building regulations
Party wall — whether you will need a party wall agreement
The extent of their professional indemnity insurance
With the appointment letter, the architect should also enclose a detailed contract setting out terms and a tick box list of services. If the architect is a RIBA member these will be called "Conditions of Appointment for an Architect for a domestic project" and "Small Project Services schedule", respectively. Check carefully and ask questions before signing it.
And before you proceed to the construction stage, make sure you read all about how RIBA building contracts can help you stay in control of the project and protect yourself in case anything goes wrong.
You may want to understand more about how to work with an architect, to make sure the process goes as seamlessly as possible.
Use our 'Find an Architect' service to search for an architect in your area
Advice for specific projects
If you have a specific project in mind, you may find our series of 'where to start' guides helpful: Home extension: where to start?,   Kitchen renovation: where to start?, Garage conversion where to start?,  Loft conversion: where to start?, Basement extension: where to start?