Do I need Building Regulations Approval?
If you're thinking of having work done to your home that will require structural changes or extensive alterations, the chances are that you will need to get building regulations approval before you proceed. But the process to obtaining building regs approval can be time consuming and confusing. Here we help you to understand what projects need approval, when, how and where to apply, how much it costs and more.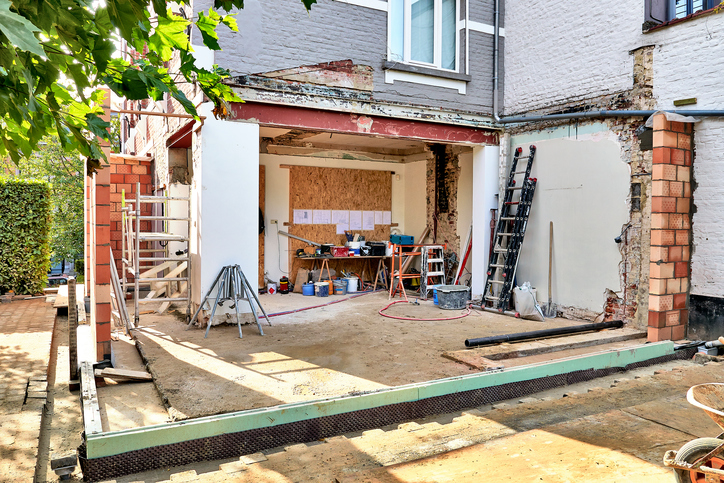 What are building regulations?
Building regulations are minimum standards for design and construction aimed at protecting the health and safety of the people living in them. They cover areas such as:
Structure: For example, any exterior work or internal alterations which will affect a load bearing wall, joist, beam or chimney breast (etc) or which will affect access to a property. These may include house extensions (including those relating to garages, basements, roof balconies or terraces), conversions (such as those relating to garages, lofts or the subdivision of a property), creation of ensuite facilities, cavity wall installation, replacement of floors (but not flooring) or underpinning to foundations.
Electrical safety: For example, if you add new fittings (such as fuse boxes or plugs), change electrics in a bathroom or shower area or undertake any work which requires new electrical wiring.
Installation of heating appliances: For example, if you wish to install or replace an existing boiler, add extra radiators or install a fuel burning appliance.
Fire hazards: For example, any construction work which requires an escape route to comply with fire safety standards.
Plumbing: For example, if you wish to install a new bathroom or kitchen.
Ventilation: For example, all new windows, doors or fixed air-conditioning systems.
Other: For example, any work which affects sound resistance, hygiene, drainage and waste disposal or conservation of fuel and power.
Who is responsible for getting building regulations?
You are! Homeowners are legally responsible for ensuring that all structural or alteration work complies with building standards. You can delegate this responsibility to your builder or contractor in advance of them starting the work. But you are ultimately responsible for ensuring your home complies with all relevant building standards.
For certain jobs you can also obtain building regulation compliance from a tradesman who is part of a scheme who can self-certify their work.  Traders who can approve their own work are referred to as being part of a Competent Person Scheme. The most well know schemes are Gas Safe (gas engineers), APHC (plumbers), NICEIC (for electricians) and FENSA and CERTASS (for window and door installers). A list of members is available online at the Competent Persons Register. So if you want your boiler replaced, your electrics rewired or new bi-fold doors installed, check the company is part of the relevant scheme and can provide you with a building regulations compliance certificate at the end of the work.
What projects are exempt from needing building regulations?



The following common home improvement projects will generally not require you to apply for local authority approval:
Replacement of baths, sinks, basins or toilets.
Any alterations to existing circuits which are not situated close to baths or showers, as well as work on lighting or additional power points.
Conservatories and porches may be exempt if they are separated from a property by a door and are unheated.
Carports attached to a property with at least two sides (except in respect of electrical installations).
Greenhouses
Are planning permission and building regulations the same thing?
No. Planning permission is completely different from the process governing building regulations and is designed to shape and control the way in areas are developed. If you intend to make major structural changes to your home, therefore, or to build something completely new, you will probably need to get planning permission. While you don't need planning permission for many internal renovations and some house extensions which fall within your permitted development rights, it's best to check before work starts. So give your local planning authority a call first.
Where can I get building regulations approval?  
There are three main sources of approval for you/your building contractor to consider:
Local Authority Building Control (LABC): Most people go through their LABC body to get Building Regs approval.
Private building control bodies: Private company Approved Inspectors will advise you on how the regulations will apply to your chosen work, check all plans, notify a local authority of intended work (via an 'Initial Notice'), inspect the work as it progresses and issue the final certificate. There is no application process in this instance.
Competent Person Scheme: The main advantage with self-certification is that no building control fee is charged, so customers benefit from lower prices and the convenience of the work being carried out and signed off by the same person, at the same time.
Finally, there are also a range of third party certification schemes for accreditation of materials, products and installers. Some LABC bodies will accept third party accreditation as evidence of building regulation compliance, providing the scheme is recognised.
How do I apply for building regulations approval and how long does it take?
If you or your builder decide to use the local authority building control, there are three main types of application for approval that can be made. All applications can be submitted online.
Full plans: This will require either you or your builder to submit full plans and/or technical drawings (see below) of what you intend to build in advance of work. It is usually processed by the local authority within 5-8 weeks, with approved applications valid for the next three years. Local authority building inspectors will arrange to visit you and check the works are compliant at key stages in the build process.
Building notice: This process allows you to inform a local authority that you intend to build something without providing full plans. It is a much quicker and easier route to pursue than the first option, although there are some exclusions (such as work relating to fire safety or close to drains highlighted on sewer maps). There is also an element of risk. Building inspections are carried out throughout the construction process and any work deemed to fall outside of the regulatory standards will need to be modified or removed. Only once the work is completed to a satisfactory degree will the local authority issue a completion certificate.
Regularisation: This final application process is retrospective and is discussed in detail below.
Does your project require structural changes to a building that impact on a shared wall or boundary? You will likely require a Party Wall Agreement. Use our free tool to find out more and get details of Party Wall surveyors in your area and compare quotes
Building Regs Drawings
Whether you already have architects plans for your project, have a builder in place to carry out the job, or are planning a DIY alteration which you know will require building regulations approval (e.g. removal of a load bearing wall) then you will also need structural calculations and technical drawings to submit to the local authority building control to explain your project and seek approval. A chartered structural or civil engineer can provide this for you. These calculations and drawings will also be an important guide for your builder/contractor/you to follow.
If you require structural calculations and technical drawings, use our tool to find a list of local Structural Engineers who can help you. You will be provided with their full contact details to contact them directly to discuss what level of service you require.
What happens if I don't get building regulations approval?
If the initial application for approval is rejected by a local authority, you have the option of amending your existing plans- which we would recommend as the smoothest and quickest option. Alternatively, you can resolve any pertinent issues by means of discussion, or by appealing the decision at a local level or directly to the Secretary of State for Communities and Local Government.
If you proceed with the work without receiving prior authorisation and this does not comply with building regulation standards, then you may be asked to remove or alter each offending contravention. If this is not done, the local authority will either serve a 28-day requirement notice (together with a bill for costs) or choose to prosecute. If convicted, penalty fees of up to £5,000 can be charged plus £50 for each day that the work remains uncorrected. Failing this, the authority may decide to perform the remedial work themselves and recover all costs from the property owner.
An appeal for 'determination' can be lodged if you believe that your plans comply with regulations but have been rejected, or for 'relaxation', 'dispensations' and 'appeals' if you believe that the regulatory requirements are excessively onerous or irrelevant.
Can I obtain retrospective approval for building work?
If you have undertaken building work without prior approval, then a retrospective application process, known as 'regularisation', can be used to obtain a 'regularisation certificate'. However, this may entail extensive corrective work to comply with building standards. A fee is usually charged for this type of application, although the amount will differ according to the local authority. It is usually based upon the estimated cost of the initial work against sliding scale works.
How much does building regulation approval cost?
This can vary according to local authority fee rates and the nature of the work undertaken, but as a rule of thumb most conversion, renovation or extension work will cost around £100 to submit full plans and a further £200-400 for inspections. Approved Inspection fees are usually similar in terms of a total charge- usually around 1-2% of the cost of the work.
Do I need to get a building regulations certificate?
Yes! Once the building work on a property is completed, it is essential that you obtain a completion certificate confirming that the undertaken work complies with regulatory standards from the local authority. This should always be done before handing over payment to the responsible builder or tradesperson, although competent person scheme members will provide you with a certificate within eight weeks of completed work. Completion certificates cannot be issued retrospectively, so failure to obtain one at this time could lead to major difficulties if you choose to sell your home at a later date (although indemnity insurance may help to overcome this hurdle).