How to spot and get rid of damp
Mould or mildew around windows and doors, a musty smell, and discoloured patches on wallpaper and walls are just some of the tell-tale signs of damp in your home. Here we look at how to identify the different types of damp, how to treat damp, the cost of damp proofing and what to do if a homebuying survey shows signs of damp.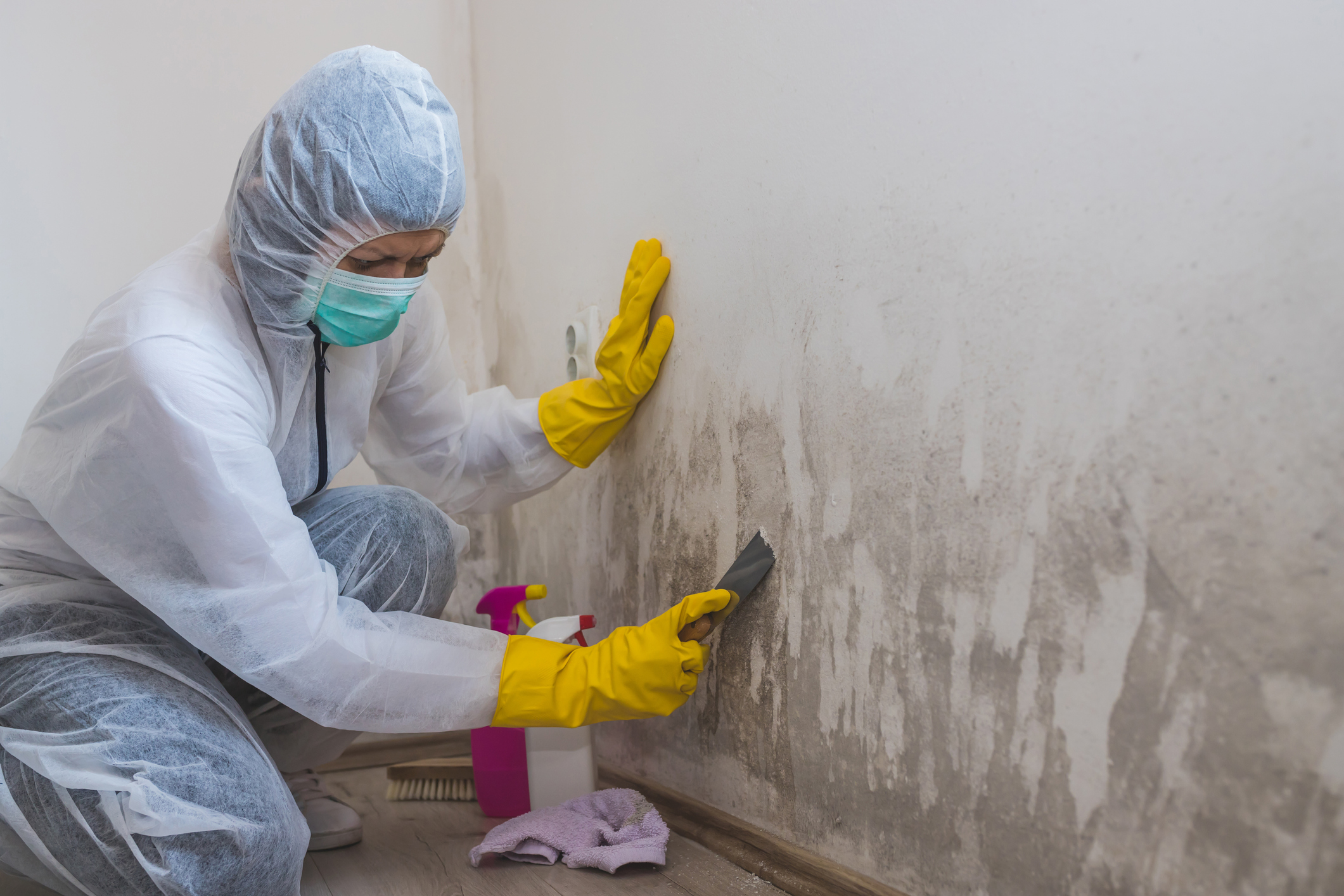 How to spot signs of damp in your home 
If you spot damp, it is important to deal with it as soon as you can. If you leave it, it can lead to major problems in your home, especially if the dampness is in contact with structural timber elements over a long time. This damp can lead to rot which will make the damp problem much more expensive to fix. Living in a damp home can also be bad for your health. 
There are several common signs of damp to look out for. If you spot any of them, it's time to take action.
A musty, damp smell

Patches of discoloured paint or wallpaper on a wall

Excessive water droplets on windows or walls

Dark patches of mould on the walls, floors, ceilings, or around windows

Rotting or damaged skirting boards

A white residue left in walls and floors when soluble salts dissolve 

Walls that are cold to touch

Lifting or peeling wallpaper

Increased humidity in the air
Types of damp
There are different types of damp: rising damp, penetrating damp, and condensation. You need to treat each type of damp differently. 
1. Condensation
The most common type of damp is condensation. The main signs of condensation are excessive water droplets running down the windows or walls or a dark mould appearing on windows or behind furniture on external walls.  
There are a variety of reasons condensation may be causing you problems. Inadequate heating or a lack of ventilation in the property causes the majority of condensation issues.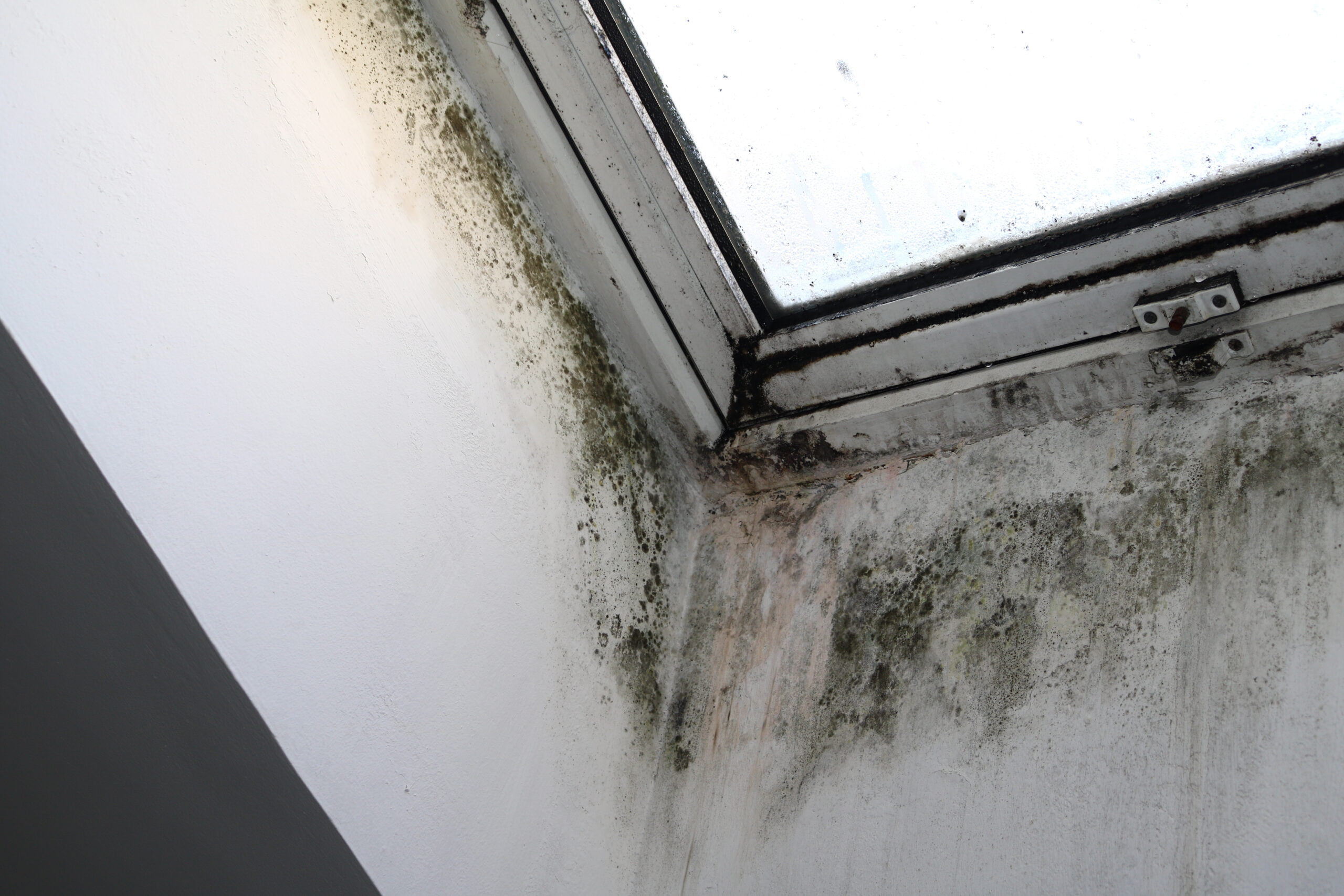 2. Rising damp
Rising damp is the name given to the process of external groundwater being drawn up through brickwork by what is known as 'capillary action'.
If you see moisture at the base of the wall this could be rising damp.  Often a 'tide-mark' is visible, typically up to 1m above floor level, but occasionally higher. You may also spot salt marks in walls and plaster suffering from rising damp as salts are present in ground water. 
In newer houses, there will be a damp-proof course (typically built into a wall at 15cm above ground level) and a damp proof membrane under the floor to prevent water from moving upwards. The two are connected to provide a seal to any water coming into the house. However, many older properties were built without one or either of these forms of protection. 
For many homes, these barriers can be damaged, worn away, or compromised by higher external ground levels over time. Without these barriers, damp may start to appear on the walls or floors of your home.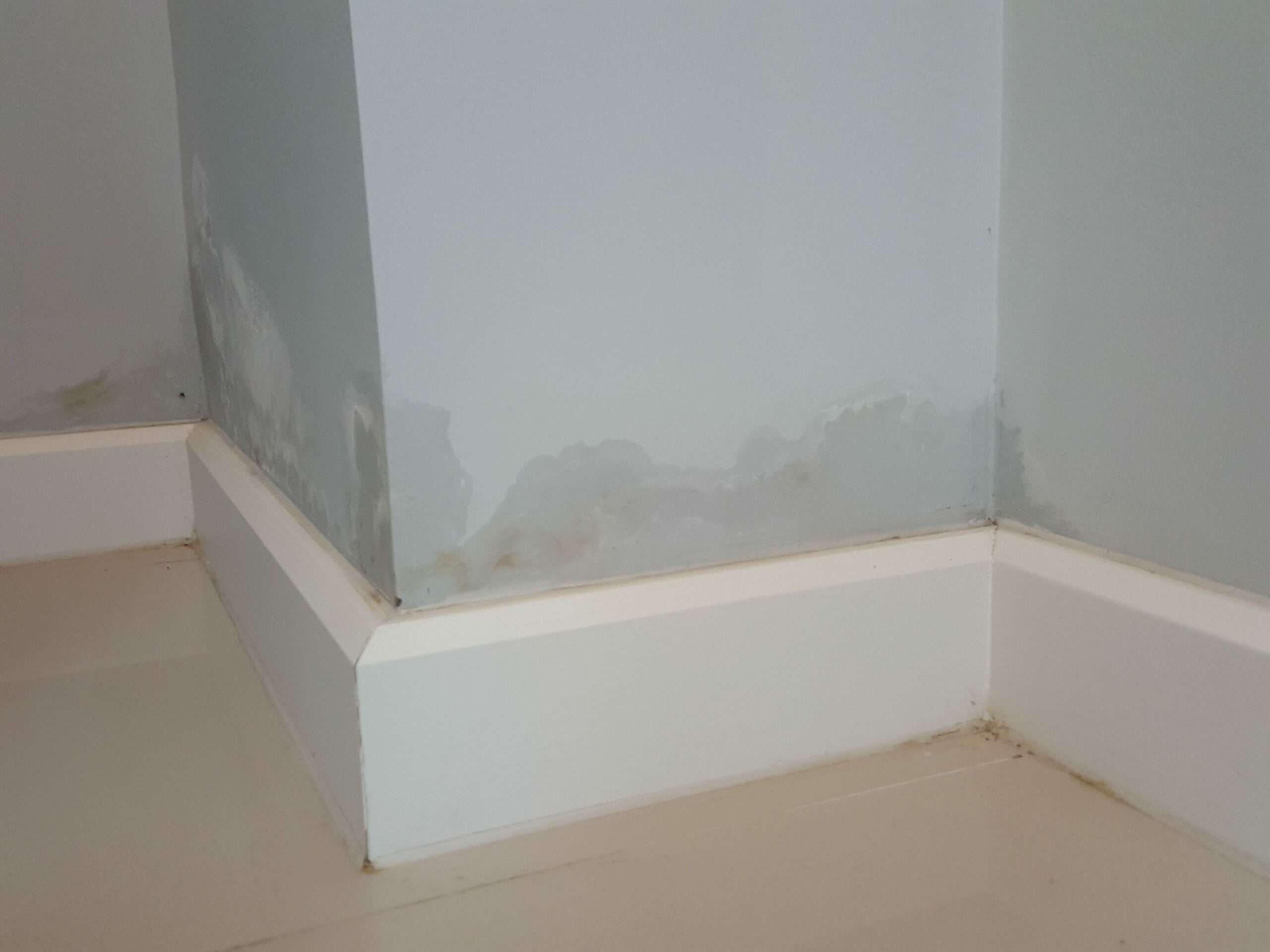 3. Penetrating damp
Penetrating damp is normally the result of external defects on the home that allows water to enter the building fabric. Typical property or building external defects that may lead to rainwater penetration include:
Defective roof coverings

Poorly maintained rainwater system, gutters, drains and downpipes

External vegetation affecting the rainwater system and wall surfaces

Cracked or defective render or other external coatings

Tired mortar joints and defective pointing

Broken masonry or permeable brickwork or stone

Defective seals around windows and doors
The extent of the problem will be dependent on the type of defect. For example, a leaking downpipe will likely result in a fairly localised problem. However, if the issue is porous brickwork, then the problem will be more widespread and potentially more expensive to fix.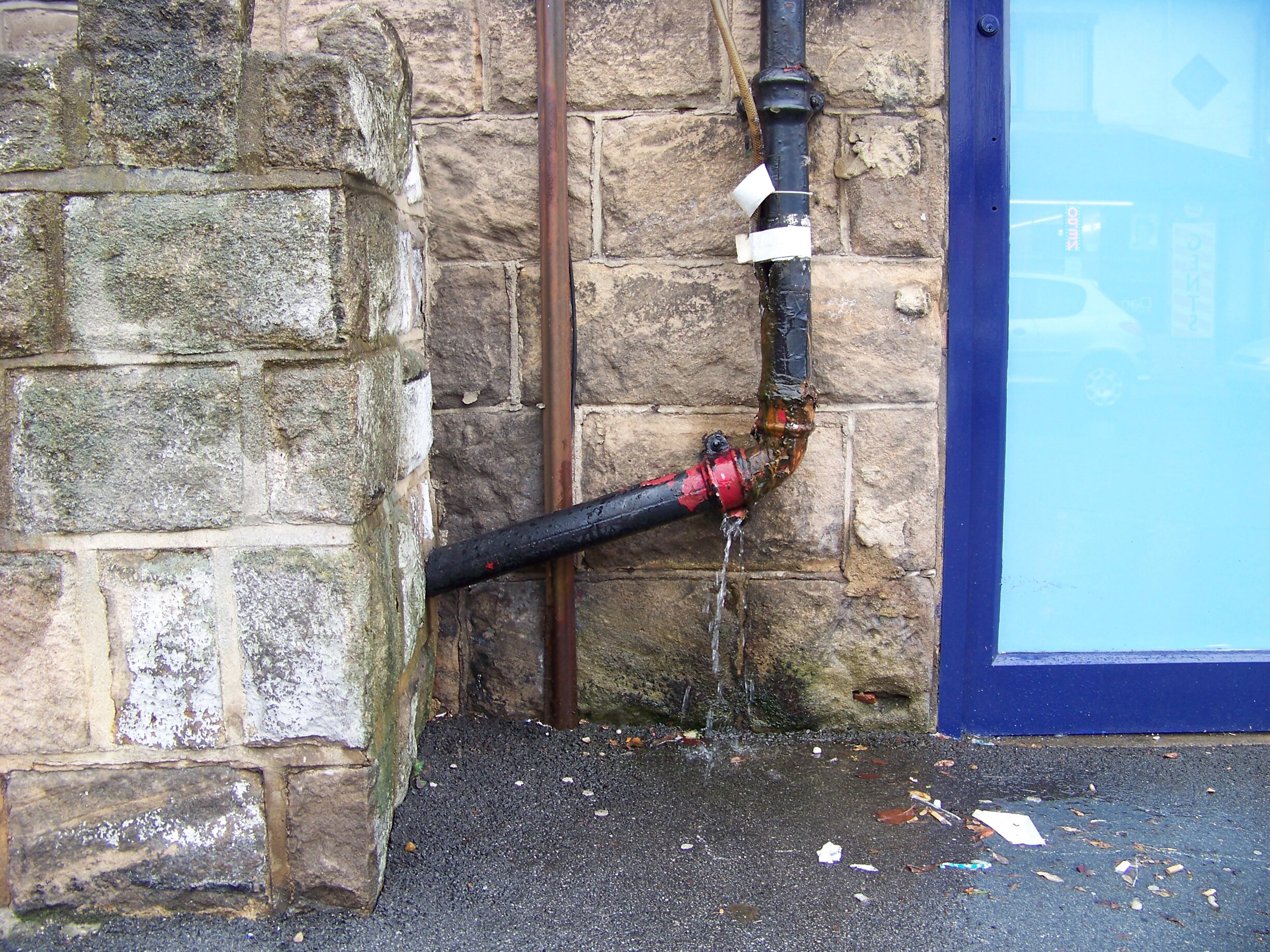 How to get rid of damp
The sooner you deal with damp, the easier and cheaper it will be to fix. You will also reduce the risk of the damp causing other problems with your home.  It can be a bit like tooth ache…the longer you leave it, the more painful and costly it is to fix.  
The treatment of any damp depends on what is causing the issue. This may not be straightforward as there can be multiple causes. It may be possible that you can treat the damp yourself, but if the problem is serious, you may need to pay for a damp specialist. 
Fixing condensation issues
The main way of addressing condensation is by producing less water and steam in your home and by improving extraction and ventilation. 
When cooking, use the minimum amount of water needed, cook with pan lids on and turn the heat down once the water has boiled.

When filling the bath, run the cold water first then add the hot. This will reduce up to 90% of the steam which leads to condensation.  

Avoid drying laundry on radiators. Hang washing to dry outside or or in the bathroom with the door closed, window open and  extractor fan on. 

Make sure you vent your tumble dryer to the outside (DIY kits are available for this) or use a condenser tumble dryer. A condenser dryer collects moisture from your wet clothes in a container which will need emptying. 

Activate extractor fans by a light switch or controlled by a humidistat. If you are purchasing a new fan, it is worth investigating the options.
Fixing penetrating damp
It's tricky to treat penetrating damp unless you are a skilled tradesmen and have knowledge of how to fix the issue.   However, that does not mean you cannot potentially locate and fix the source of the moisture to help remedy the damp issue affecting your home.  Do you have one of the issues identified on our list of 'typical property or building external defects' (such as defective roof coverings, gutter or downpipe issues, cracked render, pointing or brickwork).  
If you are able to locate and fixing the source of the damp, then you are likely to go some way to resolving the problem. You may need a specialist tradesperson depending on the defect and the extent of the damage. 
Use our Find a Local Tradesman service from Checkatrade to find local, rated tradespeople
Tackling rising damp 
If you suspect you have rising damp, the first thing to do is try and locate if your building has a damp proof course. This may not be easy to find, but you should be able to trace this around the outside of your building. Not all buildings will have one, but if you are able to find one, make sure it isn't buried beneath high ground levels like flower beds and paths. Resolving rising damp can be as simple as removing these "bridges". 
However, if you are unsure about any form of dampness, its cause or solution speak to a reputable contractor. 
How to find a damp specialist
If damp isn't going away after you have tried the suggestions to address the potential source of the damp, it's time to call in a specialist. You will need to book in a specialist to come to survey your home and look at the problem. They will give you their recommendations on how to solve the damp and the costs involved.  
It is important to get at least 3 quotes to ensure you are happy with the price and the extent of the works they are proposing.  You could ask for recommendations from family, neighbours or local community groups. It's also a good idea to check that the company is a member of the Property Care Association, the trade association for specialists. This will give you extra protection as they will have achieved qualifications, offer insurance backed guarantees as well as be able to guarantee your deposit for damp proofing and other major works. 
How much will it cost to damp-proof a home?
The cost of damp-proofing your property will depend on lots of factors including its size and age and how bad the problem is. You can fix some damp problems by simple changes, but others could cost significantly more and depends on the type of damp.
Condensation issues: The cost of installing a good quality extractor fan would be in the region of £500+.  You could end up paying more if additional work is needed in order to comply with building regulations.
Tackling rising damp: A rough guide for the installation of a remedial damp proof course and associated plaster works for a flat 5m wall would cost from £1,200. However, this could vary depending on the construction of the property and accessibility.
Fixing penetrating damp: The cost of fixing penetrating damp will depend on the cause of the issue. For example if the cause is defective rainwater pipes then simple maintenance may solve the issue. However, if the issue is defective external coatings the cost could easily escalate and could prove very costly to fix.
Tips on how to prevent damp
Prevention is always better than the cure. There are several things you can do to prevent damp from appearing in your home such as: 
Undertake regular maintenance checks of the outside of your building 

Keep guttering and roof tiles well maintained  

Look out for cracked or rusting downpipes

Reducing the amount of moisture in the air by drying clothes outside and keeping lids on pans when cooking

Improving the ventilation by keeping window vents open and use extractor fans

Leaving gaps between walls and furniture so air can circulate

Removing moss or lichen growing on stone or brick work

Fixing defective pointing on outside walls
Does my home insurance cover damp treatment?
All home insurance policies vary, but usually they do not include damp or mould treatment.  This is because it is seen as general 'wear and tear' that can occur in a property and therefore not an unexpected issue which can be covered with insurance.
When you buy a new home insurance policy you will need to agree to a list of assumptions about the property including that it is in a good condition. You will need to declare damp when you buy the policy as, if you have damp, this means the property is not in a good condition.  
What should I do if damp shows up on a house survey? 
If you are buying a new house and you suspect damp, you'll need to arrange for a HomeBuyers Report (level 2) or Building Survey (level 3).  Both these surveys include tests for damp in the walls. A full Building Survey will also look at the condition of the existing damp proofing. Learn more about surveys in our guide  what type of survey should I have. 
However, you should be aware that you may not be able to identify the root cause of the problem without consent from the seller to carry out an invasive inspection which might include peeling back carpets and lifting floorboards. In these instances the survey may recommend further investigation.
Talk to your surveyor after the survey has been completed.  If damp has been found, you can ask them how much it might cost to fix the issue and get a few quotes from damp specialists. 
Instantly find and compare quotes from local surveyors using our find a surveyor tool
When you have these quotes, you can negotiate the price with the seller of the property or ask them to fix the issue before the sale is completed. If they choose to do this, make sure you see proof of the work being carried out by a registered tradesperson.  See what else you can do if problems are flagged in our what to do if you receive a bad survey report.  
Thank you to the Property Care Association for their help in producing this guide and providing some of the photos.