How can I flood proof my home?
It's impossible to completely flood proof your home but there are lots of things you can do to reduce flood damage. Perhaps you are preparing for a flood warning or doing repairs after a recent flood and want to make sure your refurbishments use the latest measures. We've got some ideas to help...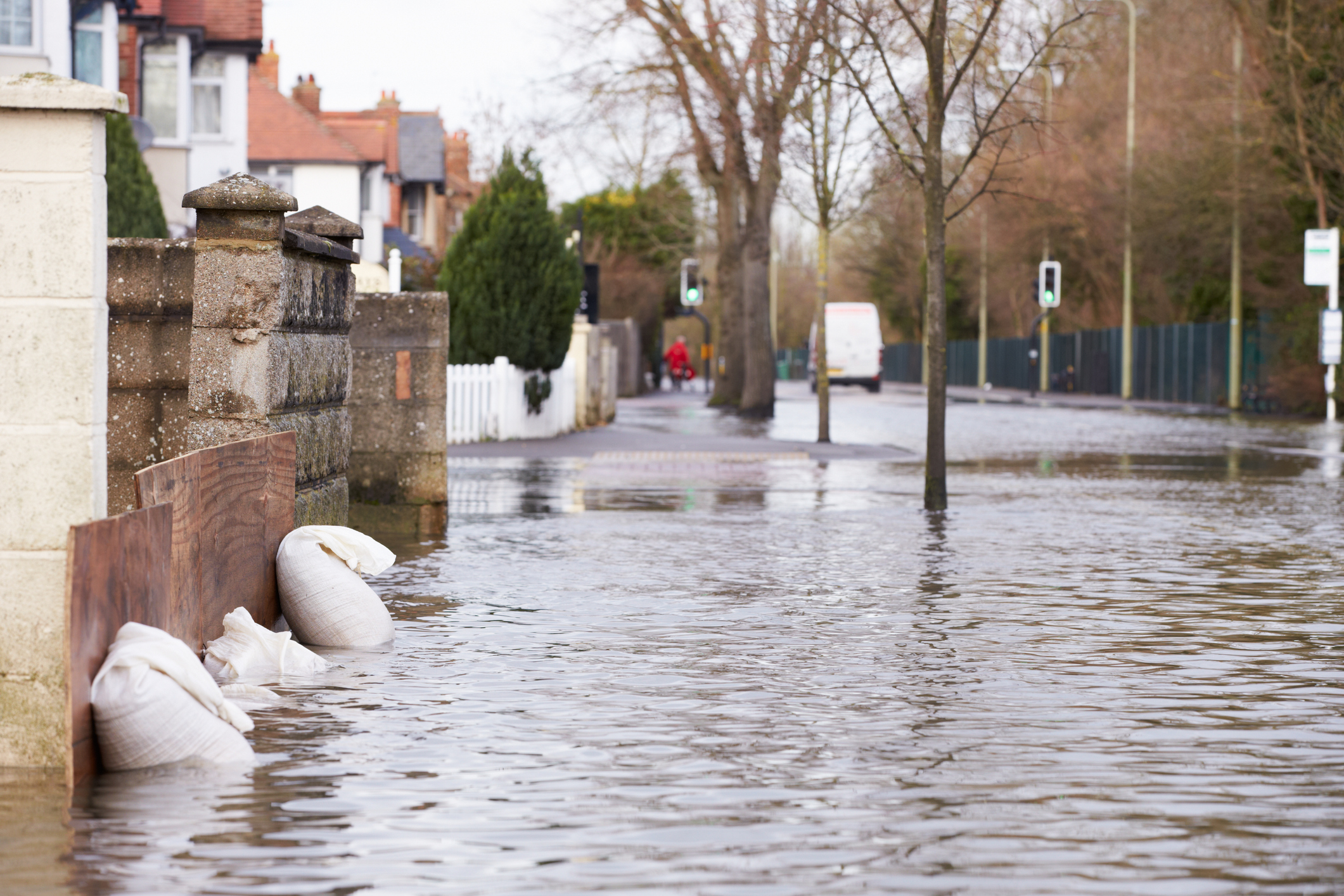 Is my home likely to flood?
Stormy weather isn't unusual for UK winters. But winters are getting wetter, with flash flooding events becoming more likely every year. Five out of the six wettest UK winters on record have occurred since the year 2000. So it's worth checking if your home is at risk. You can do this instantly and free using your postcode on the government webpage Flood warnings for England. If you are at risk, then you can sign up for flood alerts by phone, email or text message. The service is free.
It's worth noting though that even if your home isn't listed as being at long term risk on this government website, you could still be at risk of flooding in the event of a high level of rainfall. Flooding isn't just happening to properties near rivers.
How to quickly protect my home from flood damage
If your area is on high alert of flooding,  you can help to flood proof your home by getting sandbags and other temporary flood precautions in place. Move valuables, including important documents, upstairs, and if you can, turn off your water, electricity and gas supplies. Also turn off appliances that use water, such as your dishwasher and washing machine. Be prepared to evacuate immediately if you're asked to – including your pets. Don't risk leaving too late and only return when you're told it's safe to do so. Read more on the government site about getting help during a flood
Simplest and cheapest steps to flood proof your home
Stock up on sandbags. Your local council should have a stockpile. You can find your local council here to find out where to get sandbags. Or you can get your own from some DIY or building supplies shops. Or look for non-sand alternatives on the National Flood Forum Blue Pages Directory. But beware, if your problem is with groundwater flooding, sandbags won't help (see below for suggestions).
Varnish wooden skirting boards. This isn't as fail safe as fitting water resistant plastic skirting boards but varnishing your existing wooden ones is a quick and cheap alternative.
Air brick covers. 

You can buy  covers that fit over air bricks to stop flood water entering. They are relatively cheap at £50-300 but make sure you remove them once the flooding has passed, to allow the bricks to dry out again. (For water-resistant air bricks, see below.)

Fit non-return valves on drains and pipes. This helps prevent sewage from flowing back through pipes from toilets and sinks. And it is relatively inexpensive at £50-£500.
Shelving. Mount high shelves for storing valuable items if you don't have the option of moving them away from the ground floor.
Raise your household appliances Similarly, to protect the mechanics of household appliances you can either move them off the ground floor or raise them on plinths where they stand. You can also raise televisions and sound systems to the wall above flood level.
Protect valuables with sealable bags If large items such as electrical goods and sofas are too hard to move to a higher floor, buy large sealable bags.
Check your insurance is right for you. Look closely at your policy terms or speak to an insurance broker who can find a policy to meet your needs
Measures to take if you have more time and money to flood proof your home
 Move electrical sockets higher up the wall  If you move electrical sockets to a height of about 1.5m they are less likely to be damaged by low level flooding. But this is not always practical and it will cost around £1,000-4,000.
Replace wooden floors and carpets. Concrete with a damp-proof membrane and ceramic tiles are preferable to wooden floorboards. But be careful sealing it around the point where the floor and walls join. And replace fitted carpets with rugs, which are easy to move them away when there's a flood warning.
Quick release internal doors

 

These can be quickly and easily lifted off their hinges and moved out of the way so that they don't absorb flood water. If you can't be sure you'll be around to remove doors you can fit synthetic or waxed doors which will resist flood water.
…or get them raised. You can have your door thresholds raised above the flood level. The front door and porch could cost from £1,000-£10,000.
Replace chipboard and MDF units. Materials such as plastic, solid wood and some metals will absorb less water and require less drying out after a flood.
Fit water-resistant skirting boards Plastic skirting boards might not be as attractive as wooden ones but they are less absorbent so all you'll need to do is wipe them down after a flood.
Seal exterior walls. Applying sealant to the exterior walls will cost around £500.  But it may cause damp inside your bricks if they are in bad condition.
Water-resistant air bricks These will cost £500-1000 and mean you don't have to fit covers every time it floods. But they need to be carefully maintained to avoid seepage.
Barriers

 

Building a flood barrier can be expensive (anything from thousands to tens of thousands of pounds) but your neighbours may be willing to pool their resources.
Landscaping The outside areas of your home can also be designed in order to divert water away from the building.
Protect your doors and windows. If you don't have time to fit flood-resistant doors and windows, you can fit flood boards quickly if you are expecting flooding. This will cost around £500-3000 and it will require permanent fixtures which will be permanently visible on your building.
Looking for local trades to help with flood proofing your home? Simply type in "flood renovation" or "builder" and compare local firms by reviews and their previous jobs…
Costs of protecting against flood damage
What are the best measures for keeping groundwater out?
Even if your neighbourhood isn't on the Environment Agency's map of "at risk of flooding" areas, you could still be at risk of surface water or groundwater flooding. Indeed, many city homes experienced their first floods in recent years when drains became overwhelmed by heavy rainfall and water run-off forcing water through front doors and garages. Here are some commonly asked questions and answers to help keep groundwater out of your property:
Should I use a pump? Yes, a pump is the most effective way of dealing with groundwater and it will cost anything from £50-2,500. But make sure the inlet is installed lower than the water you are pumping so  that it can drain (more on this below).
What if the flood level outside is higher than the water inside? Don't pump! You could increase the water pressure outside and cause structural damage to your home.
Should I use an electric or petrol/diesel pump? Electric pumps are quieter and easier to power because you just need to plug them in. But be careful because electricity  can be dangerous near flood water. You may also need a generator if flooding has caused a power-cut.
Can I flood proof my basement? Yes, tanking is a popular way of flood proofing basements. But it can be expensive (£10-20k) as well as complicated.
Does my insurance cover flooding?
If it's a flash flood, then generally yes. But some insurers may be unwilling to cover you if you live in a location susceptible to flooding. Others will cover you, but may decide to set higher premiums on your home insurance payments.
This is partly due to the recently launched Flood Re scheme, into which all UK home insurers must pay so that there's enough to cover those affected by floods. To be eligible for this scheme, your home must have been built before 2009 and be in council bands A to H.
If your home content or buildings insurance is up for renewal or you're moving into a new home, the best thing to do is speak to an insurance broker who can search from a panel of insurance providers to get you the best deal with the right level of cover for you.
How to clean up after a flood
To clean up after a flood, you'll need to call your insurance company before you do anything, and they'll advise on what to do next, including whether you're able to make a claim.
Your insurance company should be able to provide you with a flood remediation expert who can assess your home.
Insurance policies vary in their levels of cover, with some covering the replacement of damaged items, while others may include help with the clean up process. Read your policy document carefully to check what you are entitled to.
Get a name for who will be handling your claim and ask how long you will have to wait for a visit from the loss adjuster to survey the damage to your home. This could be a while if there is extensive flooding in your local area.
Always keep a record of dates and times you contacted your insurer, as well as the person you spoke to and what was agreed.
Likewise document what happened to your belongings and keep any proof of damage caused until a loss adjuster visits.
If you don't have insurance, contact your local council for details on hardship grants.
Finally, you'll find official government advice on clearing up after a flood.