Basement extension: where do I start?
A basement extension can be a fantastic way to expand your living space by creating an extra bedroom, TV lounge, office or gym. We take you through everything you need to think about, from how much it's likely to cost down to whether or not you will need planning permission.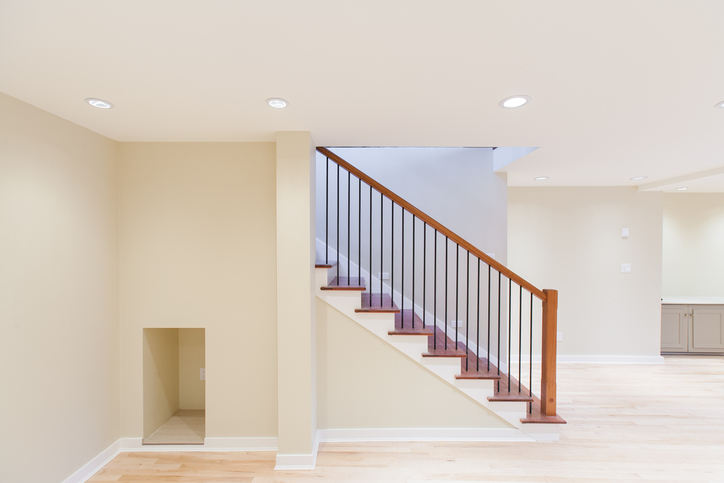 Should I convert my basement?
In deciding whether to carry out a basement extension, bear in mind that the costs and complexity vary dramatically depending on whether you have an existing cellar with enough headroom that can be easily converted or whether you will need to excavate to make the space workable.
As a rough rule of thumb, a basement conversion is likely to cost £900 to £1,400 per square metre for an existing space with no structural changes needed.

For projects that require excavation and underpinning, the cost is likely to range between £1,500 and £2,000 per square metre. For a more detailed breakdown of potential costs see table below.

Speak to your local planning authority and building control department before you start any work to make sure you know exactly what permissions are required.  You will almost certainly need planning permission if you are making any structural changes or altering the external appearance of the property, if the building is listed or in a conservation area.
If you are making structural changes and share a wall with your neighbour, you will need a Party Wall Agreement. 
For basement design advice, find local architects with our free tool.
Will a basement extension add value?
If you are settled in your home but have outgrown your living space, building an extension is a great way to make more of what you've already got. Adding an extra room, such as a converted basement, can increase your property value by up to 20 per cent. We recommend you speak to a couple of local estate agents before you start. They will be able to indicate whether you will recoup your investment when it comes to selling. A good source of natural light and decent ceiling height, will help to ensure that your conversion is a worthwhile investment that boosts your home's value. 
How much does a basement extension cost?
We asked the Basement Waterproofing Association to provide up-to-date estimates for the likely costs involved in different types of basement conversion projects, from the basic to the more complex:
Project type
Cost estimates
Conversion of an existing cellar
£900 – £1,400 per square metre
Lowering the floor level and underpinning an existing cellar
£1,500 – £2,000 per square metre
Digging a new basement space underneath the building and underpinning
£2,500 – £3,000 per square metre
Digging a new basement space underneath a garden
£1,500 – £2,000 per square metre
Creating a light well or external access
£5,000 – £7,500 per square metre
Architect/ surveyor/ planning consultant's fees
£1,500- £3,000 each
(but you may not need all three)
Planning application council fees (if required)
£206 (householder application)
£462 (if new unit of accommodation is proposed)
Building Regulations application
At least £750
Party Wall agreement (if required)
At least £700 per neighbour
Additional tax if using VAT-registered contractors
+20%
Other factors that might push up your basement extension costs:
If you have to divert drainage. Or, if the area has a high water table which means you need a pump to be working constantly.

Your property sits on certain types of ground such as clay, sand, marsh or made-up ground (also known as fill or man-made ground, this where ground levels have been altered or filled in using building waste and previously excavated material.)

The site is difficult to access or has nowhere to store excavated soil.

There is high demand for parking on your street and you can't get permission for a skip.
Do basement conversions need planning permission?
Planning rules are continually being reviewed and they vary considerably from one area to the next, so it is a good idea to contact your Local Planning Authority at an early stage and certainly well before any work begins. 
If you are converting an existing cellar and are not making any changes to the external appearance of the building, you are unlikely to need planning permission.
If your basement extension requires excavation to create more room or if  you are making changes to the external appearance of the property by adding a light well for example, then you ARE likely to need planning permission.
You will also need planning permission if you are creating a separate unit of accommodation, if you live in a listed building or within a conservation area. You can find out more in our full guide to planning permission.
Basement Impact Assessment
You should also check with your Local Planning Authority whether you need a Basement Impact Assessment.
With a rise in concerns from home owners about potential structural and water damage to their properties, a number of London councils now require the submission of a Basement Impact Assessment during the planning application stage.
Providing this information to local authorities upfront can be a costly, protracted process. So, you should ensure that your budget allows for the consultancy fees, and that your scheme has a solid chance of achieving planning permission.
A Basement Impact Assessment will usually need to be carried out by a surveyor with qualifications in the areas of structural design, geology and hydrology. Check with your local authority what exactly it requires as this will vary.
Speak to a Planning Consultant in your local area today about your project
Does my basement extension need Building Regulations approval?
Regardless of whether you need planning permission or not, you will almost certainly still require Building Regulations approval. This is to ensure your basement conversion meets a minimum standard of health, safety and welfare conditions. It covers areas such as ventilation, fire safety, foundations, energy efficiency and other standards.
It may seem like there are an overwhelming number of professionals to consult when it comes to planning a basement extension, but speaking to a reputable local builder with experience of similar projects is the best place to start.
If they are familiar with local planning laws and have the right experience, they should be able to tell you which other professionals you will need for the job.
Speak to a Builder in your local area today about your project
Structural drawings
Your builder, architect or planning consultant should be able to provide you with a package of plans and structural drawings. The structural drawings will be provided by a structural engineer who will also produce technical drawings. Your builder or architect will work alongside local authority building control (or approved inspector) in order to achieve building regulations approval.
It is better to make a Full Plans Application than to submit a Building Notice to the Local Planning Authority (or approved building inspector) in order to ensure that they have a chance to review the plans in depth and minimise the likelihood your project could be stopped halfway through.
Use our tool to find local Structural Engineers who can help produce your calculations and drawings. 
Do I need a Party Wall agreement?
If you live in a terrace or semi-detached house and your basement conversion requires structural changes to the building, such as excavation, you will likely require a Party Wall Agreement. Some of the main criteria for requiring a Party Wall Agreement include:
Excavating within 3 metres of your neighbour's property and to a lower level than their foundations.

Excavating within 6 metres and at an angle intersecting 45 degrees from the bottom of their foundations.

Cutting holes into a shared wall to insert beams or flashing
Party Wall Agreements aim to protect neighbouring properties during and post construction. In most cases, this will involve serving relevant notices to neighbours and drawing up a legal agreement and a condition survey of the relevant properties.  See our guide for an idea of what to expect in terms of party wall surveyor costs.
Party wall agreements can sometimes be a contentious issue with your neighbours. So, contact a party wall surveyor at an early stage, or speak to your architect or consultant, in order to ensure that time and cost provisions are made for this. 
Use our free tool to find a Party Wall surveyor in your area and get quotes
How high does the ceiling need to be?
Even though Building Regulations do not specify a minimum height for ceilings, 2.4 metres is a good finished height to aim for.  You will need at least 2 metres over the stairs to keep within building rules. Don't forget that you will need to include space for the height of your flooring within your calculations.
What is basement 'tanking' and is it necessary?
"Tanking" is another word for the process of waterproofing your basement. Tanking will be necessary whatever you are planning to use it for. The process involves covering the walls in a membrane or another material to withstand water pressure from the surrounding ground. This prevents damp and structural damage. Make sure that your contractor complies with the relevant standards by checking that they are a member of the Basement Waterproofing Association.