Bathroom refurbishment: Where do I start ?
Whether you're planning a practical family bathroom, en-suite, wet room or full-on home spa and personal sanctuary, here are some tips on where to start with your bathroom refurbishment.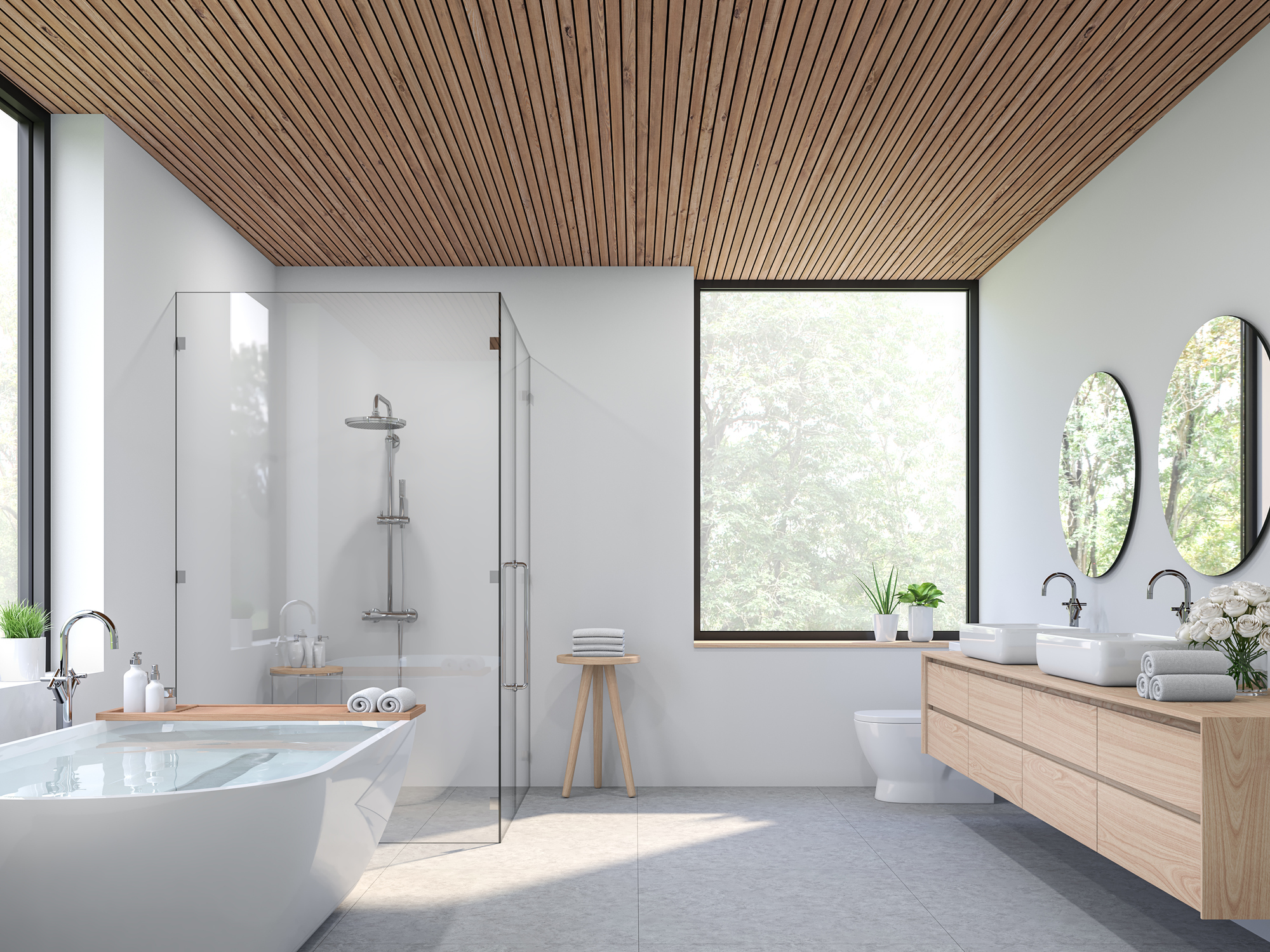 Should I fit myself, project manage or use a bathroom specialist?
You need to decide whether you want to:
install the bathroom yourself,
project manage other trades to fit your bathroom, or
get a bathroom specialist to design and then see it through to completion for you.
Dorian Bowen of ProjectONE Wales, a bathroom specialist, reckons "If you're planning to spend under £5,000, then your best approach may be to manage the project yourself," says Dorian, "Expect to pay £3,000 to £6,000, but be prepared to sacrifice a lot of finishing detail in order to ensure you get the basics like tiling and plumbing right."
If sourcing and fitting the bathroom yourself, you can find a cheap bathroom suite for as little as £200. But you'll need to source and work out your budget for accessories, shower fittings, taps, tiles, grouting and other materials, which can double the price. You'll spend a lot of time sourcing materials online and in stores and need to be a confident DIYer. But you will be in full control of your budget, final look and the results can be impressive.
While fitting the bathroom yourself can save up to 60% of the cost, do consider the time and difficulty of the job before you decide to take the project on. You should always get a professional in when it comes to gas or electric. If you're putting in an electric shower, use a registered electrician – mistakes can be fatal!
If you have a tradesman fitting your bathroom then buying the goods yourself – with their approval – can help to reduce the cost dramatically. If you are buying from a company that quotes for installation too, check to see what it would cost for a plumber and electrician to do it independently.
Whether buying the products yourself or getting someone in, it's worth looking at the guarantees, especially for things such as grouting or sealant, which are costly to replace if they spring a leak. Look for lifetime or ten-year-plus warranties
"Budgets for a new bathroom can vary enormously," continues Dorian Bowen. "The average bathroom costs around £6,000….but can run into tens of thousands for a designer bathroom with luxury fittings – so be honest and strict with yourself about how much you can afford to spend."
Finding a Tradesman
If you're looking for a builder to help you with your bathroom refurbishment, read our guide on how to find a trusted tradesman.
We've partnered with Checkatrade for our find a tradesman service because we like their user-friendly, review based approach
Find a trusted local builder or tradesmen to help you with your bathroom refurbishment
Furnishing your new bathroom
Whether fitting yourself or using a specialist, you'll need to decide what will go into your new bathroom.
Many people use their existing bathroom as a template, but start with a blank canvas to create a space that enhances your lifestyle. Don't forget bathroom storage space for towels, toilet rolls and toiletries. It's worth working this into the original design to ensure you can fit everything in.
For ideas and mood boards, Pinterest is a great tool and most designers now have an account so you can work the mood board between you.
"You'll also need to decide if you're a bath or a wet room kind of person, whether you need a bidet or douche etc," adds Dorian.
Lighting can be a key detail, with basics starting at downlighting and ranging to back-lighting mirrors and lit 'feature walls'. A split-face tile with concealed downlighting can make a breathtaking feature.
You can even add a TV or flush-mounted speakers  to listen to your music wirelessly if you want to make a statement!
If you really want to splash out, how about a home spa? "If you're a real water baby then why not add a mini home spa?" suggests Dorian. "A simple sauna can start at around £5,000 and gives your home that luxury feel. Next you'll need to decide on wall coverings. You can go the standard ceramic route or splash out on natural stone. "
How long will it take?
When it comes to practicalities it is important to consider what constitutes a realistic time-frame.
Bathrooms can take between one and three weeks to complete, and depending on the size of your house the work could be rather intrusive.
Dorian warns. "If you only have one bathroom, you might want  to wait until you go on holiday or go and stay with friends or relatives – the joy of coming home to a brand new bathroom will more than make up for any inconvenience."
…………………………………………..
This guide was pulled together by the Federation of Master Builders, working with one of their member firms, ProjectONE Wales from Penarth. Find out more at www.fmb.org.uk