What to do when a Planning Application is refused
You've painstakingly put together the perfect plans for your building project, only for your planning application to be refused. What now? We take a look at your options.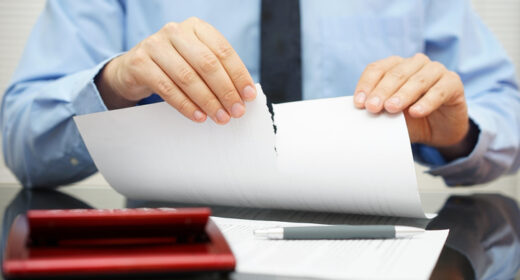 Applying for planning permission for a renovation or extension is a time consuming and often arduous task. More than one in four (27%) homeowners say planning permission issues are a stumbling block to progressing with renovation plans.  Therefore, it can be extremely frustrating if your planning application is refused. However, this does not always mean the end of the road for your project. You have a number of options.
Make changes during the planning application
Consultation period
The application process for planning permission usually takes around eight weeks. Unless they are unusually large or complex, in which case the time limit is extended to 13 weeks. In this time, every planning application submitted to a local authority undergoes a period of public consultation which varies in length between three and eight weeks. Anyone impacted by your proposal will be consulted.
Objections to your plans may be raised during the consultation period. The outcome of the planning decision is not always determined by objections. Indeed, some complaints may be overlooked or deemed irrelevant. But, it is during this time, that you are able to gauge the reaction to your project.
Amend plans to address planning officer concerns
Keep in touch with the planning officer. If an objection comes to light that you think may sway the decision, you may be able to make changes to the plans during the application process. This is only the case, of course, if the changes you need to make are small and will not require the planning officer to start their consultation again. 
It may also be possible to have the plans passed on the condition that you address whatever issue has come to light. If this happens, you will have to show the council, within whatever time frame is given, that you have made the necessary changes. Alternatively, the local planning authority may grant permission subject to conditions.
If it's looking likely that your application is going to be turned down and there is no way of salvaging it during the application process, you have one of two options. You can either withdraw it and resubmit a revised version or you can allow it to progress to refusal and then appeal.
Withdraw and resubmit
Withdrawing your application and resubmitting it is the best option if something has come to light which is likely to mean your planning application is likely to be refused on planning grounds and you know how to resolve it.
If a solution is clear, simply withdraw the application before it is rejected, make the changes needed and resubmit.
While this can be a hassle, it shouldn't cost you any money to resubmit (household applications pay a fee of £172 when you submit the initial application), provided you resubmit within 12 months and the overall outcome of the project is largely the same.
But note, where you submit a valid application and then withdraw it at any time before it has been determined, the fee will not be refundable.
Getting professional assistance can give your more chance of getting your plans approved. An experienced planning consultant could be a big help. Find local planning consultants now
Launch an appeal
Timeframe to launch an appeal
If your planning application is refused and you feel the decision is unfair, you are able to launch an appeal. You must lodge your appeal within three months (this deadline is for homeowners – developers with major projects have up to six months).
If you are refused planning permission, start by speaking to the planning officer dealing with your case at the local planning authority for clarification
How to appeal
When your planning application is refused, the council will send you information on how to appeal. There are three ways of doing so – in writing, at an informal hearing and via a public inquiry. Most councils will ask that you use the written representation route. You'll only be called for an informal hearing if there is a lot of public interest in the plans or if the issue is straightforward and you just need to give more information. A public inquiry will only be held in the most complex of cases.
How to prepare a written appeal
When appealing in writing, you'll need to write down all of the reasons why you think your application should have received planning permission. Be as detailed as possible and focus on planning matters. There will also be forms to complete which the council will send to you. It may help to get a planning consultant with knowledge of your local planning department on board to help with the appeal.
How long does the appeal process take?
The council must respond within six weeks of submitting your appeal.  After which, you have three weeks to comment on its response and any supporting evidence it may have. Your neighbours and anyone else impacted by your plans will also get the opportunity to comment too.
A planning inspector will then visit your home. The inspector will give their decision on the appeal within two to six weeks of the visit.
Appeals can take around five months from appeal to decision (longer if you go down the public enquiry route). It's only worth doing if you're adamant your proposal abides by planning rules and you refuse to amend the plans to address any objections. On average, only about one appeal in three is successful according to the Planning Inspectorate's records.
If you can make amendments to get the application passed – and they won't jeopardise your plans too much – it's much more straightforward to do this.
What if your appeal is rejected
If you do go ahead with the appeal and your application is still rejected, take on board the comments from the planning inspector. This can help you to make a new planning application that will hopefully get the green light.
Improve your chances of getting your plans approved.  Find local planning consultants now.