How much do removals cost?
As you approach exchanging contracts on your new home, it's time to book a removals company. But how much do removals cost? What are the likely extra charges for packing and unpacking? And what about unexpected costs if your move is delayed? Here's what you can expect and how to cut your removal costs.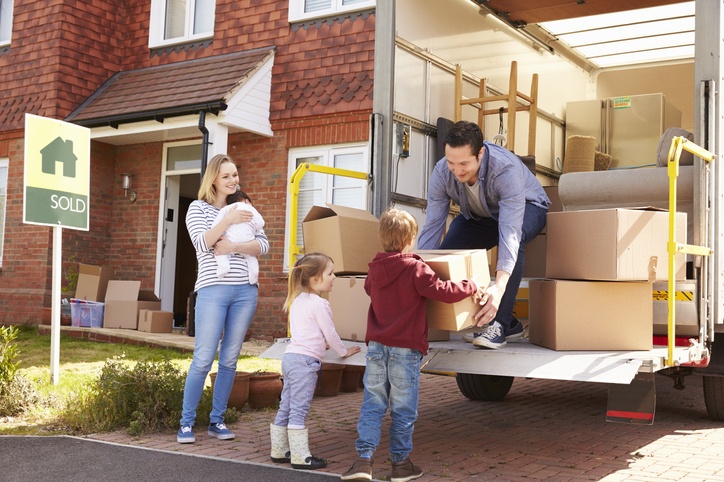 Moving day can be hugely stressful. You can reduce that stress by booking a removals company early in the process. But how much do removals cost?
How much do removals cost – 2022
The cost of moving house will vary greatly depending on the size of your house, the amount of stuff you want moved and how far it needs to be transported.
Our partners, Reallymoving.com, estimate that the average removal covering 10 miles would cost:
| Size of property | Average moving cost |
| --- | --- |
| One or two-bedroom house | £300 |
| Three-bedroom house | £458 |
| Four-bedroom house | £682 |
| Five-bedroom house | £871 |
If you are moving locally – so within a town or to a neighbouring city – then removal companies are likely to charge you per hour. It is very unusual to be charged by weight of your belongings or distance travelled.
You'll usually have to pay a two-hour minimum charge and a minimum of two removal men.  The price will then go up depending on how much time your move will take and how many removal men you will need.
Removals cost calculator
The only way you are going to get a definitive answer to how much removals cost is by getting quotes. Our removal costs calculator asks you to tap in the size of your property, your current post code and your new post code. You will then receive five quotes from regulated removal companies.
You can also use our cost of moving house calculator to work out how much stuff you will need moving. This will mean you can get more accurate quotes.
Get Home Removal Quotes
Compare home removal quotes today with our removal costs calculator
Compare removal quotes
What do long distance removals cost?
If you are embarking on a bigger move, then your removals costs are likely to be higher. Long distance removal costs are harder to estimate. You can expect to pay a fixed cost based on the amount being moved, the distance it needs to travel and the size of your property.
As a rough guide moving a one-bedroom flat across the country could cost around £450 rising to around £1,000 for a four-bedroom property.
You can use our removal costs calculator to get removals quotes from regulated firms for your long-distance move.
Do I need a removals survey to get an accurate removals cost?
It's essential you get a couple of firms to do a pre-move survey. This is where they will send a removals assessor to visit your property and assess your needs. They will then be able to provide you with a more accurate, binding removals quote.
Removal quotes are based on how much stuff you need moving. By visiting your property, a removal firm can see exactly what needs to be moved. They can also assess any access problems or items that will need extra care during the move.
While the removals assessor is with you make sure you point out anything that isn't coming with you, so it isn't included in the quote.
Don't forget to inform them of items that can't be seen – for example, the contents of your loft or shed – so there aren't any surprises on the day. You can use our cost of moving calculator to work out how much stuff you need moving.
How much are you moving?
This is the key question that every removal firm will want to know. No two properties are alike so an accurate quote can't be based simply on the size of your home. You could be a minimalist living in a four-bedroom house with fewer belongings than a hoarder in a one-bedroom flat.
You need to be able to give the removals firm an accurate idea of how much they are going to need to move. Not only will this make your quote accurate, it will also avoid any nasty shocks on the day. Get the amount of stuff wrong and you could run over your allotted time with the removal firm incurring an extra charge. Or, worse still you could run out of room in the removals truck.
Our removals calculator has an option to work out how much you will need moving by breaking it down room by room.
When working out how much stuff you have don't forget about the contents of your garden, loft, garage and shed.
Removals Cost – the extras
When working out how much removals cost you also need to consider any extra services you might need. These will all add to the cost of moving so think carefully about what you opt for.
Packing materials. Check if any packing materials are including in the price quoted. If they aren't ask what it would cost to purchase them from the removal company. Make sure you compare that with the cost of buying them elsewhere. You may find it much cheaper to look for boxes on eBay or Facebook Marketplace.
Packing service. Do you need the removal firm to pack your items for you? This can make life a lot easier but comes at a price. You can expect to pay around £250 to have your belongings packed depending on how much needs packing. You may pay extra for fragile items.
Unpacking service. Most removal firms will place your boxes and furniture into the rooms you request. If you want them to unpack the boxes too, you'll pay an extra fee. Most firms will only unpack, they won't then put things away for you too.
Crating. If you have valuable items such as antiques or electronics that need special packing your removal firm may suggest crating them. This means packing them into purpose built wooden crates. Check how much this will cost before you agree.
Dismantling and re-assembly. Removal firms expect everything to be ready to move when they arrive unless they have been told otherwise. So, if you need them to dismantle flat-pack or large furniture such as beds you need to confirm this before moving day. On average this costs an extra £125.
Extra equipment. If you have any particularly large items or things that can't fit down the stairs you may have to pay extra for special equipment. For example, a cherry picker lift to move things out through an upstairs window.
If you aren't moving into your new home immediately your removal company may be able to store your belongings. Get a quote for this then compare it with local self-storage options. If you go with a separate company your removal firm should be able to take everything to the storage facility. To find out more read our guide to finding the right storage company.
Get Home Removal Quotes
Compare home removal quotes today with our removal costs calculator
Compare removal quotes
Unexpected removals costs and penalty charges
Everything doesn't always run smoothly on moving day and if things go wrong you could face some extra charges from your removal firm. This is particularly the case during this time of the coronavirus pandemic. The government is calling on "all parties involved to be as flexible as possible over this period and be prepared to delay moves, for example if someone becomes ill with coronavirus during the moving process or has to self-isolate."
Ask your removals firm what would happen if someone in the chain is unwell. Make sure you check what fees you could face with your moving firm before you appoint them.
Our recent research revealed a massive 115,000 home moves have been delayed each year because funds didn't arrive on time and sellers took longer to vacate properties. A shocking 20,500 moves had to be cancelled altogether because of funds not arriving in time.
The survey found movers in a property chain are more likely to be affected by delays. One in four (25%) homeowners buying in a chain report delays or cancellations on moving day.
What's more, homeowners who experience delays or cancellations face more than just inconvenience.  26% of those affected incur costs of, on average, £509 and one in seven (14%) lose over £1000.
Typical costs of moving home delays include:
hourly waiting charges from removal companies
storage fees
removal company cancellation charges
hotel/ accommodation costs
late completion charges
These costs vary, so make sure your quote includes them.
But if there is a delay in the keys being released for your new home, for example, you could have to pay a late key charge. This covers the extra cost of the removal team having to wait to start unloading at the new property. Most removal firms offer a 'late key waiver' you can pay for to avoid a penalty charge. This cost around £40-£50 but means you could avoid waiting charges of £60 per house plus VAT.
Also, check your moving firm's cancellation policy. You may lose money if you cancel at the last minute due to problems completing your house purchase. Though most firms are understanding and should be able to accommodate your new date.
Do I need removals insurance?
Your removal firm may include insurance but make sure you understand what level of protection they offer. It can often be limited to 'transit insurance' meaning your belongings are only covered while they are on the move. This cover is also usually very limited – you could get as little as £40 per item regardless of its actual value. So, make sure you check. Good firms will offer up to £10,000 cover for individual items and £50,000 total cover.
Also check if your cover will be invalidated if you do your own packing.
You certainly want your removal firm's insurance but on top of that you may want to check whether your home insurance policy cover your belongings when being moved by a removal company.
When do we pay the removal firm?
That depends on your removal firm. Most will ask for payment in full in advance of your move, typically at least a week before moving day. This is standard practice for all members of the British Association of Removers (BAR). 
How to cut your removal costs
The first thing to do is get accurate quotes. That means knowing how much stuff you need the removals firm to move. We can help with this our removal costs calculator includes a tool to help you add up everything you own.
Next up shop around for a number of quotes. You can get instant quotes from local and national removal firms using our find a removal firm service.
Then make sure you invite at least two removal firms to do an at-home survey. That way they can see exactly where you live and what they will be moving. This way you know you are getting accurate quotes.
Before you book a removal, firm think about what day you are planning to move on. Most of us move house on a Friday. That means it is a busy day for removal firms and so expensive for you. Similarly, Mondays are busy too. Opt to move mid-week and you could be able to get a discount from the removal firm as it is quieter day for them. Tuesday is often the cheapest day to move house.
When you are ready to book be prepared to be flexible. If you can fit in with the removal firm's schedule either by changing your move day or opting for an early morning or late afternoon move, you could be able to negotiate a discount from the removal firm.
Also, don't forget to ask if the removal firm offers any discounts. Some will give you a discount if you are a student, key worker or member of the armed forces.
Next think about how a removal firm works. Most charge by the hour so if you make their job easy, they will be speedy, and you could save money (and avoid any penalty costs for overrunning). So, make sure everything is packed properly and labelled with which room it is going to in your new home. Be completely packed by the time the removal firm arrives so you can get out of their way.
If you have any furniture that will need dismantling do this the day before too, and be ready to unplug and disconnect white goods (washing machine, fridge etc) if you are taking them with you.