Finding the right storage company
Whether you're moving to a smaller property that doesn't have space for all your furniture, renting for a short time while you find a new home, or doing renovations and you need to move out temporarily, there are many good reasons for using self-storage. Here are some of the key things to consider when choosing a self-storage company.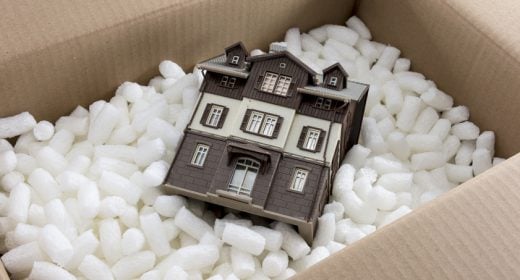 Work out how much storage you'll need
The last thing you want is to end up paying for empty. Here are some approximate estimations to help you work out how much storage space you'll need:
Studio flat or bed-sit – Storing the average contents from a studio flat or bedsit requires approximately 40-50 square feet of space. This would give you space for a dozen medium sized boxes plus a double bed, a settee, chair, table, wardrobe, carpet and TV
Two-bed house or flat – To accommodate the average contents from a two-bed house or flat requires approximately 80-110 square feet. This would give you the space for more chairs, beds, wardrobes, carpets, a washing machine, fridge, freezer, garden furniture and around 24 medium-sized boxes
Three-bed house – For a three-bedroom house you'll require between 140 – 190 square feet. This will allow extra space for the furniture from the third bedroom and the extra downstairs living space
During the process you might find you need to get rid of items and declutter. Consider giving items to charity, or if they're valuable sell using online auction sites. Equally if you would just like to dispose of it safely and responsibly take a look our partner's household rubbish removal service. AnyJunk send two crew members to clear junk or bulky waste from anywhere on your property. They can arrange same day collection in most cities and on average 95% is diverted from landfill.
Packing your furniture 
If you're using a removal company's packing service, they'll provide all the necessary boxes and packing materials to ensure your breakables are safely stored. If you're doing your own packing, there are several things you'll need to do, including:
Ensure your packing boxes are strong enough
Number your boxes and keep a separate list of the contents of each box for easy access
Ensure no box is too heavy to be lifted safely
Disassemble larger pieces of furniture for easy transportation and storage
Ensure all breakables are individually wrapped, using paper or bubble wrap
Protect particularly fragile items using bedding and linen
Use small boxes for packing books and magazines as collectively these can be very heavy
Empty, clean and defrost all white goods and cookers before moving into storage
Moving your furniture into storage
Decide if you're going to transfer your contents to storage yourself or use a removal company.
If you're going to use a removal company, they'll usually send a surveyor around to check which sized vehicle you'll need.
If you intend to do it yourself, make sure you get the correct-sized van. If the trip is a local one, it may be cheaper to rent a smaller van and make several trips. If the journey is a long one, you may be better making one trip, to save time, and save money on fuel.
Find quality removals companies in your area. Compare quotes today
Check if you'll have access to your contents in storage 
When getting a quote from a storage company, check that their access availability suits your needs. Some storage facilities limit the days and hours they're open. They may allow you access outside of those hours, but often charge you extra. If you think you'll need to regularly visit your storage facility, choose a company with flexible opening hours
Place larger, heavy boxes at the bottom of the storage unit and place other heavy items on top. Keep heavy items stacked reasonably low
If there's a chance you'll need to access certain boxes or items regularly, place these at the front of the unit
Finally, cover all your items with a dustsheet or similar to keep them clean