How much does a house survey cost in 2022
How much a house survey costs can vary hugely depending on the type of survey you get. We look at how much different types of surveys can cost, why the costs vary, what you get for your money and how to get survey quotes.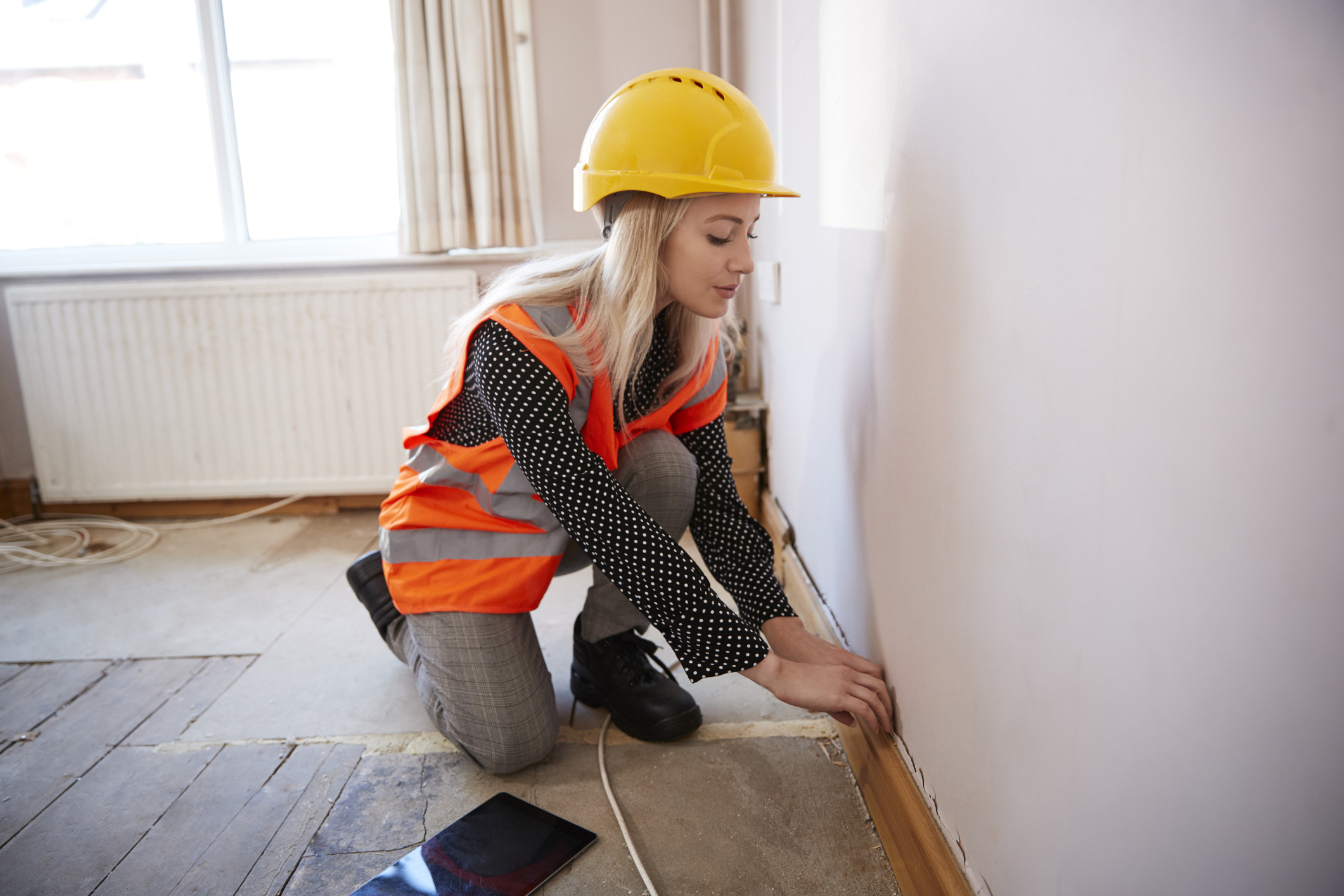 What is a house survey?
A house survey is a detailed inspection of the condition of a property. The type of survey you choose will determine the level of detail it goes into and how much the house survey costs.
Home buyers usually arrange to have the survey done after they've had an offer accepted by a seller. Generally it is the buyer who arranges and pays for the survey.
How much does a house survey cost in 2022?
When you're asking how much does a house survey cost, it's important to note that the cost will vary depending on 3 key things:
the type of survey you have
the property's value
the property's location
For example, if the property you're buying is worth £200,000 and you want a RICS Home Survey Level 1 – the most basic type – it could cost around £400. But if you're buying a £1 million home and you're seeking a RICS Home Survey Level 3 – also known as a full structural survey – you're likely to be paying upwards of £1,500.
Get Survey Quotes
Get instant quotes from chartered surveyors in your area
Get building survey quotes
How much does a house survey cost – by type
Level of report
What it covers
What type of property is it suitable for?
Typical Cost
RICS Home Survey
Level 1
Visible defects and a condition rating, highlighting issues in need of urgent investigation
Standard properties, new homes
£300 – £900
RICS Home Survey
Level 2
Condition of property with relative importance of any problems, advice on issues and repairs needed.
Standard properties in reasonable condition
£400 – £1000
RICS Home Survey
Level 3
This full structural survey gives in depth view of property condition and can also include estimate of costs for repairing defects
For older (50 years +), larger, unusual properties, as well as those in poor condition
£630 – £1500
How much does a house survey cost – by property value
| Level of report | £100k – £249k | £250k – £349k | £350k – £499k | £500k – £1m |
| --- | --- | --- | --- | --- |
| RICS Home Survey Level 1 | £300 – £500 | £500 – £600 | £600 – £700 | £700 – £900 |
| RICS Home Survey Level 2/ RPSA Home Condition survey | £400 – £600 | £600 – £700 | £700 – £800 | £800 – £1000 |
| RICS Home Survey Level 3 | £630 – £800 | £800 – £900 | £900 – £1,100 | £1000 – £1,500 |
Why do homebuyers surveys cost different amounts?
The different types of surveys go into different levels of detail. As such, the cost varies too. So when you're asking how much does a house survey cost, it's important to establish what type you're looking for.
The names of the different types of surveys may look different to what you're expecting. That's because in March 2021, RICS implemented a new Home Survey Standard which also launched the new formats for the Home Survey reports. So what was once known as condition report, homebuyer survey and building survey have been changed and updated.
Here's what RICS home surveys are called now, what they include and how much they cost:
RICS Home Survey Level 1 costs
A Home Survey Level 1 (previously Condition Report) typically costs between £300-£900, depending on the location of the property and its value.
The Home Survey Level 1 is the most basic and cheapest RICS survey available.
It provides you with a summary of the property's condition and will highlight 'significant visible defects that are evident'.
It will give condition ratings for the main elements of the building, garage and some outside elements. Ratings will be graded from 1-3. A rating of 1 means no repairs of further investigation is needed. While a rating of 3 means dangerous or in need of urgent investigation.
No advice or valuation is provided with a Level 1 home survey.
RICS Home Survey Level 2 costs
A Home Survey Level 2 (previously a Homebuyer survey) is more detailed and is the most popular option, according to RICS. The cost of a Home Survey Level 2 generally varies from £400 to £1000 depending on whereabouts the property is located and its value.
A Home Survey Level 2 looks at everything that would be covered in a Home Survey Level 1 but will delve deeper.
It will provide an assessment of the relative importance of any defects/problems.
It will include advice about repairs or any ongoing maintenance issues.
Where the surveyor is unable to reach a conclusion with reasonable confidence, a recommendation for further investigation should be made.
A Home Survey Level 2 is the standard choice for most properties in reasonable condition.
You can choose from two options in this category – a Home Survey Level 2 with or without valuation. It you choose a Home Survey Level 2 with valuation, this will also include a valuation and an insurance reinstatement value. Home Survey Level 2 with valuation cost from around £500. For more information about what is included in a Home Survey Level 2, see our advice guide Homebuyer survey explained.
RICS Home Condition Survey costs/ RPSA Home Condition survey costs
These surveys are offered by the Residential Property Surveyors Association (RPSA) rather than RICS. Home condition Surveys are similar to the RICS Home Survey Level 2. They offer clear colour coded ratings for quick identification of important issues. They also claim to offer jargon-free reports.
Home Condition Surveys typically cost between £400-£900.
Full structural survey cost UK
RICS Home Survey Level 3 – also known as a full structural survey – is the most thorough survey offered by RICS. Full structural surveys are more expensive, ranging from around £630 to £1,500 – or even more – depending on the value of the property. But they can be a worthwhile investment.
A Home Survey Level 3 is an extensive survey that provides detailed advice on the property's condition.
It will describe the identifiable risk of potential or hidden defects.
Propose the most probable cause or causes of the defects based on the inspection.
And where practicable and agreed, provide an estimate of costs and likely timescale for identified repairs and necessary work.
Get Survey Quotes
Get instant quotes from chartered surveyors in your area
Get building survey quotes
What can make my survey cost more?
Your survey can cost more if your survey uncovers certain issues and your surveyor recommends that you get a specialist survey done.
For example, if the property has a serious damp issue, your surveyor may recommend having a damp survey done. The cost of damp surveys varies but they typically range from £150-£300.
And if your survey highlights dry rot, you can have a dry rot survey undertaken. This will generally cost around £300 but this will vary.
We advise speaking to your surveyor first about the issues they have highlighted. They may be able to shed more light on the severity of the problem.
Read our guide for advice on what to do after getting a bad home survey report.
If a survey finds problems who pays to fix them?
If a survey brings to light problems with the property, then you may want to use this information to renegotiate the price. For example, if the property has a damp problem that will cost £5,000 to fix, it's reasonable to ask to take this figure off the sale price. Alternatively you may ask the seller to fix the problem before you buy. Or you may wish to reconsider buying the property.
Your conveyancing solicitor will also have a copy of your survey. If you have any concerns or want to talk through your options, speak to them first as they will be able to advise based on their years of experience handling property transactions. They can formally propose next steps, whether requiring repairs or money off the sale price, to the sellers solicitor.
Is a house survey worth the cost?
The point of having a survey is to make you aware of potential pitfalls with the property. As discussed above, the level of detail will depend on which type of survey you choose. If you don't have a survey, there could be major – and expensive – problems with the property that you only become aware of after completion. So while having a survey may cost you in the short term, it could mean you avoid facing unexpected costs in the future.
Some people have a full structural survey every time they buy a house to ensure they have a comprehensive report of all the issues in front of them. Others want a light touch survey to reassure them of the fundamentals.
Find local surveyors to discuss your options and get quotes now
New build snagging survey costs
If you're buying a new build home, you'll want to get a snagging survey. These surveys can identify problems that range from small, cosmetic issues to significant, structural problems. Your new build snagging survey will ideally take place before exchange. But if your developer won't allow this, arrange for your new build snagging survey to be done as soon as you can after moving in. New build snagging surveys typically cost from £300.
A snagging report will:
Highlight any issues in the property that fall short of the warranty standards.
Identify any breaches of building regulations or any other statutory technical guidance.
Highlight works which are outstanding.
Identify where traditional custom and practice within the industry have not been met.
Provide guidance prior to or post completion of the property as to any outstanding issues requiring remedial works.
Your new build snagging report will be sent to you and directly to the developer. And if you've found your developer to be unresponsive to your calls for action, an independent snagging survey will add weight to your complaints.
HomeOwners Alliance is proud to have teamed up with one of the best known snagging inspectors in the UK, New Build Inspections. Unlike many other snagging companies, they never work for developers or builders so can retain their independence.  Get a free, no obligation snagging survey quote from new build inspectors now.
Get a New Build Snagging Survey
Whether you're about to complete on a new build home or have moved in to find problems, we can connect you with an independent on-site snagging inspector today.
Get a snagging survey quote online
Getting value for money – home survey quotes
Buying a house is expensive enough, so you don't want to pay over the odds for your survey. Once you know the type of survey you need, shop around to get different quotes.
When it comes to finding a surveyor, don't simply go with the one recommended by your bank, estate agent or mortgage lender. This could end up costing you more.
Get at least 3 quotes and compare them
A common complaint is that survey reports come with so many caveats it's hard to know how to respond to them. So don't simply go for the cheapest. When you're deciding on your surveyor, ask if you can see copies of past reports. Speak to the surveyor and ask if you will be able to talk through the report with them.
Check your surveyor is a member of the Royal Institution of Chartered Surveyors (RICS) – they will have the letters MRICS or FRICS after their name. The RICS makes sure all its members maintain professional standards in their work.
Get Survey Quotes
Get instant quotes from chartered surveyors in your area
Get building survey quotes
Mortgage valuation survey cost
When you apply for a mortgage your lender will carry out a valuation on the property. This is sometimes called a valuation survey –  a term which often causes confusion. A mortgage valuation is simply a cursory look at the property to assess its worth and so the lender knows your property is worth lending against. It is intended for the lender's eyes only so doesn't take the place of a homebuyer survey.
The cost of a mortgage valuation varies, usually according to property value; the higher the purchase price the bigger the fee. Each lender has their own scale.
For example:
Virgin Money has a scale for basic valuations, from £112 for properties up to £60,000 to £377 for properties between £750,001 – £1,000,000.
Halifax has changed its approach over the years and currently charges a flat £200 if applicable.
TSB has a scale based on value, from £225 for properties up to £25,000. This increases to £1,250 for properties between £1,750-£2,000,000. TSB also offers the choice to include a homebuyer survey too but we would always advise you shop around for the best deal.
However, lots of lenders are currently offering free valuations across their ranges. So factor this in as part of the overall value when you're comparing deals. And make sure you view a free valuation as part of a package – it almost certainly won't be worth paying a much higher interest rate just to get a free valuation.
Mortgage Finder
Get fee free mortgage advice from our partners at L&C. Use the online mortgage finder or speak to an advisor today.
Find a mortgage
Home Report costs in Scotland
If you're selling a property in Scotland you must obtain a Home Report, which contains information about the condition of the property, which is available to prospective buyers for the duration the property is on sale. However, there are some exceptions to this rule. New build properties do not need a Home Report.
Home Reports in Scotland typically cost between £300 and £850, depending on the size of your home, its location and the surveyor you choose.
Does a house survey cost more in London?
House surveys in London are typically more expensive but that's because the amount you'll pay for house surveys will depend on the value of your house. And as London has the highest average house prices in the UK this is reflected in that. 
However, London is a busy market and there are lots of RICS Building Surveyors so competition is strong. Make sure you shop around. 
Get instant quotes from chartered surveyors with our find a local surveyor tool