Who arranges a house survey?
Getting a survey is an important part of buying your new home. It will tell you if the property is worth the price you have agreed to pay for it and whether you face any major repair bills when you take ownership. But who arranges a house survey?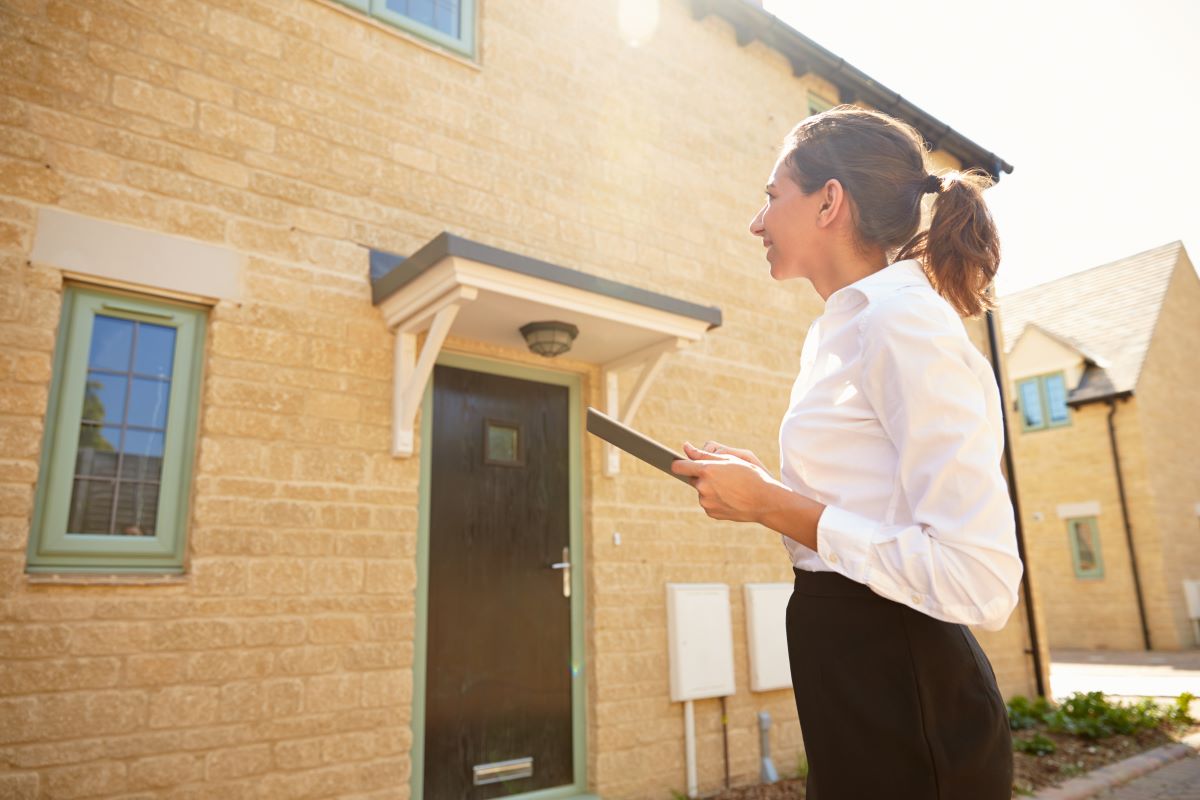 Who arranges a house survey?
During the purchase process, many people decide to have a house survey completed on the property they wish to buy. As the survey is chiefly going to help the buyer – it tells you what state of repair it is in and possible risks with the property – it is usually the buyer who arranges the survey and pays for the survey.
Homebuyers generally arrange to have a house survey done after their offer has been accepted by the seller.
If you are buying a property via an online auction you may be provided with a legal pack but no information that you would normally get with a survey.  Our advice would be to commission a survey before you make a bid. The legal pack should contain the title plan and register or evidence of title, local authority searches, water and drainage search, property information questionnaire and a fixtures and fittings list. However, you should still arrange your own house survey to report on the condition of the property and offer an independent valuation before bidding ends.
The buying process is different if you are purchasing a property in Scotland. It is the seller's responsibility to organise a Home Report for the buyer in Scotland. You should be able to view the Home Report before you even make an offer on the property.
House surveys vs mortgage valuations
If you are getting a mortgage to help you buy your home, it is important to note, the valuation survey arranged by your lender is entirely different to getting a house survey of your own.
A mortgage valuation survey is a cursory look at a property to inform your lender whether the property is worth what you are paying for it. Their aim is to make sure their loan is safe and could be recouped by selling the property if necessary. A mortgage valuation will not provide enough detail to take the place of a proper house survey.
A property survey is a detailed inspection of a property's condition that tells you if there are potential structural problems or signs of subsidence. It will also highlight any possible major repairs, such as the condition of the roof.
It is usually a good idea to arrange your own house survey to assess the condition of the property, so you know exactly what you are buying and whether you are going to face any significant repair bills when you take ownership. If any concerns arise, you may be able to use the independent survey report to renegotiate your purchase price.
Compare quotes from local surveyors & organise your house survey
Types of house surveys
There are several different types of house surveys you can organise as the buyer (all of which are more detailed than the valuation survey your lender arranges), which one you opt for is entirely up to you.
These are the main types of house surveys to choose from:
RICS Home Survey Level 1 (Condition Report) – The Condition Report is the most basic survey which will give you an overview of the property with a summary of any defects and possible risks but does not provide any advice or valuation. The cost of a Condition Report starts at £300.
RICS Home Survey Level 2 (Homebuyer Survey) – The Homebuyer Survey also known as a Homebuyers Report is the most popular survey choice. It is more detailed, but is non-intrusive, so the surveyor won't be moving furniture or lifting floorboards. You can also get a valuation alongside the survey. For a Homebuyers Report, you'll typically pay upwards of £350 for the survey without a valuation and £450 or more with a survey including a valuation.
RICS Home Survey Level 3 (Building Survey) – A Building survey is a full structural survey. The surveyor will check the attic, behind walls, under floorboards and above ceilings. You'll then get advice on any repairs needed, including estimated timings and costs. A building survey usually costs £500 or more depending on the size of the property.
Find out more about the types and costs of surveys in our detailed guide – what sort of survey should I to have?
Arranging your house survey & finding a surveyor
When it comes to arranging and finding a surveyor to carry out your survey, going with the surveyor recommended by your bank, estate agent or mortgage lender can end up costing you more and can take longer.
Get quotes directly from a few local surveyors and compare:
Check your surveyor is a member of the Royal Institution of Chartered Surveyors (RICS) – he or she will have the letters MRICS or FRICS after his or her name.
Ask to see copies of past reports so you can judge if the report will be useful for your situation
Discuss any specific concerns or questions you may have, so they can advise on the best survey for you
See if it is possible to meet the surveyor at the property and walk through the property with them
Check that you'll be able to speak to the surveyor after their report to talk through any points of concern
Once you have found a surveyor you are happy with you should contact them to get booked in. You will need to pay the surveyor directly at the time.
You can ensure you are getting a good surveyor at a fair price by comparing quotes from several different firms.
How long does a survey take to complete?
When you have had an offer accepted on a property, it is a good idea to get on and book a survey straight away. This is because it can take some time for a surveyor to visit the property and get their report back to you. You don't want your survey to end up delaying exchange of contracts.
There are several things that can affect how long it takes to get a survey. These include how busy the surveyor is, when the seller can allow them access to the property, how long the actual survey takes and how much time they need to produce the report.  Booking directly with a local surveyor is often quicker than booking through a large network or with a large company.
What happens if the survey report is bad?
A poor survey can make or break a property purchase, but it doesn't have to be the end of the road. The first thing to do, is speak to the surveyor and go through the report and any concerns with them. Next, consider if you want to get a second opinion from an expert related to a specific issue. They may also be able to give you a quote for what it would cost to fix the problem.
You always have the option to renegotiate the price after a bad survey. Find out more with our guide on what to do after a bad house survey report.
Instantly find and compare quotes from local qualified surveyors using our find a surveyor tool
Related Advice: