House Renovation Costs
Here's our guide to house renovation costs. There's a lot to think about when you are considering improvements to your home or buying a home to renovate. A key decision is assessing the likely cost of the renovation. We set out general purchase considerations when you are buying a home to renovate, as well as the typical costs for any house renovation.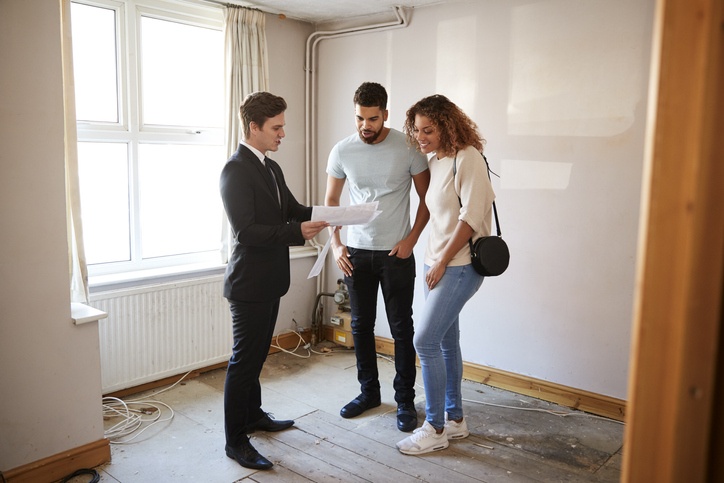 Advice if you are buying a house to renovate:
How to find a house renovation opportunity to buy
Unfortunately, there is no option on Rightmove or Zoopla to tap in "renovation project" or "fixer-upper". If you are looking to buy a house renovation project you will have to sift through what is for sale. Think about what kind of project you want to do. If you're looking for the opportunity for a big extension and to significantly increase the footprint of a home consider a bungalow or a small house on a big plot.
Alternatively, if you are looking for something with good bones but in need of a lot of TLC take a look at older three or four bedroom semi-detached or terraced properties. Something that a downsizer may leave or a property that could be part of an estate sale.
Once you have an idea of what you may want, tap your options into the property portals to see what comes up. How much you can afford to pay to buy the property and do it up will no doubt be the other factor framing your search.
Get mortgage advice for buying & carrying out your renovation
Mortgage Finder
Get fee free mortgage advice from our partners at L&C. Use the online mortgage finder or speak to an advisor today.
Find a mortgage
Finding the right house renovation to buy
When your search for renovation properties turns up a potential project don't get carried away. Before you even start picturing what you could do to the place take a step back and consider the bigger picture.
What about the things you can't change? Will they put a dampener on the property's potential? Think about:
Location – You can't pick the house up and move it. Does it have good transport links, nice local schools, local amenities etc? Remember the old adage too, better to buy the worst house on the best street than the best house on the worst street.
Parking – Has it got off-road parking? Is there potential to add parking as part of the renovation?
Neighbourhood – Take a look at other properties nearby. Have they been extended or had loft conversions or other major works? This will give you an idea of how amenable the local planning officers are.
Restrictions – the property details should set out any restrictions. If it is leasehold, in a conservation area or subject to a restrictive covenant, you may be limited to what alterations you make
Assessing the renovation potential
When you are assessing whether the property you are considering buying offers good renovation potential, this can be tricky. Your instinct may be to bring in an architect or professional designer but you don't want to get ahead of yourself. Paying those fees at the research stage will get expensive. So, it is down to you to make an initial assessment of the property's renovation potential.
First of all, consider the basic work you would need to do to bring the property up to the standard you want. How many extra bedrooms and bathrooms would you want to add? Is the kitchen big enough? If you add bedrooms will there be enough living space to balance the house?
Next consider the layout of the property. Does it flow? Are the rooms in the right position in the home? For example, does the living room have a view or look out on the garden? Where is the master bedroom? Is the bathroom in a convenient location? How many toilets are there and is one downstairs?
Finally, take a long hard look at the outside of the property. Is there enough room for your extension plans? Would you want to replace the windows? Is there enough room in the roof for a conversion? What can be done to improve the external appearance of the property?
In need of estimates for work? Find trusted tradespeople with our partners at Checkatrade
Structural assessment checklist
At this stage you could do a basic structural assessment yourself without having to pay a professional (although you will need a professional survey later on before you exchange).
Here's what to check:
Damp – The main giveaway signs of damp are a mouldy smell, cold walls, flaky plaster and watermarked walls or ceilings.
Cracks – Be on the lookout for big cracks. Check around where extensions join, end-of-terrace walls and bay windows.
Roof – Ask how old the roof is. If there is a flat roof check the material used, a membrane is better than asphalt and gravel.
A quick check by you can give you an idea of the structural condition of the property. But, if you are serious about buying it make sure you get a full survey before you exchange. See our guide on what sort of survey should I have?
Will you be able to get planning permission for your renovation?
If your house renovation plans will need planning permission, then do some digging online before you commit. Take a look at the planning authority to see if any previous planning applications for the property have been rejected. Also, take a look at what projects have been allowed on similar neighbouring properties. You should have a meeting with your local Planning Officer to discuss your ideas and see if they would have any major objections. Get help with your planning application from a local planning consultant
Cost of full structural survey
Before you start picking out paint colours or considering what kitchen worksurfaces you'd like you need to assess the bones of your property. Does it have damp? Is any structural work needed? Will it need rewiring? The best way to find out all of these things is with a full structural survey.
A full structural survey will cost £500-£1,500 but will mean you are aware of any problems with your property and will be able to make informed decisions about where to spend your budget.
Compare structural survey quotes today from local chartered surveyors
How much do structural repairs cost?
If a property has moved, you could have to deal with the cost of repairs. Subsidence can lead to a big bill. In the worst-case scenario, you could need to underpin the property, which can cost up to £50,000. But, the Royal Institution of Chartered Surveyors estimate that is only necessary in less than 10% of cases. A more realistic price range is around £6,000. That is the average claim made on insurance for subsidence according to the Association of British Insurers. Find out more with our guide to how to spot and resolve subsidence.
House renovation costs
Typical house renovation costs
Whether you are considering buying a home to renovate or looking to renovate a home you already own, you will need to think about your budget. How much will it cost you to transform the property? Here we've given you a rundown of the common problems you may need to fix and what you can expect to pay.
Remember, always set aside around 10% of the total cost for unexpected additional costs.
| Project | House Renovation Cost |
| --- | --- |
| Extension | £26,000 – £34,000 |
| Loft conversion | £45,000 |
| New bathroom | £6,000 |
| New kitchen | £10,000+ |
| Garage conversion | £6,000 |
| Subsidence | £6,000 |
| Damp | Up to £16,000 |
| Double glazing | £400-£600 per window |
| Installing central heating | £4,000 |
| New boiler | £2,700 |
| New roof | £4,500 – £12,000 |
| Fixing rot | £1,000 – £2,000 |
| Woodworm treatment | £450 – £800 |
Cost of an extension
The price of an extension is likely to be one of the main house renovation costs you are considering. The cost of an extension will depend on a lot of factors including the size of the extension, the structural work involved (will you need steels) and whereabouts in the country the project is. As a rough guide the average 4m x 6m extension costs £26,000 to £34,000, according to MyBuilder. Find out more with our guide to building a home extension.
How much does a loft conversion cost?
Undertaking a loft conversion is another way to improve and add value to your home.  House renovation costs for a loft conversion start from around £20,000 but can rocket upwards depending on what you need to have done. A loft conversion with dormer windows adding a bedroom and ensuite bathroom costs around £45,000, according to MyBuilder. Find out more about with our guide to loft conversions.
House renovation cost of a new bathroom
The average new bathroom costs £6,000. This price can rise sharply though depending on the level of luxury you opt for and how much new plumbing is required. If you are planning a bathroom renovation read our guide on planning a new bathroom.
How much will a new kitchen cost?
A gorgeous new kitchen can add thousands to the value of your home. But it can cost thousands too. The average house renovation cost for a new kitchen is between £10,000 to £20,000 but 10% of us spend over £50,000 on a kitchen renovation project. Read our guide to kitchen renovations to find out how to get your dream kitchen. 
What will it cost to convert garage?
The average garage conversion costs £6,000 making it a very cost-effective way to increase living space and add value to a property. You can find out with our guide on how to convert a garage.
What will it cost to fix damp?
If you've spotted signs of damp the first thing to do is work out the cause. It could be caused by a variety of issues including condensation or penetrating dampness (where water is leaking in from the outside).
Your builder should be able to identify the problem. The cost of tackling damp will depend very much on the scale of the problem, the remedy needed and the damage it has caused. Do get a few quotes from different firms as well as the opinion of a builder. In an ideal world you would fix the cause of a damp wall rather than treating and tanking over the top of it.
How much does rewiring cost?
With an old property it is important to get the electrics checked. Signs that you have an out-of-date system include old-fashioned fuse boxes, dated light switches and fabric-coated flex leads.
The exact cost to rewire your home will vary due to numerous factors including where you live, the size of your home, whether the property is occupied and the age of your home. Our advice would be to get at least three quotes. Once you have your quotes don't just go with the cheapest. Look at previous work completed and speak to other clients.
The cost of replacing windows and doors
Before you start planning to install double glazing you need to check if you have permission. If your property is listed, you'll need to get listed-building consent. Also, if your property is in a conservation area you may have to get planning permission to change your windows or doors.
Once you have the go-ahead then you can expect to pay around £400-£600 for an average sized uPVC window including installation, according to RICS. Real wood and metal windows will cost more. See our guide on what to expect when replacing windows.
What will new central heating cost?
If your property has no central heating then you can expect to pay around £4,000 to install it in the average three-bedroom property.
A property that already has central heating but needs a new boiler will put a smaller dent in your wallet. To replace an existing combi boiler with a new one costs around £2,700, according to British Gas.
What should I budget for a new roof?
One of the biggest house renovation costs can arise if you need to replace the roof. If your survey has suggested you need a new roof then prepare to pay £4,500-£12,000 depending on the size of your property and the extent of the work needed. This will be affected by things like what type of tiles you want and whether the rafters need to be replaced.
If you are paying out for scaffolding for a new roof also consider if anything else needs replacing at the same time. For example, what state is your guttering in? Also consider whether your facia boards need to be replaced.
The cost of rot treatment
Rot can be a big problem in older properties that have been neglected. There are two types: dry rot and wet rot.
Dry rot is a fungus that can cause a lot of damage to timbers in a short space of time. Check your roof space and under your floorboards for signs of spores and dense strands of fungus.
Expect to pay £1,000-£2,000 to a specialist firm to get rid of the rot, according to AXA Insurance. Then there will be additional costs to repair or replace damaged timber.
Wet rot is exactly what it sounds like, timber decaying as a result of being wet or damp. The cost here is whatever the price for replacing the affected timber and repairing the issue that caused the wood to get wet in the first place.
What does woodworm treatment cost?
Old wood can also bring the problem of woodworm. Usually this isn't a disaster as the critters cause superficial damage and can be wiped out with some pesticide. Tell-tale signs of a woodworm infestation are numerous small holes (around 2mm) in wood. Just make sure they are an active problem (and you aren't just seeing evidence of a previous infestation) by checking for sawdust around the holes.
Getting a professional to treat the average loft in a three-bedroom home for woodworm costs around £450-£800. If you are prepared to do it yourself the cost could be your time and £20-£50 for a tin of woodworm killer, spray and protective clothing.
From damp specialists, electricians, plumbers and more. Find a reputable local tradesperson for your job with our partners at Checkatrade