How to update the exterior of your home
Updates to the exterior of your home can help to keep it in good condition and enhance its appearance. Changes to the exterior finish, paint colour and even your front door can boost the kerb appeal and enjoyment of your home. We look at the best ways to give your house exterior a makeover.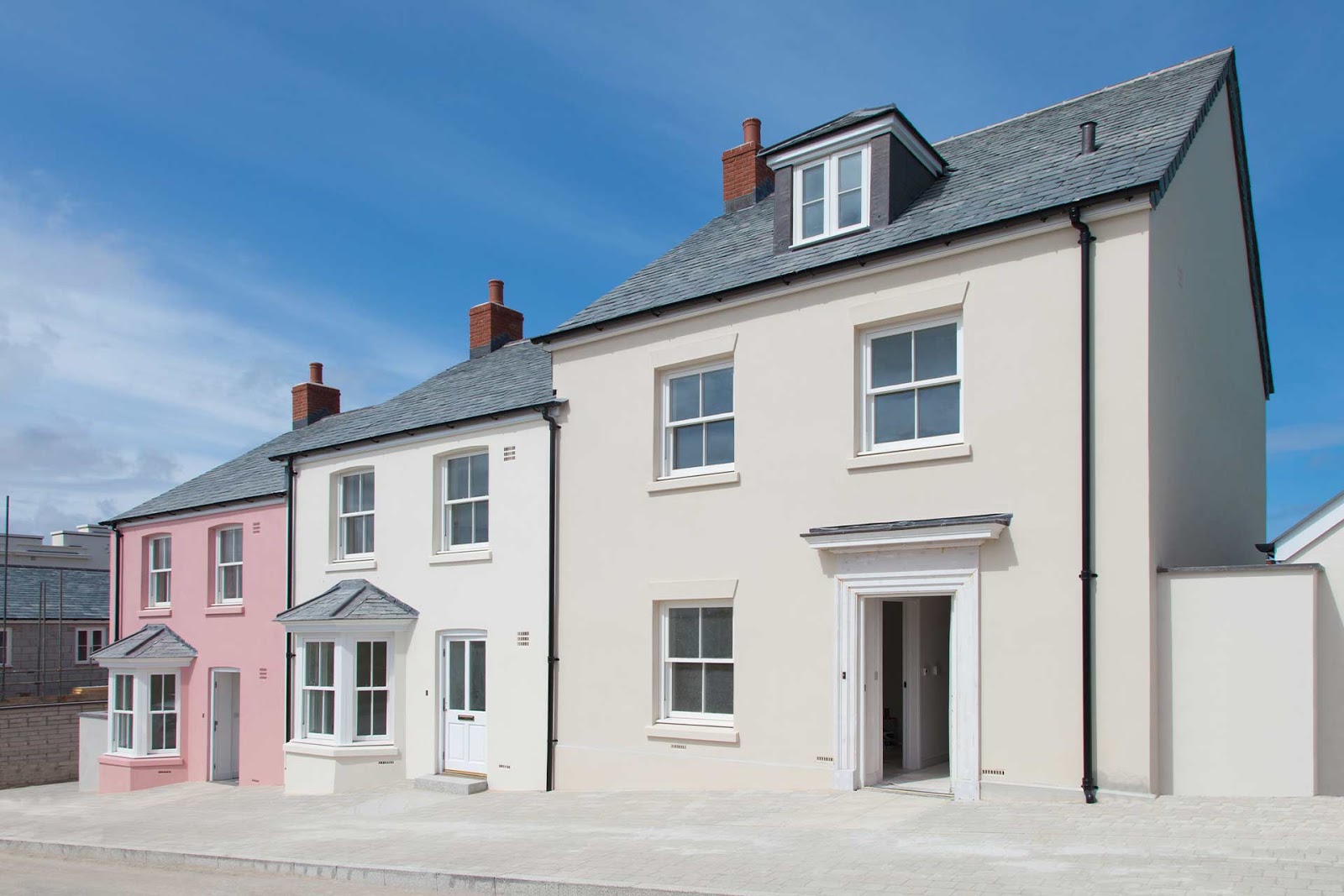 We look at big and small updates you can make to the exterior of your home. From painting the exterior and replacing the front door to rendering and cladding for an entirely new look.
Why update your house exterior?
Here are some of the most popular reasons to undertake improvements to the exterior:
Immediately improve the visual appeal of your home

Change the look of your home

Add value to your property

Repair damage to exterior elements of your house

Reduce the risk of structural damage to the building

Replace materials with more durable alternatives
Exterior painting
Painting the exterior of your home is one of the quickest and most impactful ways to freshen up a tired or dated property. Whether you're applying the same colour as the existing paintwork, or opting for a more drastic change of style with a new colour, a new coat of paint will give your property an immediate lift.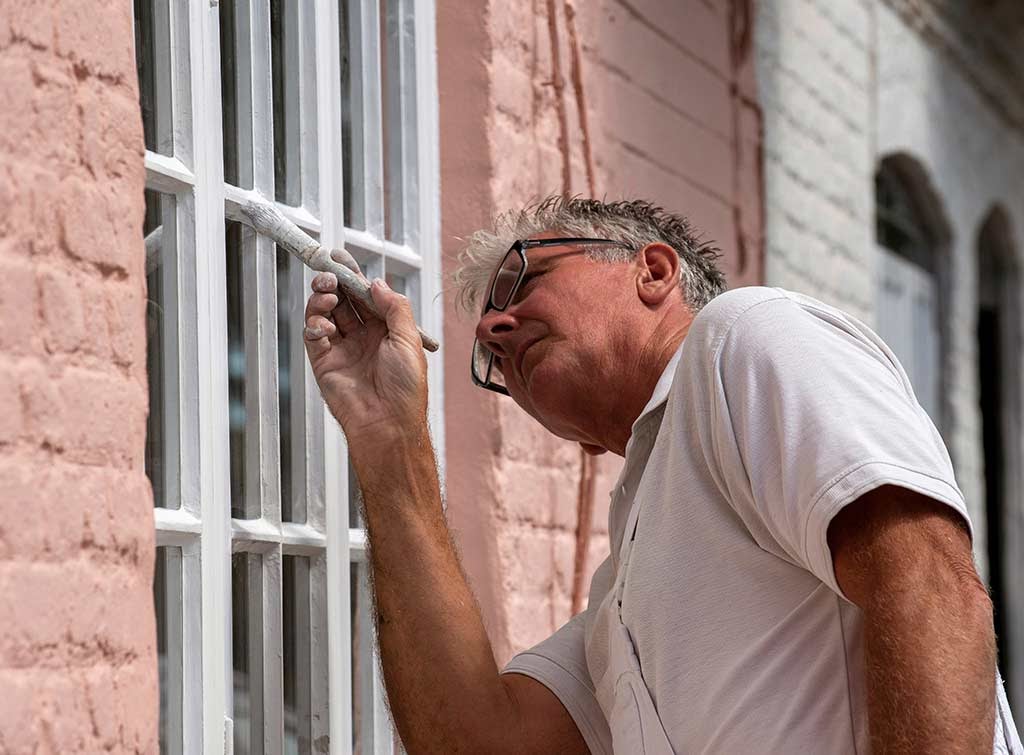 The cost of painting the exterior of a house will vary depending on the size and shape of the property, the complexity of the painting job and the type of paint you choose. It's always sensible to speak to local house painting experts for accurate quotes of prices in your area.
How often should I paint the exterior of my house?
On average, it's recommended that homeowners paint their homes every five to ten years. Though that will depend on a number of factors, including where you live, the local climate, and the quality of the previous paint job. Also, it's worth remembering that different surfaces may require treatment or painting more regularly than others – such as wooden elements like cladding, door frames and window frames.
Need a professional to help with your exterior painting? Find a local painter decorator.
Front door makeover
Another simple way to add a fresh touch to your house's exterior is to upgrade your front door. A new front door can give an instant update to your home with a bold or subtle style choice. 
Checkatrade estimate the following average prices to replace the most common front door types:
UPVC front door replacement cost: £650
Composite front door replacement cost: £1,875
Oak front door replacement cost: £1,250
Custom made front door replacement cost: £3,250
Repointing brickwork
If you've noticed damage to the mortar that connects the bricks of your house, then it could be time to repoint the brickwork. Repointing is basically the process of renewing the mortar to ensure that your brickwork is well protected from any water damage.
To repoint an entire home is a considerable job with a large amount of labour, materials and equipment required. The size of the area, the number of accessible walls and the condition of brickwork impact the cost of the project. Checkatrade indicate that the cost of repointing depends on the number of walls that need to be completed:
Cost of repointing
To repoint a single wall – such as at the front or side of a house costs around £1,500  -£2,200.
Semi-detached modern house repointing costs around £3,500 – £4,500.
Victorian terraced property repointing costs around £3,000 – £4,400.
Rendering
Rendering is the process of covering the exterior wall surface with a rendering substance, usually made of sand and cement, lime, or a synthetic resin. It gives the exterior of your home a layer of protection from the elements.  It can also transform the exterior appearance of your home.
There are a number of reasons you may want to render the outside of your house or update the rendering:
It protects and weatherproofs the building

You can blend new and old parts of the property to look the same

Fresh rendering improves the look of your home

Render can be applied on top of pebble dashing to modernise your house's appearance

Modern render is more durable and doesn't crack

There is no need to paint when you use coloured render
Checkatrade estimate that the cost of rendering a typical three-bedroom semi-detached home is in the region of £2,700 – £5,400.
Cladding
Cladding is becoming an increasingly popular choice for homeowners in the UK thanks to its ability to add a fresh look to your home, improve
insulation and add a layer of weatherproofing to the building. 
If you're interested in adding or replacing cladding for your house, it's worth researching the benefits of different types of cladding. You will want to take into account the cost and maintenance involved with different materials.
The main types of cladding used in modern architecture include: stone, wood, brick, metal, UPVC, fibre cement and glass cladding.
Cladding costs
The cost of house cladding in the UK ranges, depending on the material you choose and the size of the property. For a 2-bed house, Checkatrade estimate the cost of cladding to be £3,500 – £5,500.
Search Checkatrade's 30,000+ recommended, vetted and monitored trades and service providers for free to find a tradesperson in your local area.
Other factors to consider
Do I need planning permission to update my house exterior?
In general, you don't need planning permission for repairs and maintenance of your house's exterior, or minor improvements such as painting. If you're planning any significant updates to your house exterior or you live in an area with restrictions, such as a conservation area, then we always recommend speaking to your local planning office before carrying out any work.
Scaffolding
If your house exterior makeover requires scaffolding, this is an added cost to bear in mind and you may need to organise this yourself. The average cost of scaffolding for a 2-storey semi-detached house is around £650 – £1,100. 
Neighbours
If you're planning major work on the exterior of your house, it's always nice to let your neighbours know in advance to avoid any issues and problems down the line.
Choosing local tradespeople
If you've decided to hire a tradesperson for your house exterior makeover project, here are our top tips for choosing the right professional for the job.
Write a brief specifying work to be done, requesting a breakdown of labour costs, cost of materials, any additional costs (such as scaffolding) and whether VAT is included in the quote. They should also give you an idea of how long the project will take.

Always shop around for fair and competitive prices for the job – we recommend getting quotes from at least three tradespeople per job.

Make sure they are experienced and have the relevant qualifications or accreditations with the most appropriate trade bodies.

Check their recent reviews and ratings from previous customers to make sure they've been happy with the standard of their work. A

sk for references and speak to previous clients or visit previous completed jobs for bigger projects.
Check they have insurance and that they can provide any necessary certificates for works if relevant.
We've partnered with Checkatrade for our find a tradesman service because we like their user-friendly, review based approach
Find a trusted local tradesperson to help you with your exterior project
Related guides