Garden room: where do I start?
A garden room is a great way to get more usable space at home. Whether you need a home office, a place to workout or a space to study, a garden room offers a flexible solution. But how much do they cost, do you need planning permission and what else do you need to know before you start?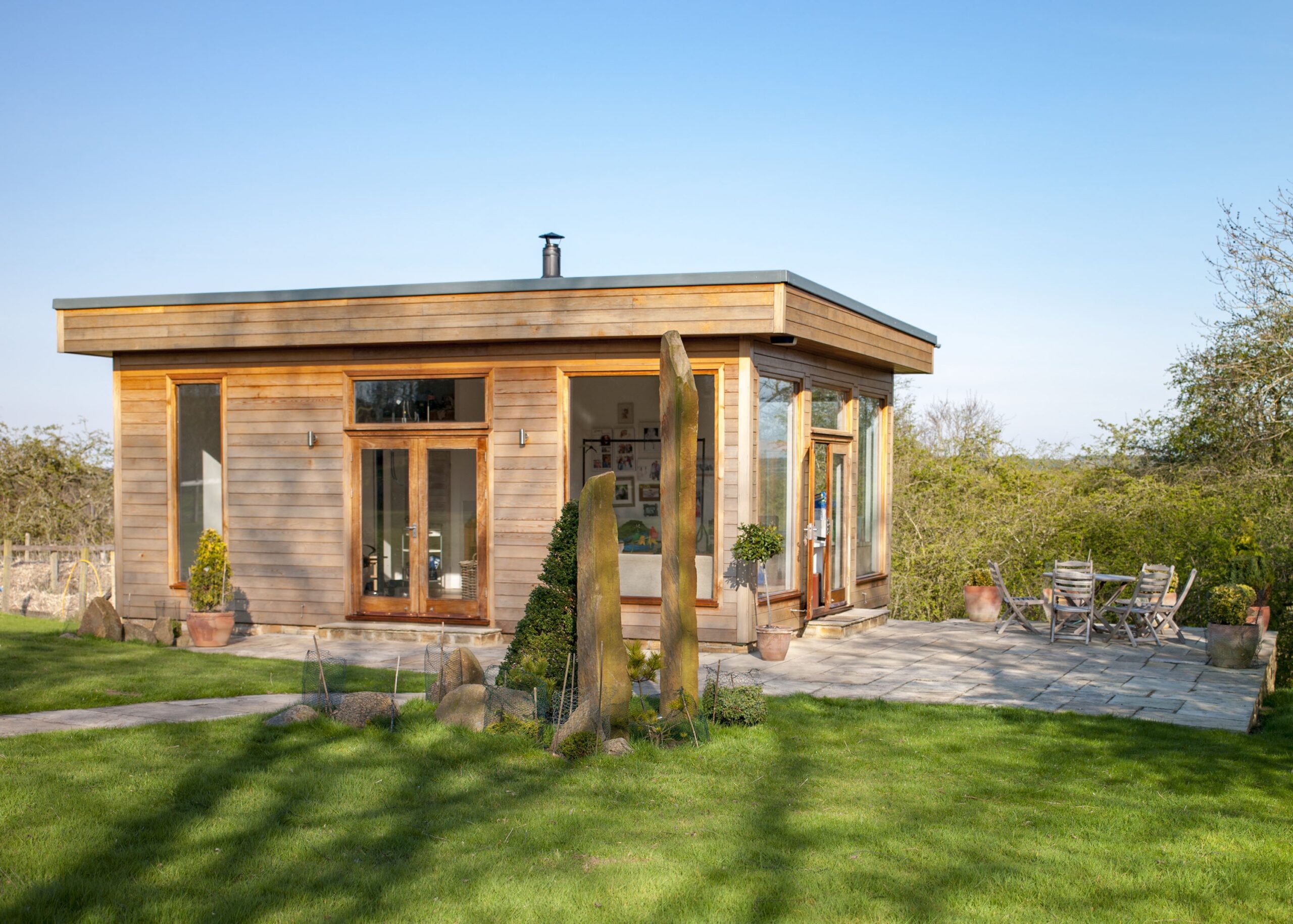 What is a garden room?
A garden room is a relatively quick and cost-effective way of getting more space at home. You just need a garden with enough room to accommodate what you want. And with so much choice available, it's easy to find the right size garden room for you.
Do you need planning permission for a garden room?
First things first. For planning purposes, a garden room, in most instances, will be classed as an outbuilding. Outbuildings do not require planning permission and fall into your "permitted development rights".
A garden room will be permitted development when it is:
Single story with a maximum eaves height of 2.5 metres and with a maximum overall height of four metres with a dual pitched roof or three metres for any other roof.
Not on built on land forward of a wall forming the principal elevation.
Have a maximum height of 2.5 metres in the case of a building, enclosure or container within two metres of a boundary of the curtilage of the dwelling/house.
Have no verandas, balconies or raised platforms (a platform must not exceed 0.3 metres in height).
Be on no more than half the area of land around the "original house"* would be covered by additions or other buildings.
*The term "original house" means the house as it was first built or as it stood on 1 July 1948 (if it was built before that date). Although you may not have built an extension to the house, a previous owner may have done so.
When permitted development rights do not apply
However, not all properties qualify for permitted development rights. Any of the following types of homes will need planning permission…
Flats
Maisonettes
Converted houses
Some new builds
Listed buildings
Homes in conservation areas*
*In the case of some homes in National Parks, the Broads, Areas of Outstanding Natural Beauty and World Heritage Sites you might still have permitted development right, yet these will be reduced to half their normal allowances to 10 square metres.
Read our guide on planning permission for more advice on whether you need to apply.
What can I use my garden room for?
Putting a sofa bed in your garden room so that guests can occasionally stay there is fine and will not require planning permission. But if you want to sleep in it regularly or want to create a self-contained accommodation, or granny annexe, you must apply for planning permission and meet building regulations.
In other words, you'll have an easier time getting your garden room erected if it is not used for sleeping or require a toilet. It is more likely to be viewed as an outbuilding if used as a home office, yoga studio, or workshop, than if it resembles a bedroom.
Do I need a lawful development certificate
If you think your garden room falls within your permitted development rights but want peace of mind that it is lawful, you can apply to your local authority for a Lawful Development Certificate.
This documentation will prove to both your local authority and future buyers of your home that your project was legal at the point of construction. It's an important certificate to have, especially with garden rooms, as the blurred line between outbuilding and annexe might be questioned at a later date.
Do I need an architect?
There are firms that design, manufacture and supply garden rooms for you. Alternatively you may know a local builder who could construct a garden room for you.
For more involved designs, whether you use permitted development or planning permission, an architect can always add value.
An experienced architect will be able to talk through what you are trying to achieve from your garden room and deliver a design that meets those needs. They will also be able to handle your planning application or lawful development certificate should these be required.
If you want to create your own garden room, Resi Architects can provide expert home advice – free of charge.
Do I need building regulations approval?
Whether building regulations apply or not will depend on both the size of your planned garden room and its placement.
If you want to put up small detached buildings such as a garden shed or summerhouse in your garden, building regulations will not normally apply if the floor area of the building is less than 15 square metres and contains NO sleeping accommodation.
When you do not need building regulations approval
According to the Planning Portal, building regulations won't apply if…
If your building is less than 15 square metres
Likewise, if your space is 15-30 square metres and your room is at least one metre from any boundary or it is constructed substantially of non-combustible materials.
When you do need building regulations approval
However, if your garden room includes ANY sleeping accommodation, then building regulations approval will be required.
Even if your space should be exempt, it's worthwhile having an architect on board who can advise on building regulation matters. This is because garden rooms don't necessarily follow any strict guidelines. They're classed as outbuildings, but an outbuilding can also be a garage, greenhouse, or shed. With these more classic additions, the rules are much clearer, but with the diverse range of designs now available, it can be hard to apply any hard and fast rules without knowing your exact design intentions.
If your structure doesn't require sign-off from a building regulation inspector, it may still require a building control compliance certificate. This will be the case if you are installing lighting and power. You have two options: the work needs to either completed by a competent person scheme-registered electrician, or checked by one. Make sure you get a certificate at the end to confirm the works are compliant.
Read our guide for more information about how building regulations work and how you ensure your project complies.
How long does it take to build?  
The length of construction will mainly depend on whether you opt for a custom design or a modular package.
Modular garden rooms are mainly constructed off-site and then erected on your property. This on-site work could take as little as a few days, meaning you experience as little disturbance as possible. However, there will be limited scope to customise these structures and cheaper options might not offer long-lasting quality.
If you choose to design your home space and go for professional construction, this could take between 4-6 weeks, depending on the scale of your garden room. Small shed-like rooms could be done in as little as a week or two.
How much does a garden room cost?
The cost of garden rooms vary considerably. You can go big and expensive or small and cost effective – or vice versa!
Modular will be more cost effective than bespoke. The quality of the materials used – especially your roof, window and door choices – will impact on the price.
A garden room being used to relax in on sunny days may not need double glazing, insulation, heating or robust flooring, while a home-office being used all year round will need all these additional features.
For a modular garden room, you could expect to pay anywhere between £2,000 and £30,000. For a completely bespoke garden room, expect to pay between £800 and £1,600 per square metre.
Garden room design ideas
Garden rooms are a versatile addition to any home, allowing you to customise a private space to suit your needs. Whether you're a bookworm, crafter, student, or personal trainer, here are some ideas for what your garden room could become…
A yoga or fitness studio
Home office
Spa
Home gym
Bar
Games room
Music room
Cinema room
Hobby room
Personal library
Workshop
_______________
This guide has been produced by Resi Architects. If you want to create your own garden room, Resi provide expert home advice – free of charge. Book your complimentary consultation today.