Building Contract for Home Improvements
Many of us have little experience of doing a major home improvement project and don't know where to start. Protect yourself and stay in control of your project by using a RIBA Domestic Building Contract.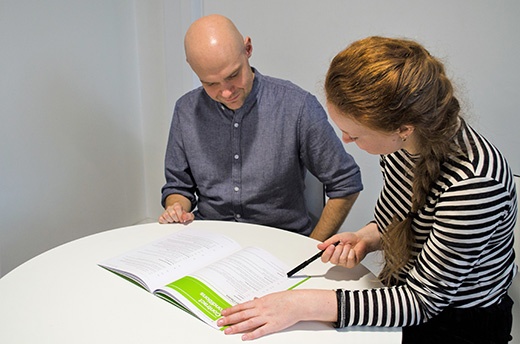 Why do I need a building contract?
Having worked with an architect on a design for your home, you come to a point when you need to appoint a builder (or contractor) for the job. Many homeowners think that it's at this point that they can sit back and let the builder simply get to work.
However, getting agreement between you and your builder on the parameters for your project before the work starts is essential. Undertaking building work in the absence of a building contract leaves homeowners and builders at risk because there isn't a formal agreement around what is in and out of scope, how much the work will cost and how payments will be made, start and completion dates, who is responsible for obtaining and paying for various consents and fees (such as planning permission and building control approval) and critically whether the correct insurance policies are in place before work starts.
Reduce project risks and protect your hard earned cash
A building contract is there to protect you – the client – and help reduce risks to all parties and the project over all. Having building work done to your property can be stressful and expensive. While using a building contract won't eliminate all the stress involved, it will offer protection, reduce risk and help make you feel more in control of your project.
With this in mind, the Royal Institute of British Architects (RIBA), has just launched the new 2018 edition of the RIBA Domestic Building Contract, which is a simple and clearly laid out contract between a homeowner and a builder.
Endorsed and supported by HomeOwners Alliance, the RIBA Domestic Building Contract is suitable for all types of non-commercial work, particularly work done to your home, including renovations, extensions, maintenance and new buildings.
Key features of the RIBA Domestic Building Contract
The RIBA Domestic Building Contract is designed specifically to be simple, comprehensive and effective. Written in plain English and with comprehensive guidance notes, the contract has three key benefits:
the language used in the contract is simple and easy to understand, compared to other standard forms of contracts;
the clause structure avoids the use of large numbers of sub-sub clauses and too much cross-referencing between provisions; and
Where common construction terminology is used, it has been simplified so that less-experienced users can understand it.
Other key features of the building contract include:
Comprehensive guidance notes at the front of the contract to help you understand and complete it
Effective way of managing payments to the contractor
Control over the timely completion of the project
Provisions for collaborating with the builder over events that may delay completion or add costs to the project
Contains flexible payment options
Provision for contractor design, with 'fit for purpose' liability option
Optional provisions for a contractor programme and for client-selected suppliers and sub-contractors
Mechanisms for dealing with changes to the project which allow for agreement and include specified timescales
Option for start and completion of the works to be undertaken in stages
The contract is one of a suite of RIBA Building Contracts that can be prepared and stored digitally. You can create, edit, alter, manage and view your contract online in draft before printing the final version. Paper contracts are also available.