Buying in a Conservation Area
If you prefer the look of period properties over newly-built homes, you may find yourself drawn to buying in a conservation area. While there are many advantages to living in these protected neighbourhoods, such as the fact they safeguard original architectural features and picturesque surroundings, you will be more restricted in the type of work you can carry out on your property and there are strict penalties for breaking the rules.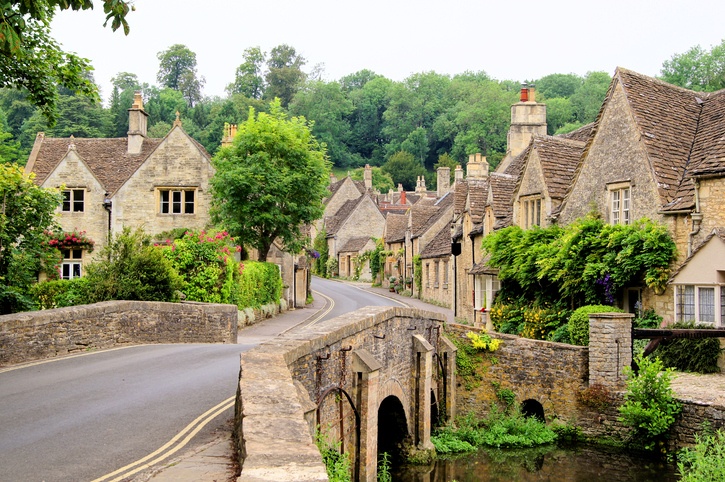 What is a conservation area?
A conservation area is a designated area of historic and architectural interest. There are legal restrictions on what changes can be made to buildings, greenery and street furniture in order to preserve the unique character of the place. The first conservation areas were established in 1967. Now there are around 10,000 in the UK including estates, parks, stretches of canal, historic town centres and some entire villages.
The precise restrictions on what you can do will vary according to the rules set by your local authority and the nature of the area they are trying to protect. For example, in some areas, the rules might prevent changes to railings, street lighting, trees, windows and even the colour of paint that residents are allowed to use on their front doors.  There are likely to be more restrictions if you are considering buying a listed building.
How does living in a conservation area affect my home's value?
It might be more expensive to have work done in a conservation area if there are restrictions on what materials you can use. And, there is more paperwork to complete. But, being situated in a conservation area is likely to boost the value of your home. The neighbourhood is attractive and will remain so. The last in-depth study on the subject, carried out in 2012 by the London School of Economics and Historic England, found that houses in conservation areas sell for a premium of 9% on average.
What are the planning restrictions for homes in a conservation area?
Local authorities place extra restrictions on properties within conservation areas known as 'Article 4 Directions'. These limit changes home owners would be able to make to their properties under normal 'permitted development rights'. These rights govern the home improvements that property owners are usually allowed to make without requiring planning permission. If you live in a conservation area, these automatic rights are more limited.
You should speak to your local planning authority. Look on its website in order to find out what specific restrictions apply to the conservation area that you live in. However, the general rules are that you cannot, without permission, demolish:
A building that is more than 115 cubic metres.
A gate, wall or fence that is over 1 metre if it borders the road or higher than 2 metres if not.
In a conservation area, you need permission for these alterations:
Single storey extensions that extend more than 3 metres beyond the back wall of the house or 4 metres if the house is detached.
Extensions greater than one storey.
Side extensions.
Roof extensions or alterations.
Cladding in any material.
Any new construction of sheds, outbuildings, swimming pools.
Installation of chimneys, flues or vents at the front of the house or at the side if it faces the road.
Installing satellite dishes or antennae that face the road.
Fitting solar panels to the front of the roof facing the street than 150mm from the roof slope.
Fitting solar panels that protrude by more than 150mm fron the roof.
In addition, your local authority may have imposed specific rules on the conservation area that you live in. So, it is vital to check these. Such rules could restrict you from:
Replacing original windows or doors.
Altering the guttering or pipes.
Felling trees or shrubs.
Painting the facade or changing the colour of window frames and doors.
How do I know if a property I want to buy is in a conservation area?
There is no simple search facility, where you can type in a postcode and see if a particular property is in a conservation area. But, it should be easy to find out. Firstly, check with the seller and the estate agent. They should be keen to tell you as, despite the extra red tape, it is generally considered to be a selling point rather than a negative. Your conveyancing solicitor may also tell you. But, don't rely on this as it won't necessarily be flagged by the standard local authority searches.
The safest option is to check yourself. If you are searching for properties online and want to find out whether a house you are interested in falls within a conservation area before you go any further, look for the website of the relevant local authority. You should find a list or a map of all the conservation areas within that council's boundaries. You should also find documents that list the restrictions for each area.
Compare Conveyancing Quotes
Get instant quotes from regulated and reviewed conveyancing solicitors that cover your area
Get conveyancing quotes
Where can I get advice on carrying out building work without breaking the rules?
Speak to your local planning authority at an early stage. Talk through your plans to find out if they are likely to require planning permission. If you do need to apply for permission, you could get your builder, architect or a planning consultant to submit an application on your behalf.
Find a planning consultant who can help you understand whether your renovation project meets conservation area rules.
 What are the penalties for breaking the rules?
Carrying out illegal works within a conservation area can be extremely serious. It is a criminal offence that can be punished with a maximum prison sentence of two years under Section 74 of the Planning (Listed Buildings and Conservation Areas) Act 1990.