What is a cash buyer?
If you can afford to buy a property outright without a mortgage or loan this means you're a cash buyer. And if you're a cash buyer, the buying process will be quicker and you may be able to buy property more cheaply too. We look at how to buy a house with cash and what to watch for.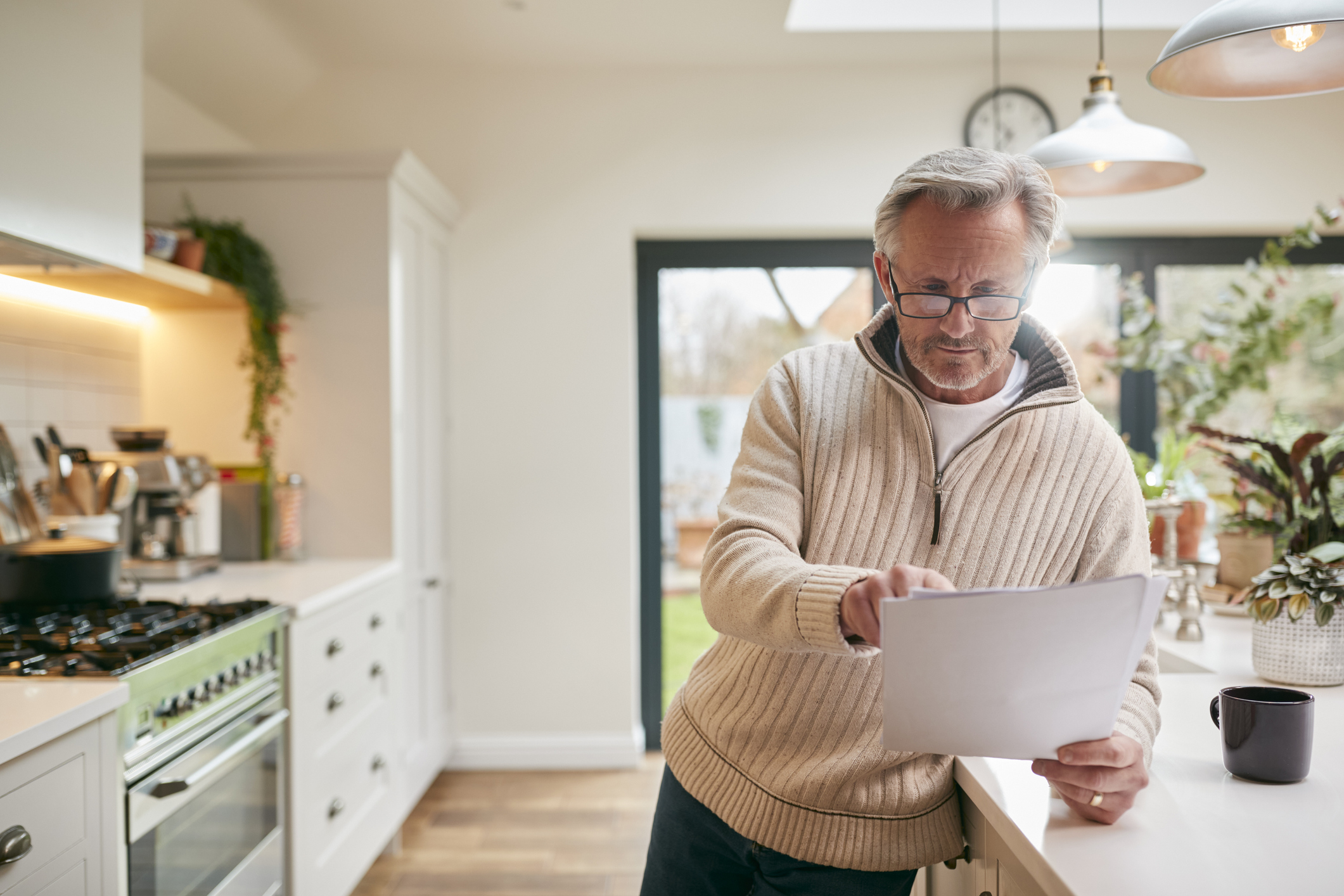 What is a cash buyer?
Being a cash buyer means you can afford to buy a property outright, without a mortgage or loan. According to the UK House Price Index August 2021, nearly a third of all sales that month were cash buyers.
However, the definition of what is a cash buyer is often misunderstood. A cash buyer must have the money available to purchase the property when making an offer and not rely on money from selling another property.
How to buy a house with cash
If you're buying a house with cash, the process is essentially the same as buying a house with a mortgage but there will be fewer hurdles. This generally makes the whole process quicker because you won't need to apply for a mortgage and all that entails.
So the process of buying a house with cash would be:
Finding a property and making an offer
Your offer being accepted
Instructing a conveyancing solicitor
Instructing a surveyor to undertake a survey – if required
Exchanging contracts and paying the deposit
Completion
Do cash buyers need to have surveys on properties?
No you do not need to have a survey if you are a cash buyer. But as with any house purchase, if you're a cash buyer it's still advisable to instruct a surveyor to carry out a survey so you're fully informed about any potential pitfalls with the property. There are different types of surveys and each goes into a different level of detail.
Get Survey Quotes
Get instant quotes from chartered surveyors in your area
Get building survey quotes
Do I need searches when buying a house for cash?
No. You are not obligated to get local searches carried out when you are buying a house for cash. And if your seller wants a quick sale, it might be tempting not to bother with them. But while they aren't mandatory, they will give you insight into issues which could impact the enjoyment of your home and/or its value. For example, local searches can show if a development is planned on your currently uninterrupted view of the countryside or whether your property is at risk of flood.
It's worth noting that if you were buying a property with a mortgage, your lender would insist on local searches being carried out. So they could reassure themselves your property is a good investment. Wouldn't you want to do the same?
Read more in our guide Local Authority Searches explained
I'm buying a house with cash, do I need a solicitor?  
If you're a cash buyer you'll still need a solicitor or conveyancer to manage the many aspects of your purchase. This includes obtaining the contract pack, discussing it with the seller's solicitor and explaining it to you, exchanging contracts and preparing a draft transfer deed and completion statement. They will also take the important steps of sending stamp duty to HMRC and registering the property in your name at the Land Registry. See our guide for more advice on the conveyancing process, the legal transfer of home ownership from the seller to you.
Looking for a conveyancing solicitor? Compare conveyancing quotes from our panel of quality assured conveyancers
Buying a house with cash: the benefits
There are lots of benefits of being a cash buyer that sellers will usually find attractive. And some sellers may accept a lower offer from you as a result. These include:
You're chain free: Because you're not relying on the sale of another property to go through in order to purchase the new property, this means you're chain free. This can be a very appealing prospect to sellers as there will be no downward chain. There may still be a chain. The person you're buying from may be buying another property and want to coordinate both property transactions. But the chain will have fewer links which means there's less chance of the sale falling down.
You're a more reliable buyer: Another key factor you don't need to worry about if you're a cash buyer is applying for a mortgage. If a buyer needs a mortgage there is always a risk the lender may reject the mortgage application, even if the buyer has a Mortgage Agreement in Principle. If this happens, the seller needs to start looking for a new buyer. With cash buyers, this risk is eliminated.
More flexibility: If you're a cash buyer you are free to buy any property you can afford. For example, while a lender may not lend on a property with a short lease, as a cash buyer you can buy the property if you think it's a good investment.
Speed: Removing the need to get a mortgage means you can seriously cut the amount of time it takes for the sale to complete. This will be particularly attractive if you're buying from someone who wants a quick sale.
Compare Conveyancing Quotes
Compare quotes and find the cheapest, nearest and best rated conveyancers from our panel of 120 quality assured firms
Get conveyancing quotes
How else can I benefit as a cash buyer?
There are other reasons why becoming a cash buyer can be a positive move.
More security: Buying a house outright means you don't need to worry about making your monthly repayments. So even if you lose your job you will have the security of knowing you own your own home.
You won't pay interest: When you take out a mortgage your lender will charge interest on the money you're borrowing. But when you're a cash buyer this doesn't apply. Although using your savings to pay for the house means you won't be earning interest on them.
Cash buyers vs buying with a mortgage
However while being a cash buyer can have certain advantages over buying with a mortgage, that's not always the case:
Lower prices aren't guaranteed: While some cash buyers may get a lower offer accepted on a property than other types of buyers this doesn't always happen. For many sellers, price will always be king and they'll be happy to be in a long chain if it means achieving a higher asking price for their property. This may especially be the case in a seller's market.
Don't overstretch yourself: Make sure you don't stretch your finances too far in order to be able to afford to become a cash buyer. You won't have a mortgage to pay but you'll still have other outgoings to pay for like food and energy bills.
Loss of liquidity: Even if you can comfortably afford to buy a property outright, it doesn't mean it's necessarily the best move. If you're tying up all your savings in bricks and mortar then they won't be easily accessible if you need them. While it is possible to take a mortgage out on a property that you have previously bought outright, lenders may insist you've owned the property for at least six months first. They'll also want to undertake affordability checks.
We'd advise talking to an independent Financial Adviser before deciding to buy cash. Our handy tool will help you find a local Independent Financial Advisor you can trust.
How do I show proof of funds when buying a house with cash?
When you make an offer as a cash buyer, you'll need to show the estate agent proof of funds to prove you have the money to complete the purchase. It's likely they'll ask you where the money has come from too because it's an estate agent's legal responsibility to check your funds are not the proceeds of crime under anti-money laundering laws. This is because buying property in the UK is a common method used by criminal gangs to launder the proceeds of criminal activity.
Read more in our guide Do estate agents need proof of funds?
Cash buyers only: What does it mean?
There are a number of reasons why properties are listed as 'cash buyers only'. These include:
If the property has an unusual construction that lenders may not offer a mortgage on.
There may be structural problems with the property that mean getting a mortgage on it isn't possible.
The seller may be seeking a quick sale.
If the property is a buy to let being sold with tenants in situ, it may be listed as cash buyers only as lenders often won't lend in this situation.
Buying a house is a huge financial commitment. If a property is unmortgageable for whatever reason, then your ability to sell it in the future will be hampered. If the reason for the sale being limited to 'cash buyers only' is structural, then it's vital that you appoint a surveyor so you can understand the extent of the problems.
Buying a house for cash: How long does it take?
By taking the mortgage application process out of the equation, a cash sale can go through in as little as a few weeks. But exactly how long it will take will depend on several factors including how long it takes to get local authority searches back.
Looking to instruct a conveyancing solicitor? Compare conveyancing quotes and look out for Digital-move enabled firms for a speedier process
Buying a house at auction as a cash buyer
As a cash buyer, you may consider buying a house at auction. When you're buying a house at auction, the sale is agreed as soon as the hammer falls. So there's no risk of the sale falling down. Plus, you see all the other bids as and when they're made. So there's no chance of being gazumped.
When you buy at auction, you'll have to pay 10% of the purchase price when the hammer falls. And you'll only have a month to pay the remaining 90%. But as a cash buyer, you won't need to worry about getting the funds from your mortgage lender through in time.
There is a lot to consider when it comes to auctions. Find out more with our guide How to buy a house at auction.