Advertisement
Should I use an online estate agent to sell my home?
Using an online estate agent to sell your home can save you hundreds or thousands of pounds. But can you trust them to handle your most important financial transaction? We take a look at how they work, what they charge and the pros and cons of online estate agents vs high street agents to help you decide. So whether you're thinking of PurpleBricks, YOPA or Strike you'll know what to watch for.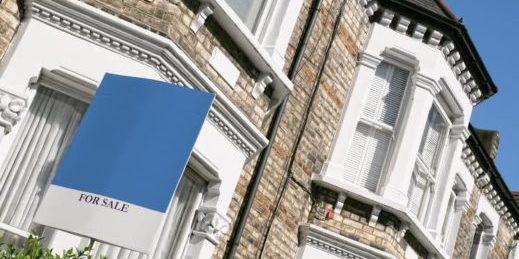 What is an online estate agent and why should I use one?
Online and hybrid estate agents now handle just under 10% of all UK home sales (according to Jan 2021 Twentyci data). The biggest advantage of online estate agents is the savings you can make. High street agents charge on average 1.42% incl VAT of the sale price achieved. This means you will pay approximately £4,250 if you sell your home for £300,000. Whereas you can market your property on the main property portals through an online estate agent from between £0-£1000, with some offering to do so for free.
Discover the best online estate agents and compare packages with our comparison table 
When they first emerged more than 10 years ago, the service offered by online estate agents was very hands-off leaving you, the seller, to write up the marketing information and conduct the viewings. But in recent years, online estate agents have added to their packages and offer a more "hybrid" estate agency option and, some now offer no sale no fee packages.
With the success of PurpleBricks, home sellers now benefit from the reduced costs of a call centre operating online, alongside access to "local property experts" to get your property details and photos online, to assist with negotiation and progression and (for an additional cost) conduct viewings.
What are the benefits of online estate agents?
Without a doubt, the biggest advantage of online estate agents is the savings you can make. The cheapest online estate agent in 2022 will market your home for no charge and the most expensive charges £999 including VAT (although charges may be higher in London). It's not unusual to pay extra if you want the online estate agent to do things like conduct viewings or negotiate with potential buyers.
In comparison, high street brands charge an average of 1.42% incl VAT, according to a July, 2018 study by the Advisory. So, if you sell your home for £300,000, you'd have to pay a high street agent approximately £4,250 in commission.
Find an Online Estate Agent
Find and compare the best online estate agents with our easy to use comparison tool
Find online estate agents
What is a "Hybrid Agent"?
"Hybrid agents", like PurpleBricks and Yopa, are online agents that also offer services traditionally only delivered by high street agents. In particular they conduct viewings for you using a local property "expert". This makes their packages more expensive than other online agents.
Before going with an hybrid agent that offers you a local property expert that do valuations, negotiation and sales progression, you should ask:
are your local experts qualified estate agents that work in your area?
how big a local area do they cover? (you want reassurance that the local expert isn't covering so large an area that they will struggle to attend your viewings)
are there any additional costs when the local expert conducts viewings?
Purple Bricks vs Yopa & Strike fees in 2022
Purple Bricks and Yopa offer similar hybrid agent services:
Both charge a fixed up-front fee of £999 (£1499 in London & surrounding areas) and unlimited accompanied viewings from £300
Both provide a full service with an expert local estate agent that provides the valuation and assists with sales progression and negotiation
Both have online tools to track viewings, feedback from viewings and details of offers and the progress of your sale
So the main differences between Purple Bricks and Yopa come down to reviews and success rate in achieving asking price.
Strike (formerly House Simple) were the first to offer a free service to sell your home, which includes floor plans, photography and listings on Zoopla and Rightmove and they also offer a full service package including viewings at £699.
Compare Purple Bricks, Yopa, Strike and other online estate agents — their fees, packages, reviews, our verdict and their track-record in achieving the asking price
The pros of an online estate agent:
Savings – You can save thousands – yes thousands – of pounds in fees using an online rather than high street estate agent
Transparency – Online agents display their fees openly on their websites inclusive of VAT.  They also make the whole process, from writing the marketing advert to the follow up steps, open to the customer, usually through a dedicated online dashboard system
Feeling in control – You can manage everything online when it's convenient for you
Flexible packages and prices – You can find the right package that suits the level of support you need and the price you can afford
Estate Agent Fee Calculator
The cons of using an online estate agent:
Paying up front – In most cases you pay online estate agents up front – rather than on completion of your sale. If your property doesn't sell, you want to switch from the online estate agent, then you'll lose your money. Some offer packages that allow you to pay on completion but they are usually more expensive. Others offer deferred payment but you will have to pay this usually at the 10 or 12 month point whether you have sold or not. Pay later deals often involve signing up to a credit or loan agreement with a third party organisation.
Valuing your home – even online agents with "local property experts" often aren't local enough to know your area and your road well enough to value it accurately. They will likely  value your house using online data but are unlikely to have the local expertise a high street agent has.
In house services – Check the fee advertised isn't conditional on you using the agent's in-house services, like their recommended mortgage broker or conveyancer. This shouldn't be allowed but does happen. It's important you're able to shop around for the best deal
Time commitment – Managing everything yourself can take up more time than if you had a very good high street estate agent dealing with everything for you.
Conducting viewings – Where you opt not to pay extra to have viewings conducted for you, you need to be comfortable showing people around your home.
Unusual properties – If your home won't be easy to sell, you may struggle without the expertise of a local, high street agent
Sales progression and negotiation – While in reality you'll still need to chase progress whichever agent you use, a good high street agent will be incentivised to progress the sale, talking to both sets of solicitors to get you to completion. Depending on your negotiation skills, a high street agent may be able to achieve a higher sale price than you or your online estate agent.
Can I trust online estate agents?
We quite often get asked if online estate agents can be trusted with the biggest transaction of someone's lives. Estate agents don't have the best reputation as a profession. In a recent survey 70% of people said they don't trust estate agents to tell the truth, according to an Ipsos MORI Veracity index.
First up you must check that your estate agent – online or high street – is a member of one of two grievance bodies who can pursue your claims should things go wrong: the Property Ombudsman and the Property Redress Scheme. This gives an element of reassurance.
See what reviews say about them. This online estate agent comparison table shows our verdict, which is our opinion of the agent's offering and gives their latest TrustPilot scores and reviews. Make sure you read the good and bad reviews to understand how people's' experience varies.
How popular are online estate agents?
As of January 2021, online estate agents are reported to have 9.9% of active listings. The most popular online agents are Purple Bricks, Strike and Yopa.
How will an online estate agent value my home?
As mentioned above online agents operate from nationwide call centres, and are less likely to have local knowledge. This means that valuing your house is often done using online data. That's fine as a guide, but you really need people with local knowledge to help you set the right asking price.
This can also be the case with "hybrid agents" that use local property "experts", because the scale of the geographical areas each local expert covers usually means they don't know the specifics of your local market and the houses like yours on your road.
This shortcoming is easily overcome by asking three local high street agents to value your home before deciding whether to opt to go online. See our guide on selling your home for the right price
How will people find my property?
Like high street estate agents, online agents use Zoopla, Rightmove, On The Market and other property portals to market your property. So while people won't find your photo in a high street agents' window as they go for a stroll on a Sunday afternoon, serious buyers will regularly check the portals. You will want to look at the different agents' marketing packages. "For Sale" boards are also offered by online agents – but double check that they will erect the sign for you.
Will the photos used by online estate agents be professional?
The quality of photos used by online estate agents is just as good as those from high street agents. Just a quick look on Zoopla or Rightmove will show you the quality of photos used by the online agents you are considering. And just with high street agents, you can opt for additional virtual tours and 360 degree photos.
The cost of photography should be included in the package you choose – but you must check this, because some online estate agents may charge you extra. We believe this is an essential element of selling your house, so choose an agent that includes professional photos in their package.
Will I need to arrange viewings?
Most online agents will arrange the viewings for you and keep you updated by phone or using a dedicated online site just for you – but they won't usually attend.
Will I need to conduct viewings?
In most cases, you'll need to conduct viewings if you go with an online estate agent.
Most online agents will have an accompanied viewings package at an additional cost to show prospective buyers around.
You need an average of 4.9 viewings before you sell your house, according to HomeOwners Alliance research. With this in mind, we've researched how much each estate agent will charge to conduct five viewings, and outlined the costs in the table below.
Online estate agents' fees for viewings
| Online estate agent | Fees for viewings |
| --- | --- |
| Purplebricks | £300 or £399 in London & surrounding areas |
| Yopa | £400 unlimited viewings |
| Strike (formerly Housesimple) | £549 package includes unlimited viewings |
| esale | £325 unlimited viewings |
| 99homes | £300 on select packs (8-10 viewings) |
| Doorsteps | £400 unlimited viewings |
Viewing fees checked and updated March 2021
Different online agents have different packages – and change them often – so compare who does what and how they are rated on our online estate agent comparison table.
Will the online agent negotiate a final deal with my buyers?
Some online agents will take offers, discuss them with you and negotiate the price for you.  Others will leave it up to you. If you don't want to haggle, you should choose an online agent who will do it for you.
Before deciding, take a look out our free guide on negotiating the right price.
Will an online estate agent really care about my sale if I pay up-front?
Arguably, online estate agents do not have the same commission-based incentive as a high street agent to get you (and them) the highest sale price possible.
But online agents would argue that if they didn't do all they could to help customers sell their homes and provide a great service, then they would be out of business.
How do I find the best online estate agent?
The best way to find the right online estate agent for you is to Compare online estate agents first. When selecting an agent, you should check:
The prices that are transparently listed on our online agent comparison table
Their TrustPilot user rating, and reviews written by other sellers
Our verdict of the agent, which is an honest opinion of their offering
How often they achieve the sale price
You can call the online estate agent, or visit their website, directly from our comparison tool – which means you could find the right company to sell your home within minutes.
If you decide to use an online estate agent, see our guide on selling your house online for more advice on the selling process.