Estate Agent Choices: What's important in choosing an agent?
HomeOwners Alliance research looks at what is important to consumers when choosing an estate agent and common turn-offs. Findings show that despite sellers claiming fees and performance were the most important factors when choosing an agent, very few actually took the time to check this information properly.

What we say is important when choosing an agent is not always matched by our actions — Consumers risk making decisions on instinct rather than facts and figures  
When choosing an estate agent, most (96%) say fees charged by the estate agent are important, but..
Half (50%) of sellers invited two or more agents around to do a valuation and sales pitch
One in four sellers (26%) negotiated the commission they paid
Only one in five (22%) asked to see the agent's standard terms and conditions before selecting their preferred agent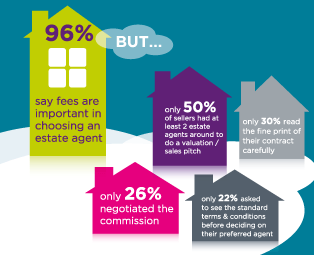 Nine out of 10 (91%) say performance of the estate agent – is important (their success rate, ability to achieve asking price and the number of properties on their books), but…
Only a third of sellers (32%) checked the agent's recommended selling price against similar properties on Land Registry/ Rightmove or Zoopla
One if five (19%) sellers looked for feedback or online reviews on the agent they engaged
Just 30% of sellers read the fine print on their contract carefully
Lower in the list of important factors in choosing an estate agent are recommendations from neighbours/ friends/ family (73%) and previous experience of the estate agent – having bought or sold from the agent before (68%).
Industry awards are cited as the least important factor in choosing an agent (49%).
Professionalism, appearance and manner matter – more than experience
93% say professional appearance and telephone manner is important but only 12% are put-off by inexperience.
Professional cues rate as highly important in choosing an estate agent. 93% say answering the phone professionally with prompt follow-up is important and 93% say professional and smart-looking property particulars are important.
Pushy sales tactics and poor time-keeping are the main traits that put people off an agent.
Being too pushy or using obvious sales tactics is the number one turn-off (48% say this would be likely to put them off an estate agent).
A lack of professionalism in tone puts off potential buyers and sellers. 27% say they would be put-off by an agent being over-familiar.
Additionally, one in five say they would be put-off an agent that does not look presentable (20%) or that looks too flashy (19%).
While a lack of local knowledge would be a key reason for disregarding an agent (47%), only 12% say that they would be put off by an agent that seems nervous or inexperienced.

Personal connection and rapport remains important
87% say that rapport with branch staff is important when choosing an estate agent to deal with.
More than half of sellers (52%) and 43% of buyers visited the estate agent branch.
If an agent does not seem friendly or enthusiastic, this can turn-off buyers and sellers. 39% say being unfriendly, unenthusiastic or stand-offish would be likely to put them off.
Related Reads
Estate Agent Choices: What's important in choosing an agent Infographic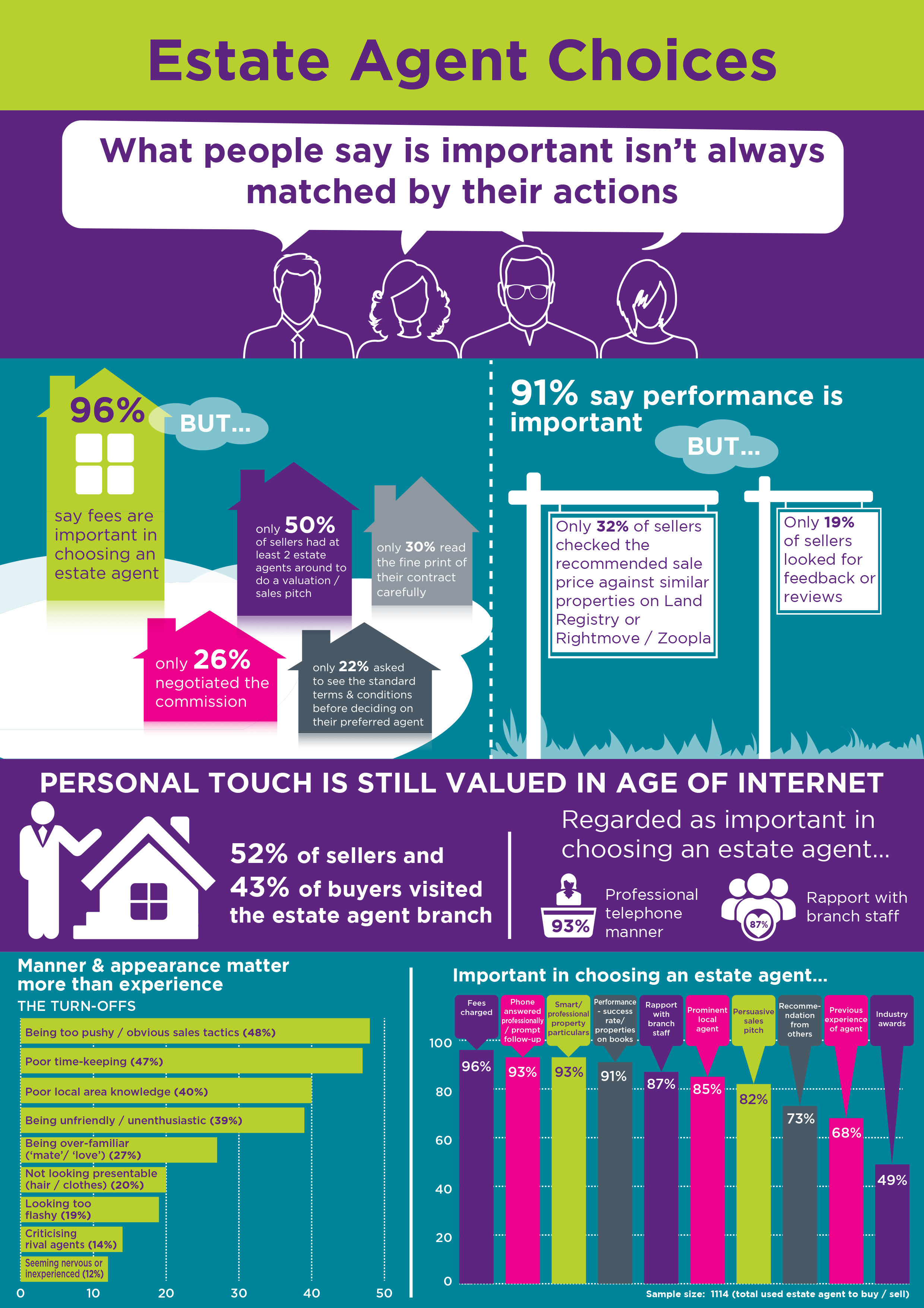 Methodology
2005 online interviews with UK adults, 1114 that have previously used an estate agent to buy or sell a property.  The sample has been weighted to reflect a nationally representative audience. Fieldwork was conducted 28 July – 1st August, 2017
Sign up to our

FREE

weekly newsletter

for the latest news, advice and exclusive money saving offers
Let us help you…