Advertisement
How to sell your house online
Online estate agents are growing in prominence but where should you start? If you've decided to sell your house online here are the seven steps involved.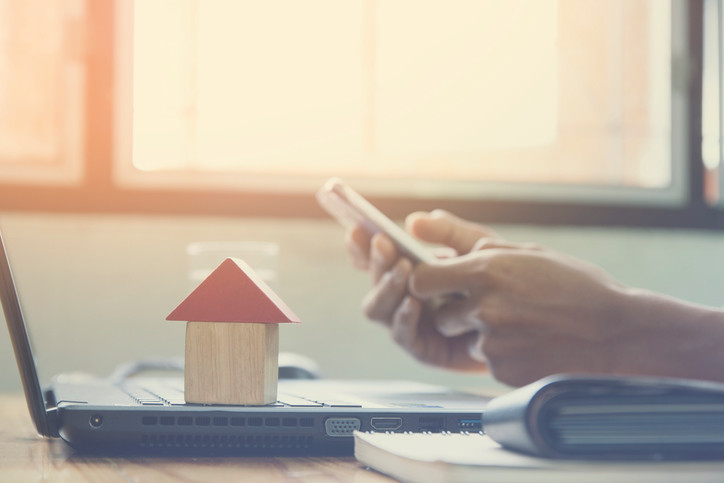 It's common knowledge that most buyers start their property search online. But it's becoming increasing popular to sell your house using an online estate agent too. Online selling presents a cheaper alternative to using a high street estate agent. But are there any pitfalls to be aware of? We look at whether you should use an online estate agent, why people choose them and what to watch for in our guide Should I use an Online Estate Agent 
In this guide, we set out how to sell your home online and the key steps in the process.
Step 1: Find an online or hybrid estate agent
Which online estate agent should you use? There are a lots of online or hybrid estate agents out there, including YOPA, Strike and PurpleBricks to name but a few. We compare the packages, pricing and ratings for the main online estate agents in our comparison table:
Find an Online Estate Agent
Find and compare the best online estate agents with our easy to use comparison tool
Find online estate agents
What to check and compare when choosing an online agent:
Fees. Lower fees are often the biggest attraction of online estate agents versus high street agents. Use our estate agent fees calculator below to see how fees compare. Even among online estate agents, fees vary considerably —  with starter packages ranging from £0 to £1000 incl VAT.
Pay up-front options offer the best savings. You can pay later, but online agents charge more for the privilege. Be aware that if your property doesn't sell, you want to switch from that online estate agent, or they go out of business, then you'll lose your money.
Some online estate agents offer no sale no fee packages that allow you to pay on completion but they are usually more expensive.
Others offer a deferred payment option. But you will have to pay this usually at the 10 or 12 month point whether you have sold or not. And these pay later deals often involve you signing up to a credit or loan agreement with a third party organisation.
Prices vary depending on the package you choose. Packages often range from 'standard' to 'enhanced' or 'premium'. So comparing online estate agent prices and packages is important to ensure that you find the right package and price to suit your needs. Make sure photography, floor plans, advertising on Rightmove and Zoopla, plus a For Sale board are all included in the basic package. Every other service they offer is likely to come at an additional charge. So make sure you do your sums and are only paying for additional services you want/need.
Extras can mount up. Be aware that 'extras' such as Energy Performance Certificates, premium listings on marketing portals, social media campaigns and accompanied viewings can incur additional (sometimes very expensive) fees.
Check the marketing period. Also, always ask if the marketing of your property is for a fixed or unlimited period as some estate agents packages last six months, others a year.
Estate Agent Fee Calculator
Step 2: Get the right valuation
You will likely want to get a few local high street estate agents to value your home alongside the valuation you receive from any online agents.  Some online estate agents have detailed valuation reports, some use online data and others have local property experts/ agents.
Your local high street agent is likely to know your local housing market better than anyone else so will be well-equipped to give you a realistic valuation. Invite at least three agents round to value the property and discuss marketing. You never know, they may convince you not to go with an online agent.
Just remember, that getting the right valuation is incredibly important, not only in terms of a final sale price, but also the speed of a sale.
Our Estateagent4me tool is free and instantly allows you to find local agents and compare them in terms of how quickly they sell homes like yours and how often they achieve asking price.
Step 3: Start marketing your property
Depending on what your chosen online estate agent offers, they will usually dispatch an agent to take photographs, create floor plans and produce your Energy Performance Certificate. They will then either write your property details for you to check or you can write them yourself using their online system. Most online agents are pretty efficient at doing this (within a week) and are quick to get your property live on the major portals.
Step 4: Conduct viewings and seek feedback
Usually you will be asked when you are available for viewings. Online estate agents will book buyers in using a dedicated online system that only you and the agent can access.  See our advice on how to prepare your home for viewers.
The default option with online estate agents is that you show potential buyers around your property. With the growing popularity of PurpleBricks and Yopa –  hybrid agents that offer an online service with the added presence of local property experts to conduct viewings – other online estate agents are following suit by offering add-on options to conduct viewings. Speak to the agent to understand how many viewings are included in the additional price, who will conduct them and how it will work in practice. Viewing package costs can quickly add up.
Make sure that after every viewing the estate agent asks for feedback and that's passed through to you.  Don't be afraid to contact your online agent regularly to keep the pressure on, especially if viewings are slow.
Online agents have different packages – and change them often – compare who does what and ratings on our online estate agent comparison table.
Step 5: Offer negotiation
When an offer is made, the online agent should vet the applicant to make sure they have the funds in place and they are in a position to purchase your property. The agent should pass all this information on and guide you through the process of negotiating and accepting an offer. If you would rather be in charge of this process yourself, you can speak to the buyer direct to negotiate. Selling online should give you that flexibility. Read further advice on types of buyers and dealing with offers.
Step 6: Manage the chain
Good estate agents should help with sales progression through to completion. But this of course depends on the quality of the estate agent. You may feel you don't want someone meddling in the process or you may want them to do it all, including liaising with both sets of solicitors and estate agents up and down the chain. Decide what is important to you when appointing an online estate agent. Make sure if you want to be hands off that they will step up and drive things forward. Read further advice in our guide How do I break the housing chain?
Step 7: Exchange and completion
Exchanging contracts is the point at which the sale becomes legally binding and is largely in the hands of your conveyancing solicitor. You and the buyer should agree the date of completion – the day the money is transferred and your home is sold – in advance. As most on-line estate agent packages involve an up-front payment for marketing there aren't any hefty commission fees to pay at this point. So it's time to crack open the champagne!
Online agents have different packages so compare their rates, what they offer and how they are rated using our online estate agent comparison table