How to rent a property
Looking to rent a property but want to avoid dodgy landlords, rip-off rental fees and a shoddy home? Don't worry we've got plenty of advice and top tips for renters so you know your rights and what to look out for.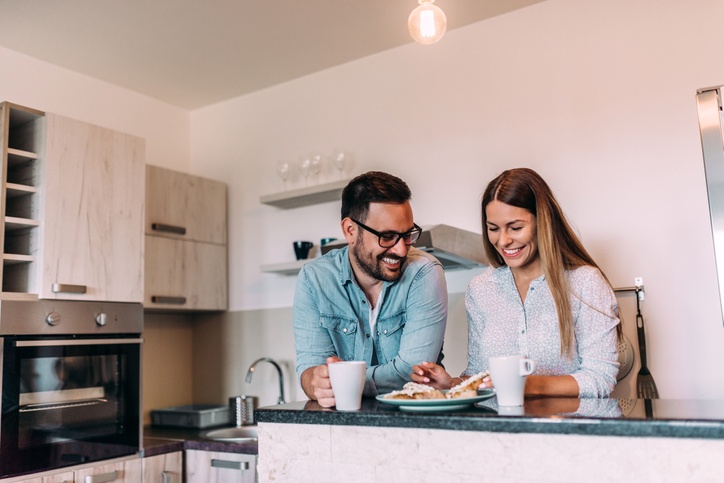 According to the ONS there are 4.5 million households who rent a property in the UK. Despite the vast number of us renting, the number of issues faced by renters continues to rise.
Our 2019 Annual HomeOwners Survey polled by YouGov revealed 78% UK Adults encounter problems with their rental property. Four in ten people struggle to get their landlord to perform maintenance and repairs on their home. The same number of people say they are living in cold and damp rental properties. And a further 20% are worried their rental home doesn't meet basic safety standards including fears about fire safety.
Here are our top tips for renters. From finding the right rental property to negotiating the contract and dealing with any problems, we are here to help.
How to find a property to rent
The major property portals including Rightmove, Zoopla and Onthemarket advertise rental properties. Plus, specialist rental site Rentify so you can start your search online. Before you start looking at what is out there make a list of what you need.
Do you have pets?
Do you need parking?
How many bedrooms must you have?
Do you need furniture, or will you provide your own?
Make a note of any other non-negotiables that will affect your decision.
This is a good time to make sure you have all the documents you'll need in order to rent somewhere. This includes:
Identity documents
Evidence of your employment
Proof of your immigration status if applicable
References
If you are looking at a rental property in a new development in London, you can use Homeviews.com to see reviews from current and former residents.
Make sure any property you are interested in being managed by a letting agent is legitimate. They should be accredited with a professional body such as  ARLA Propertymark NALS, RICS or UKALA. Check if they are also a member of the Safeagent scheme. Also, ask what independent redress scheme they are a member of.
If you are renting from a private landlord look for one who belongs to an accreditation scheme. Check if they are a member of the National Landlord Association (NLA), the Residential Landlords Association (RLA) or the Guild of Residential Landlords.
Rental property viewing checklist
When you start looking at rental properties take a viewing checklist with you. You need to pay particular attention to the following:
The state of repair
Check for damp patches, signs of mould, peeling wallpaper or musty smells
Try the taps/toilet. Is the plumbing working, good water pressure and fast drainage?
Does the central heating work?
Cast your eye over the outside. Any slipped tiles, wall cracks or broken gutters?
Is your rental safe?
Are there smoke alarms and carbon monoxide detectors?
Looking for working locks on windows and doors
Ask to see the Gas Safety Certificate. This proves the gas fitting have been safety inspected.
General
If the current tenants are there ask the how long they've lived there and why they are leaving.
Check for phone signal
Does the property meet your list of needs?
Questions to ask the letting agent /landlord before renting  
What length is the tenancy?
Why are the current tenants leaving?
What furniture is included?
Are any bills included?
Ask to see the Energy Performance Certificate
What fees will you have to pay?
How much is the deposit?
What independent redress scheme is the letting agent a member of?
Which government approved scheme will protect your deposit
What are the rules regarding children, pets and smoking?
Can you redecorate?
What to look out for in your tenancy agreement
Once you've found the rental property for you it is time to check all the paperwork and make sure everything is legal and fair to you.
The letting agent or private landlord will give you an Assured Shorthold Tenancy agreement. This is the contract between you as the tenant and the landlord. You need to read this very carefully and make sure you understand and are happy with everything in it. This is a legally binding document so don't sign it unless you are 100% happy with what you are agreeing to. Pay particularly close attention to:
Is it a joint tenancy agreement or individual? If you are renting with other tenants, then a joint agreement holds you all collectively responsible for the property and paying the rent. A better option is an individual contract for each tenant. This means if there is a problem with one tenant the rest of you won't be liable.
Is the rent amount the same as what you have agreed with the agent?
Read the obligations carefully. This tells you what is expected of you and what you can and can't do to the property.
Make sure the contract allows for general wear and tear to the property.
Check that anything you asked for has been included in the contract such as agreed repairs.
Make sure your rental deposit is protected
You will have to provide a deposit when you agree to rent a property. This is usually one month, or six weeks rent and is intended to cover any late rent or damage to the property during your tenancy.
By law this money has to be registered with a government-backed deposit protection scheme within 30 days. There are three approved schemes: The Deposit Protection Service (DPS), My Deposits, and the Tenancy Deposit Scheme (TDS). Check which scheme your landlord uses and, if you are concerned, you can check with the schemes to see if they have your property on record.
If your landlord hasn't registered your deposit within 30 days, they are breaking the law and you are entitled to compensation.
Check the inventory for your rental property before you sign
The inventory is a checklist for you and the landlord. It should list any furniture that the landlord is providing as well as any faults in the house that were there before you moved in.
The idea is that the inventory protects you from being charged for damage that was already there, or arguments about broken or missing furniture when you move out.
You need to sign off the inventory to say you agree with what it says. So, make sure you check it carefully first. Make sure you keep a copy of the inventory and also take photos of the property before you move in to keep as a record.
What fees should you pay on a rental property?
As of June 2019 landlords and letting agents can no longer charge letting fees. This is great news for tenants as it means they will no longer be charged rip-off admin fees. In England and Scotland you can no longer be charged for:
Credit checks
Viewings
Inventory checks
Check-out
Cleaning at the end of a tenancy
A rent guarantor
Gardening services
Getting the chimney swept
Having a property 'deflead' as a condition of allowing a pet
In Wales and Northern Ireland, you could still be charged tenancy renewal fees, referencing fees and credit check fees, with the average tenant paying £400 according to Citizens Advice.
The costs that landlords can charge in England and Scotland are limited to:
Rent
Utilities and council tax
A refundable deposit capped at six weeks' rent
A refundable holding deposit to reserve a property, capped at one week's rent
Changes to the tenancy that the tenant has requested. This is capped at £50 or "reasonable costs".
Early termination of the tenancy as requested by the tenant
Defaults by the tenant. This could be fines for late rent or lost keys. These must be "reasonable" with evidence for why the amount is being charged.
References for renting
When renting, you will be subject to reference checks before you move in. Usually this is done by a reference agency. All you need to do is provide your details, including employer and previous landlords, and consent to your information being shared and checked.
Alternatively, your landlord may ask for written references from your employer and previous landlord. It can make things run more smoothly if you arrange these before you start looking for properties.
Affordability checks for rental properties
In order to get your rental property, you may also have to pass affordability tests. This is usually that your monthly gross salary needs to be 2.5 times the monthly rent, at least. If you are renting with other people, then your total monthly salary would need to be 2.5 times the rent.
The letting agent may also check your credit score. Find out how to clean up your credit rating.
Moving into a rental property
When moving day arrives it is a good idea to take photos of the property before you move your belongings in. Keep these as a record of how the property looked when you moved in. They could come in handy at the end of your tenancy if there is a dispute about damage or missing furniture. Take individual photos of any damage or faults that are already there.
It is also a good idea to take out contents insurance. Your landlord is responsible for insuring the building but that won't cover your belongings if there is a fire, flood or you are burgled.
We've teamed up with A-Plan to help you find the best home insurance
Tenant rights
The government is quite clear about your rights as a tenant. You have the right to:
Live in a safe property that is in a good state of repair.
Have your deposit returned when the tenancy ends
Challenge excessively high charges
Know who your landlord is
Live in the property undisturbed
See an Energy Performance Certificate for the property
Be protected from unfair eviction and unfair rent
Have a written agreement if you have a fixed-term tenancy of more than three years
Also, your tenancy agreement, if you have one, should be fair and comply with the law.
What to do if you have a problem with your rental
Unfortunately, we know that not everyone is getting the tenant experience the law dictates. Our research at the HomeOwners Alliance carried out in 2019 revealed that one in ten tenants have been evicted without cause and 16% have had their rent unfairly increased. 
If you have a problem with your rental property your first step should be to complain to your landlord or letting agent. Make sure you do this in writing and keep a record of all correspondence. You should be able to find your landlord's name and contact details on your tenancy agreement.
The next step is to make your complaint more formal. Write to your landlord explaining what you are complaining about including dates and times if applicable. Explain what you want them to do about the problem. Include photos if possible and receipts for things you have had to pay for because of the problem. For example, laundry bills if your washing machine is broken.
If your landlord still doesn't act, you can complain to your local council if the problem is to do with:
Harassment
Repairs that haven't been carried out that cause a risk to your health and safety
Illegal eviction
Dishonest or unfair trading behaviour
Problems with a letting agency
Alternatively, if you rent through a letting agency you can take your complaint to a letting agent redress scheme. Letting agents must be members of either The Property Ombudsman (TPO) or The Property Redress Scheme. Your agent must display the name of the scheme they belong to in their offices and on their website.
You can take your complaint to the redress scheme if you are unhappy with the final response you have receive from the letting agency or eight weeks have passed since your initial complain and the problem hasn't been solved.
Dealing with anti-social behaviour when you rent
Here at the HomeOwners Alliance we know anti-social behaviour from neighbours can be a real problem. Our 2019 Annual HomeOwners Survey found that 36% of tenants struggle with problem neighbours.
If you have problems with your neighbours, there are several things you can do.
You can take action yourself either by speaking directly with your neighbours or by asking for assistance from a mediator. Your local council can help you find a mediator or you can look for a mediator on Gov.uk.
If your neighbours are tenants, then their landlord has to take steps to tackle anti-social behaviour. So, you can contact them for help tackling the problem.
You can find out more in our guide to dealing with noisy neighbours.
Unfair evictions
Landlords are entitled to evict their tenants, but how they can do it depends on type of tenancy agreement you have.
The vast majority of renters have an assured shorthold tenancy agreement. Under this agreement your landlord has two ways of ending the tenancy.
They can serve you a section 8 notice. To do this they must give you a legal reason for why you have to leave. This could be because you have fallen behind with your rent or have broken the terms of your tenancy agreement.
The other option for a landlord is to serve you with a Section 21 notice after your fixed-term tenancy period ends. They don't have to give you any reason for ending the tenancy with a Section 21 eviction. You must be given at least two months' notice of eviction.
The government is planning to ban this type, known as a 'no-fault eviction'. Under the plans landlords will have to give a "concrete, evidenced reason already specified in law" to end the tenancy.
You may be considering whether buying your home is an option for you.  For more advice, see Can I afford to buy? and our guide to getting your first mortgage