Home Extension: where do I start?
Extending your home is a popular way to increase space and add value to your property. With the hassle and costs of moving house – from legal fees to stamp duty – the reasons to stay put and improve your existing home soon mount up. But where do you start with your extension plans?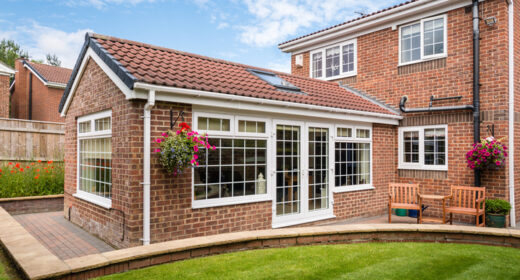 Whether you're thinking of a garage conversion, side extension, double or single storey rear extension, there is much to consider as you embark on a home extension improvement project. To help get you started, we take it from the top with pointers on planning rules, building regulations, dealing with the neighbours and finding a builder. 
What to consider before you start your extension
Will your extension plans add value?
As with any big home improvement project, it's worth sense-checking your home extension plans before you dive in. Unless money is no object, it's worth speaking to a good local estate agent who can give a view on whether your plan would add value to your home. They should also be able to give you an indication of how much it would increase the value by, which may help inform your budgeting for the project. Our guide to home renovation costs can also help with budgeting.
Permitted development and planning permission
You can undertake some extension projects without the need for planning permission, referred to as your "permitted development rights".
Under the rules, a rear wall of a detached home can be extended by 8m to the rear if it is a single storey property, and 3m if it is double storey. This is reduced to 6m in a semi or terraced house.
There are also height restrictions. A single storey extension cannot be higher than 4m to the ridge and the eaves. Ridge heights of any extension must not be higher than the existing property. Double storey extensions mustn't be closer than 7m to the rear boundary.
There are other conditions that must be met. For example, if the extension is more than half the area of land around the original house, you will need planning permission. Extensions must be built with similar materials to the existing property.
Different planning rules may also apply if your home is in a Conservation Area. For any renovations to a Listed Property, you will need to obtain listed building consent.
Sometimes difficulties arise getting planning permission.  See our guide on what to do when a planning application is refused.
Problems getting planning permission? Find a local Planning Consultant to help you.
Building regulations
Regardless of whether or not planning permission is required, any renovation project must comply with building regulations. You'll need to ensure whoever carries out the work can either self-certify the work (for example, FENSA accredited window fitters, Gas Safe registered gas engineers and NICEIC registered electricians and so on) or will liaise with the local Building Control Officers at your council to have their work certified. If the requirements aren't met, you could be served with a notice to take the extension down and will have trouble when it comes to selling your home without the relevant Building Regulations certificates.
Your home insurance cover

Before starting the project it's important that you contact your home and contents insurance provider to let them know of your plans. The extension will likely increase the rebuild cost of your house. Insurers take this into account when pricing premiums. While building work is being undertaken, it could put the property at risk of damage. If you don't let your insurer know and there's a problem with the property at some point, you may find your policy is void. Your insurer will let you know if your current policy will cover the new extension. You may find your premiums increase. If for some reason they are unable to cover the property now, you'll need to find a new provider before your cover is cancelled.
You should also check that any builder working on your property has professional indemnity insurance to cover the costs should something go wrong.
Leaseholders
If you own the leasehold – rather than freehold – to your property, you'll want to check the details of your lease to ensure you have the right to make alterations, usually subject to approval from the freeholder. Get in touch sooner rather than later with your freeholder about your plans, as there may be additional costs involved to obtain their approval and sign-off.  See when to approach your freeholder about your extension plans. 
Your neighbours
Building projects can be a major cause of disputes between neighbours. If planning permission is required, your neighbours will be consulted by the local planning authority, but it's a good idea to let them know about your plans well in advance, particularly if the works may cause disruption.
Party Wall Agreement
A party wall is the shared wall, usually between a terrace or semi-detached house, and divides the homes of two separate owners. It also includes garden walls built over a boundary and excavations close to a neighbour's property (within three or six meters, depending on the depth of the new foundations).
Party Wall Agreements between neighbours are most commonly needed for loft conversions and extensions which require the insertion of steel supports, a damp proof course and/or digging of new foundations.
Read our guide about your responsibilities under the Party Wall Act and let us help you find a local party wall surveyor
Designing an extension
Finding an architect
Depending on the scale of the project, you may wish to involve an architect. There's no law saying you need to use an architect, even for large renovations and builds, but some people find it easier to have a professional draw up the designs. Using an architect will generally mean you'll get a better end result. However architect fees are usually around 15%, so you'll need to factor this into your budget.
Read our guide on appointing an architect and search architects in your area with our Find an Architect service

How to brief an architect 
When you start working with your architect, it's important you give as much detail as possible on what you want from the project, your timings, how and when you intend to pay them and what penalties will be in place if deadlines are missed. The architect will then send you a detailed appointment letter along with a contract to sign.
Obtaining structural engineer calculations
If your extension requires any structural changes to your home, you may need a structural engineer.  A structural engineer can provide technical drawings and calculations which can be used to seek Building Regulation approval and will then be used by your building contractor and/or architect during the renovation work.
Choosing a builder
How to find trusted tradespeople
The key to any successful home improvement project are professional, reliable trusted tradespeople. Online review sites are a good place to start when comparing builders and other contractors. We've partnered with Checkatrade because of their vetting and review service.
Find and compare rated local builders to undertake your extension now
Home extension costs
The cost of a home extension will depend on the size of the extension, the structural work involved (will you need steels) and where you are undertaking the project. As a rough guide, the average 4m x 6m extension costs £26,000 to £34,000, according to MyBuilder.
Bear in mind the cost of a two story extension is not that different to a single story structure as most of the cost is in the foundations.
Getting quotes
Whenever you are undertaking a renovation project, it's always a good idea to shop around. We recommend getting quotes from three different contractors for the work. You'll usually need to ask at least five firms to get three quotes. Find out how to invite contractors to tender for the work
Setting a budget
When setting a budget for your job, start by making a list of everything you would like included. Compare your quotes item by item and when pricing services and materials always check the VAT is included. Read our guide to home renovation costs for an idea of what you may need to pay.
We'd also recommend setting aside around 10% of the total cost for unexpected additional costs.
You will also need to work out the best way of funding the cost of your home improvement project. Remortgaging or a home improvement loan? Read our guide on options for financing your home improvement project