Check your tradesmen
We know you're busy. And checking a tradesman sounds like a chore. But do you really know a decent builder from a dodgy one without checking?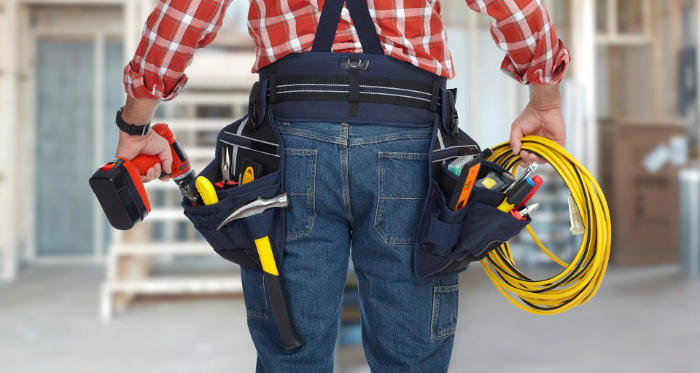 Don't part with your hard earned cash on false pretences or risk shoddy workmanship. The best way to check that your tradesman is legitimate is to check their Trade Association, a good indication of their qualifications and professionalism.
Use our Find a Local Tradesman service to help you with your building projects
You should check they are who they say they are:
1. Ask your tradesman what association they belong to
2. Call the association and ask if your tradesman is a member. If the association has an online search function, we have directly linked to it below. Be aware that these links sometimes change and can become outdated
TrustMark registered
If your builder says he/she is a member of TrustMark, check the online register to see if they are a member. If a firm is TrustMark registered, it is working to a code of practice aimed at giving you greater confidence and protection.
General Builder Trade Associations
National Federation of Builders
NFB members are "strictly vetted and have undergone a range of reference checks, safeguarding and giving you peace of mind". Their search function allows you to check or find an NFB builder in your area or by company name.
Federation of Master Builders
FMB have "thousands of vetted members", although check their membership criteria as there are different levels of criteria and checks for different types of members. You can find or check your FMB registered tradesperson is legitimate.
Electricians, Plumbers and Heating Engineers Trade Associations
NICEIC
This is the main trade association for electricians who are "assessed regularly to ensure they are meeting standards by checking their work, premises, documentation, equipment and competence of their key staff".
Contractors registered to the NICEIC Building Regulations Schemes are authorised to self certify their work without actively involving the Local Authority.
The website allows you to find registered electricians in your area. You can also check your contractor is registered by entering their registered Company name. Check out members.
NAPIT – The National Association of Professional Inspectors and Testers
NAPIT is a Government approved Competent Person Scheme committed to setting the standard for industry. Members are regularly inspected to ensure that these standards are met. The NAPIT website lets you identify local and reputable trades people including plumbers, electricians, heating and ventilation contractors.
Association of Plumbing and Heating Contractors
APHC members sign up to a customer charter and members who self certify work have annual on-site assessments. Their website's search engine allows you to search by postcode, town, type of work or business name.
Gas Safe Register
This is the official list of gas engineers who are registered to work safely and legally on boilers, cookers, fires and all other gas appliances.  Members undergo regular inspections. Anyone dealing with gas should be registered with this Trade Association, which was formally known as CORGI. Search members.
HETAS
The Government approved competent person scheme specialising in solid fuel, wood & biomass – its members can approve boilers, cookers, open fires, stoves and room heaters. Find a member by using a postcode on the website.
Windows and Doors Trade Associations
FENSA
This is the leading body providing Building Regulations compliance for homeowners replacing windows and doors. They vet their members with a pre-approval inspection and regularly assess members using an independent inspection body. You check your tradesman by entering the exact company name or search using your postcode, on their search engine.
CERTASS
Certass contractors are qualified to carry out the replacement of windows and doors in accordance with the current building regulations. You could check your tradesman or find a local contractor using their postcode search engine.
Roofing Trade Associations
National Federation of Roofing Contractors Limited (NFRC)
Members are vetted on joining and then every three years thereafter. Check your tradesman on their website search engine.
Competent Roofer
Is a company aligned with NFRC but members can self certify their work, providing an all in one service to homeowners. All domestic work carried out carries a 10 year warranty. You can search on their site using a postcode or name.
Architects
Architects Registration Board
The ARB is set up by Parliament as the independent UK regulator of architects and only people on the register can describe themselves as an architect. The site has a good search function.
Royal Institute of British Architects
RIBA Chartered Practices must meet their  "world leading standards of professional practice in quality, customer services and insurance."  You can check that your architect is a member.
But Beware – some Trade Associations are better than others….
Trade Association membership is a good indication that your tradesman is professional – and especially important if it means the tradesmen can sign off their work as Building Regulation compliant. This is important when you sell your home and you will need to produce certificates to prove that your work meets the national building regulation standards. It sounds dull, but building regulations are the law.
While a Trade Association membership can't ensure work will be perfect every time, you should be able to expect any problems will be dealt with fairly, and you can turn to their Association for help with any unresolved issues and complaints.
To qualify, Trade Associations may ask tradesmen to meet certain criteria and demonstrate high quality standards. It is a good first port of call – but take note: these organisations are funded by membership fees. They will have varying levels of checks, and striking someone off their list will mean a loss of income. So while they offer some protection you can't take them at face value. If you want to compare and contrast then look at their codes of practice to see how much protection they give you.
If you have any complaints or comments about trade associations or tradesmen, email us in confidence at hello@hoa.org.uk
My Tradesman isn't a member of a Trade Association. Are there other checks I can do?
Yes. See our guide Top tips for finding a trusted tradesman for more details.