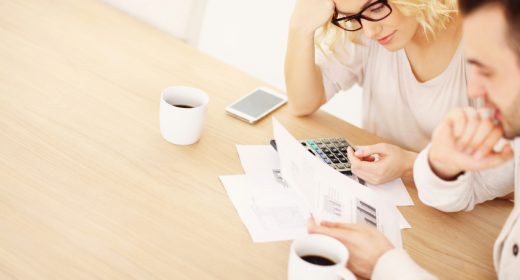 How and when should I get a mortgage?
It can seem chicken and egg: you can't buy a house without a mortgage, but you can't get a mortgage until you're ready to buy a house. A lot of homebuyers end up losing their dream home because they left sorting out the mortgage too late. Arranging your mortgage as early as possible can put you in a stronger position with sellers –and reduce the amount of stress
When should I start arranging a mortgage?
You should start the process of applying for a mortgage before you even start seriously looking for somewhere to buy.  If you are looking at properties to buy before starting to arrange your mortgage, you have left it too late. There are three reasons for this:
To find out for sure how much you can afford. This is particularly important if you are in a more complex financial position, such as being self-employed, or having just started up a company. Many homebuyers end up losing a property because they couldn't borrow as much as they thought
To ensure that the home buying process isn't derailed by delays and problems with the mortgage. Many buyers end up losing their chosen home because they hadn't sorted out basic things with the mortgage earlier. The secret to smooth homebuying is to reduce the surprises as much as possible. Read our guide to find out how long it takes to get a mortgage
To put you at an advantage compared to rival buyers who do not have a mortgage in principle. Most sellers will prefer a potential buyer who is further down the road in the mortgage process
If you are thinking about buying jointly with anyone (eg a partner or parent), then this will affect the sort of mortgage you can get, and how much you can borrow – so you should sort this out before you start looking
Where should I start?
Once you understand the basics:
Decide how much you can afford to borrow. See How much can I afford?
Decide what sort of mortgage you want to get. See What type of mortgage should I get?
Think about using a fee-free mortgage broker to search the whole of market and get you a good deal.  See Do I need a mortgage broker?
Take a look at mortgage comparison tables to get an idea of how much you can borrow with your deposit. See our mortgage service and best buys
Ask your bank or building society what they would offer. But only go with your own bank if they offer the best deal – do not feel any pressure to go with them
See if your employer provides mortgage deals – these can provide great rates
Ensure you compare like for like. Think about term lengths; how much will your monthly repayments be? Can you afford that?
Once you have found two or three deals that you like the sound of and that seem suitable, you will need to get a mortgage agreement in principle.
The mortgage in principle
Obviously, you can't complete the mortgage process until you have found a property to buy (not least because the mortgage lender will need to do a valuation survey).
But all mortgage lenders will give you an indication of how much they are prepared to lend you and on what terms, given your circumstances.
Many mortgage lenders will go further and offer you a "mortgage in principle" after you have supplied them with the evidence they need of income etc. They offer this in the hope that you will use them as your lender once you find the property you want to buy. If you have a mortgage in principle you are less likely to be gazumped.
To get your mortgage in principle you can either work through a mortgage broker or get one directly from the lender. You will need to:
Get in touch with the lenders: you will have to fill out a form either via the internet, by telephone, or in person
They will do a credit enquiry, which will flag up anything major on your credit history
This enquiry will leave a footprint on your credit history; since too many footprints can drive down your credit rating don't get too many checks
Do not be tempted to overstate your income or they will offer you more than you can afford. You may have to prove your income to them anyway
The full mortgage application
Once you have had your offer on a house accepted, you have to complete a full mortgage application – although if you have already got a mortgage in principle, you will have already covered much of this. You will have to fill out a form and provide evidence of your income, identity, current address. How you do this varies from lender to lender so call yours up to see precisely what you should do.
Your lender will perform a credit check on you to ensure you have a solid credit history and ensure you have paid your debts off in the past. They may also get references from your bank and employer.
You will also need to have a valuation of the property you are about to buy. Most mortgage companies insist that you use their surveyors to do the valuation. The price of the valuation depends upon the value of the house being surveyed.
Some mortgage lenders will insist you pay for the valuation. Others will sometimes pay these fees for you, particularly if they are trying to attract you as a new customer. Some will be prepared simply to add these fees to the total for the mortgage, so you pay them off over time. While mortgage lenders should tell you what the fees are upfront, you should make sure you are fully aware of them so you don't get any nasty surprises.
Note that the mortgage valuation is not a survey. See What sort of survey should I have?