Buying Off-Plan
The number of people moving into new-build homes is on the rise. If you're considering a new-build then developers will often offer you the option of buying off-plan. We look at what this means, the pros and cons, mortgage implications and questions you should ask before proceeding.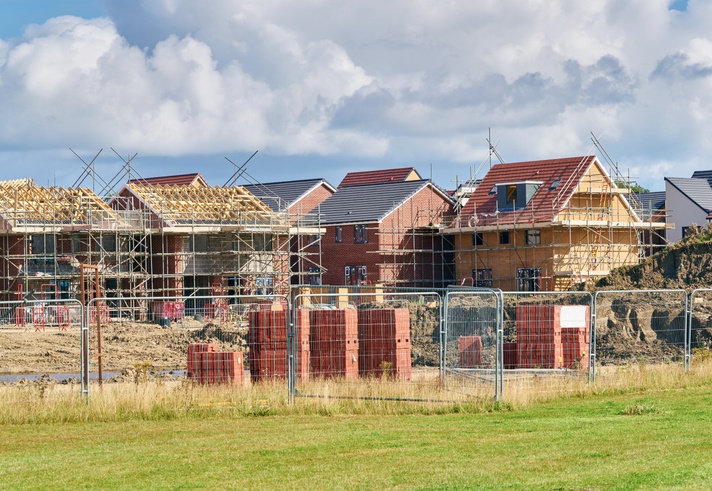 What is buying off-plan?
Buying off-plan means you purchase your home before the developer has finished building it. You may even buy it before construction has begun. In return for a relatively small deposit you can secure a brand-new home and often get a say in the design and build.
The seven steps to buying off-plan
1. Find out if you can – In order to buy off-plan it's a good idea to speak to a mortgage broker to check you can borrow what you need. You also need a suitable development in the area you want to live. Read our guide on How Much Can I Afford?
2. Reserve a home – Once you've found the property you want, and know you can afford it, you need to reserve it. You'll pay a reservation fee for this, which is usually around £1,000.
3. Get legal help – You need to appoint a solicitor or conveyancer to handle the legalities of buying your home. In particular, check whether the property is leasehold or freehold and what that means in practice. Also, make sure your conveyancer gets your buyer requirements – this is everything you expect to be included in the property – written into the contract.
4. Arrange your finances – If you are not a cash buyer, now it's time to get your application in for a new-build mortgage. We'd recommend speaking to a mortgage broker to get the best deal for your circumstances.
5. Exchanging contracts off-plan – Once you've completed all the paperwork it's time to exchange contracts and pay your deposit. This usually happens very quickly – within 28 days of paying your reservation fee. You then have a lengthy wait until step six, while your home is built. During this time, it is a good idea to do what you can to check everything is being built according to the specification you agreed.
6. Check your home is finished – Don't be pressured to move into your home before it is complete to the standard you would expect. Most developers won't allow buyers access to the property they are buying to conduct a snagging report before completing, but challenge this.  Whether you want to look at the property yourself, get on site with a surveyor to check the place over or get a snagging inspector in, you'll want to re-assure yourself the property is finished to a good standard. Read our guide about Moving into a New Build Home
7. Completion – The developer will probably give you two different dates for when your house will be ready. The short stop date is the day they expect the property to be ready. Then the long stop date, which is the date they have to complete by.
Buying off plan pros and cons
| Benefits | Drawbacks |
| --- | --- |
| Your home will be brand new. | You can't be sure what the finished property will look like. |
| It might be possible to personalise your home by having a say on the internal layout, fixtures and fittings as well as where is sits within the development. | If the build is delayed, you could have to re-apply for your mortgage as most offers only last six months. |
| On some developments you can choose from a variety of property types. | If your property value changes significantly it could affect your mortgage offer. |
| You could get a discount of up to 5%. | You could lose your deposit if mortgage issues mean you can't proceed with the purchase. |
| Your home could go up in value between you reserving it and moving in. | The developer may be able to sue you if you can't complete the purchase. |
| It's often a simpler buying process. | A lot of mortgage lenders don't offer mortgages on off-plan properties |
| Your home will come with a new-build warranty | The developer may pressure you to use their conveyancers. Read more about new build conveyancing |
| You aren't subject to buyer beware as you are when purchasing an existing property. With off-plan if you find structural defects you may have a contractual right to sue the developer for the reasonable and proper costs of putting them right. | You face the potential problems of badly built new build properties. |
Getting a mortgage when buying off-plan
Most developers will want to see you have a mortgage agreement in principle before you exchange, but this can raise some challenges.
Once you have a mortgage offer it is usually only valid for six months. After that some lenders will extend it by a short period. But you may well find yourself having to fill out your application all over again. At this point you are probably committed to the purchase because you have exchanged contracts. See if you can add a get-out clause to the contract before you exchange. It should allow you to have your deposit returned and walk away if you are no longer able to get funding despite reasonable efforts.
Hopefully, there won't be six months between your exchange and your home being ready to move into. To avoid any confusion, make sure you get a clear idea of the build timeline from your developer and keep in contact with them.
Lenders often want to do a valuation when they offer the mortgage when you are buying off-plan, and then do another when the property is complete. If the valuation comes in lower than the purchase price you will have a shortfall. Your options then are to challenge the valuation, go to the developer to negotiate a reduction of the price to meet the lender's valuation or bridge the gap yourself.
Mortgage Finder
Get fee free mortgage advice from our partners at L&C. Use the online mortgage finder or speak to an advisor today.
Find a mortgage
Exchanging contracts off-plan
You've paid your reservation fee and now the race is on. Most developers insist that exchange of contracts takes place just 28 days later. You need to instruct a solicitor or conveyancer quickly and preferably one that has experience of working on developments like yours so they know the questions to ask. Don't be pushed into using the developer's recommended solicitor. Your solicitor should be representing your interests but this could be more difficult if they receive a lot of business from the developer.
When you exchange, you'll also be asked to pay a deposit on the property. This is usually 10% of the purchase price.
At this point you are legally committing to the purchase. You should discuss with your solicitor if you want to include any early get outs in the contract in the event the build is delayed.
Buying off-plan and stamp duty
Stamp duty will be payable on your home when you complete on the purchase. The amount you pay is based on how much you have agreed to purchase the property for. So, you'll pay based on the price you agreed with the developer back in those early days when you reserved. You won't have to pay stamp duty if you are a first time buyer buying a property under £500,000. You can use our stamp duty calculator to work out what you'll owe.
Questions to ask when buying property off-plan
If you are considering buying off-plan, make sure you do your research first. Here are a few questions we recommend you ask the developer before you agree to anything. 
What happens if the developer goes bust? Make sure your deposit is protected.
What will happen if the value of the property falls after exchange? This could affect your mortgage offer so it is important to be clear.
Can I see the planning consent?
Can I buy the freehold? If you are buying a stand alone house it must be sold as freehold, not leasehold. Leasehold should be reserved for flats only.
Can I see the lease? If it is a leasehold property make sure you go through the lease with your conveyancer as soon as possible, paying particular attention to the length of the lease, ground rent and other charges, and any restrictions.
Will there be any estate management charges? Many new build estates are being privately managed, which means the owner will need to pay to maintain shared spaces and playgrounds. Read up on how this can cause problems for owners who live on these estates.
Where will the specifications of my property be set out and when will it be agreed? Don't rely on the glossy brochure. Ensure you understand what you will be getting, in detail. Ask to see plans and detailed specifications as soon as possible. Ask your conveyancer to ensure that anything you require is set out in the contract.
What is included in the price? Check whether you will have to pay extra for fixtures and fitting such as carpets or turf in the garden.
When can I see the property before completion? Whether you want to look at the property yourself, get on site with a surveyor to check the place over or get a snagging surveyor in, you'll want to re-assure yourself the property is finished to a good standard before you complete and take ownership. Ask what the process is for getting re-assurance that the home you are buying is up to scratch.
When will the development be finished and what happens if it is delayed? Your property may be part of the first phase so check how long you could be living on a building site.
Am I tied to a solicitor? Most developers will push you to use their conveyancing solicitors. They will argue it will save you money and the solicitors' familiarity with the development will make for a speedier transaction.  The problem is that there is potential for a solicitor to have a conflict if they receive a lot of business from the developer.  If you find your own conveyancer, they could look at the documentation afresh and be in a stronger position to stand up to the developer if there are issues that need to be addressed.