How do I choose the best new home builder?
If you have a choice of house builder, then making the right decision can make the difference between having a home you love and a home that turns out to be a nightmare. But how do you actually choose which new home builder to go for?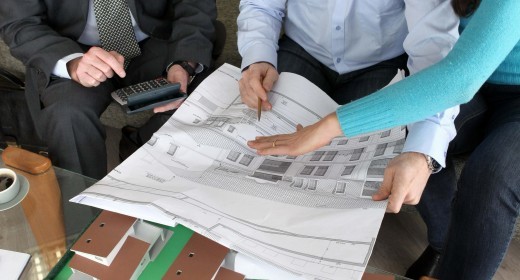 Choosing a new home builder
Which one's best; Barratts or Bovis? Taylor Wimpey or Redrow? Not all new home builders are the same. There is as much difference between them as there is between different makes of car. They vary not just in price, but in quality of workmanship, level of design, and after sales service.
Obviously, which new home builder you choose will largely be down to which ones are building homes in the area you want to live and at a price you can afford. But here are some other factors to consider.
Look at National House Builder customer satisfaction awards
Objective data with which to measure new home builders is hard to find. One measure is helpfully provided by the House Builders Federation, which carries out an annual customer satisfaction survey, awarding developers a 1 to 5 star rating. But be aware the scheme is optional, and will not cover those firms which are not HBF members, such as Berkeley Homes.
When examining HBF star ratings, you should not only look at this year's results but look at the trend. If the rating has been falling over time, there may be cause for concern, while a record of 5 stars five years running demonstrates a commitment to customer satisfaction.
Builders also get site managers awards, which are often seen as the best test of how well their building sites are run. The best known are the NHBC Pride in the Job awards which claim to recognise site managers that achieve the highest standards in house building. Site managers are automatically entered into the competition if they are working on a site registered for NHBC warranty, which is likely to be the majority of sites in the UK.
Question their after sales service and complaints record
Most new homes will have some snagging issues after moving in – so you are highly likely to have dealings with the developer's team post completion.  Any snagging issue within the first 2 years has to be dealt with by the builder, so good after sales care is essential.
Often, homebuyers feel ignored by their homebuilders after they move in, and find it a constant struggle to get issues resolved. It is a big source of complaints and something we hear of regularly — see what questions new build owners wish they asked. While other new homeowners, find their developers have been incredibly helpful and sort snags out quickly. This information can be difficult to glean, but do take a look at Facebook and Twitter to see how the builder engages with their customers. Be aware when looking at social media that most builders will have some negative reviews and sadly many developers do not engage on social media or TrustPilot so you  get a one-sided view from customers. Don't give up too easily. 
Buying a new build home? Get an independent snagging survey today and get your issues fixed by your new home builder
Look beyond the marketing brochure
All house builders have slickly produced marketing material, from brochures to videos, aimed at selling their homes. They will provide some useful information, but it is almost impossible to get a complete view of the quality of the end product and the developer's approach from this.
Do visit the show home, but also visit homes either on the site where you want to buy, or other sites that are under construction, to get a real look. If there is something in the marketing blurb that you really want, make sure you get this in writing.
See our top tips to buying a new build home and buying off-plan.
What is the new build resale value?
When you move on, the resale value of your new build home can make the difference between losing money on your home and making money. Ask the developer what the track record is of resale values on their homes. Quality homes tend to resell at better prices than poorly built ones. Or you can investigate it yourself. Look at sold house prices when new and on resale on developer's other sites. However, do be aware that like buying a new car, a new house devalues a bit as soon as it has had an owner.
Check customer reviews
You can Google developments to find reviews. If there are issues, there may be an owners group on Facebook or Twitter so search there too.
HomeViews.com is another source of reviews. It is a dedicated reviews site for the property industry, offering detailed insights on house builders, developers, housing associations and management companies, as well as on specific developments. There you can find ratings for particular house builders or housing developments covering a number of topics – including Management, Design, Location, Value and Facilities. You can also read reviews by residents and discover what they wish they'd known before moving in. The interactive map on the HomeViews homepage makes finding your area easy, and reviews on the site are carefully verified to make sure they are accurate and genuine.
How does the builder treat green and shared spaces
Increasingly, new home builders are looking for ways to make money not just on the sale of the property but from on-going revenue from things like maintaining shared spaces. Ask the developer how each of the communal spaces (hallways, gardens and parks) are owned and managed. In the case of green spaces, enquire whether they are adopted or privately retained by the freeholder who is likely to charge residents for the upkeep. You will then want your conveyancing solicitor to investigate these points further.
See what your conveyancing solicitor should be looking out for when you buy a new build
What guarantee scheme does your developer offer?
Does the developer allow you a choice of guarantee or warranty schemes? Generally, customers have to take what they are given. NHBC is the market leader but there are others. Read our guide New Build Warranties – What they do and don't cover.
Do they offer any deals?
Often house builders offer incentives such as free furnishings or paying your legal fees or stamp duty. These can all help cut the cost of buying a new build home, but it is obviously more important to ensure you have a home you are happy to live in.
Does the developer insist on you using their conveyancer?
This is generally to be avoided, as you need to be clear that the conveyancer is working for you and will look out for your interests, rather than the house builder. So when you contact a new homes developer this should be one of your first questions.
Read our expert's advice on why you should avoid using the developer's conveyancing solicitor 
Nothing beats a site visit
When buying a new home we recommend going to the local area for the day, spending time in the local high street, checking out local amenities and transport links and visiting the home you are buying at least twice, and at different times of day. The same goes for buying a new build home.
If the development you are considering has been partially completed, knock on the doors of your potential neighbours and ask how they feel about the quality of their home, how the builders treated them and how they found the process of buying. You might pick up some top tips for negotiating and things to watch for in your contract.
If you are buying off-plan or buying in the early phase of a new development, it is just as important to visit other sites that the home builder has under construction and quiz the neighbours. It may feel awkward but is likely to be the most informative part of choosing the right new home builder.
Finally – are the building site loos clean?
This is no laughing matter! Having a clean and tidy construction site is a good sign of a house builder that works to high professional standards. If you don't want to go in the site toilets, which is quite understandable, then look out for rubbish, tools and construction materials lying around which is also an indicator of a poorly run site. But remember – mud and noisy construction vehicles are all part of building new homes.