How to negotiate the price of your new build
Brexit uncertainty this Autumn means there are deals to be had on new build homes across the country. Here we look at what's changed and give you negotiating tips on getting the best price for your new build home.
March 12, 2019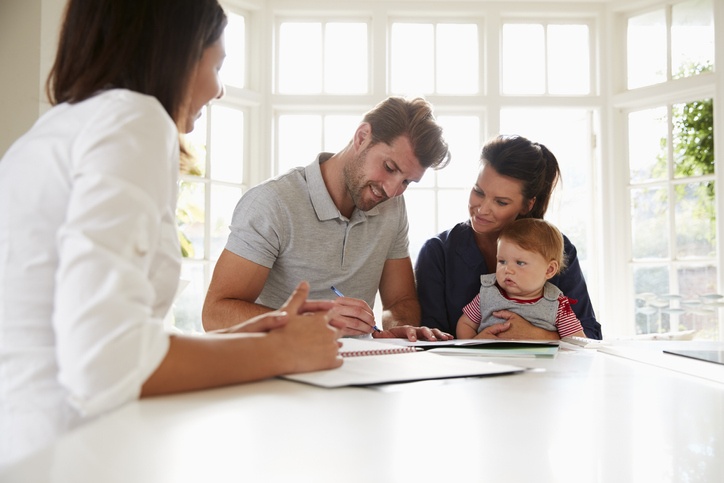 Brexit Bargains
Negotiating the price of your new build home this Autumn is a no-brainer. According to The Times this month, volume house builders have been busy building but have seen a drop off in demand as people "wait and see" what happens with Brexit. It's also thought some developments coming to the market now were started before the 3% stamp-duty surcharge was levied on second homes, deterring buy-to-let investors. So let's look at how you can bag yourself a bargain.
Knowledge is power
Before you buy a new build, it pays to research the price and see if you can do some haggling. New build developers should be as open to negotiation as any other home seller.
Buying a new build is much like buying a new car – you'll pay a premium for it being 'brand new'. But you don't want to pay an over-inflated price. So compare the price of the property to similar new build properties in the area. Check the price per square foot and compare it to the resale market as well so you understand the extent of the premium you are paying. You can also check Land Registry for actual sold prices of similar developments in the area if you know the postcode. It typically takes 2 weeks to 2 months for sold properties to appear on this site.
If you are buying on a new build estate or bigger development, take a look at what other properties on the development are being sold for using Zoopla and Rightmove. You need to work out:
How many properties there are in the development
How many are still for sale on the property portals
How long have they been marketed for
Whether there are other developments near by that are similar. How much are they selling for?
All of this information will give you confidence to negotiate a lower price. It may be that similar properties are selling for tens of thousands of pounds cheaper – so start with a similar discounted offer. The worst that can happen is that they say no, but at least you have a starting point.
Choose your moment to haggle
Timing is key when it comes to negotiating the price of your new build. Picking the right moment could vastly increase your chances of getting a deal:
Off-plan. House builders often need to secure financing in order to enable borrowing to pay for building the rest of the properties. So there are often deals to be done off-plan.
Year end. This is the point at which house builders are under a lot of pressure to meet their sale targets. You can find out the year end – which is usually December, April or June – using Companies House. If it's December, then you know you can haggle. But how much lower should you offer? According to Sara Ransom, London director of Stacks Property Search, an agency that represents prospective purchasers, commenting in The Times this month, you can  "Try 20% to 30% below the developer's asking price." You'll need to have done your research on the development and be ready to move fast.
Last plot or two. The house builder will be keen to get off site and move all resources to their next project. So you may be able to help them by taking that property off their hands at a bargain price.
Beyond the sale price
Negotiation should focus on the price you are paying for the property. Once you've got this down, look at what other extras developers often use to entice buyers. Here are some of the most common:
1. Stamp duty
For example, some developers will offer to pay your stamp duty for you. This is probably the best freebie as it will save you the most money. But remember, if you are a first-time buyer you don't have to pay any stamp duty on properties priced at up to £300,000. Before you agree to this work out how much stamp duty you would pay on the property to check you are getting a good deal. Find out more about stamp duty and how much it is likely to cost.
2. Fixtures, fittings and white goods
You could also negotiate a higher quality finish with a higher quality kitchen units and flooring. Ask for these early on in the process and try to get as much as possible included when you haggle – and then agreed in writing in your specification and contract. If you are buying a property that has yet to be built make sure you read our guide to buying off-plan.
Offer match?
Many developers offer incentives so take a look around a number of estates where you want to buy to see what is on offer. It could be a car parking space or an annual travel card.  If your dream home is on a development without the offer and presents a significant financial saving for you,  say you've seen it on a nearby development and ask them to match the offer. This is a good time to also compare the quality of the different developments and choose the best builder.
Are freebies really worth it?
Don't get fooled into taking a freebie that you didn't want in the first place. For example, having furnishings thrown in only works if you like what's on offer and assumes you couldn't buy it cheaper yourself.
Just be aware that any incentives offered over about 5% of the value of the property could impact how much your bank or building society will lend you. Any incentives to buy a property, whether they are financial or not, have to be declared to mortgage lenders. If there are loads it could affect the valuation the mortgage lender gives the property. That could, in turn, affect how much you can borrow.
Get it in writing
If you are successful and negotiate a reduced price, stamp duty payment, or optional extras thrown in well done! Now make sure that you get everything that has been agreed in writing. When you appoint a solicitor explain to them what you negotiated and show them the written evidence so they can make sure it is written into the contract.
Get the right legal advice
Before agreeing to have the house builder contribute to or pay your legal fees, make sure this doesn't come with strings attached. Often the house builder will have an arrangement with a legal firm. But you should not feel obliged to use them. Shop around for the best legal firm.  A good place to start is our our guide to new build conveyancing.
Sign up to our

FREE

weekly newsletter

for the latest news, advice and exclusive money saving offers
Sign up to our

FREE

weekly newsletter

for the latest news, advice and exclusive money saving offers