Rightmove, Zoopla and the rest: which is best?
Whether you're selling your property or looking to buy a new home, chances are you'll use a property portal. With Rightmove and Zoopla property portals leading the way and OnTheMarket nipping at their heels, we look at which is best for you.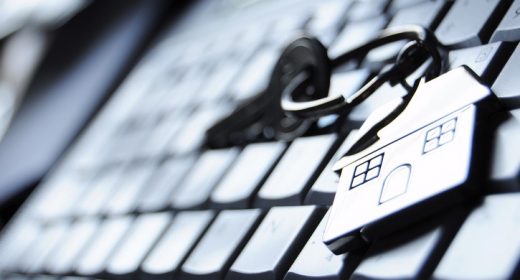 Property portals have become central to the property buying process in recent years and for sellers, knowing which portals your estate agent will market your property through is a crucial thing to find out.
A quick search online would make it appear there are plenty of portals to choose from – but that's not strictly true.
Essentially there are two behemoths of the property portal world – Rightmove and Zoopla – and the rest are either linked to these, rely heavily on them or have too small a market share to really consider.
Rightmove vs Zoopla Key Facts and Figures
The most important figure to find out about a property portal differs depending on what you want from the site. If you're looking to sell your property and your agent is listing it on a property portal (as all agents do) you'll want to know how many people are visiting that site. The more people viewing your property the more chance it has at being sold.
Rightmove is currently the market leader. In 2021, Rightmove says it had 208 million visits per month across its platforms and Zoopla says its listing search results pages attracted over 120 million visits per month.
If you're looking to buy then you'll want to know how many properties are listed. Rightmove reported 692,000 properties listed in 2021 while Zoopla figures are not publicly available.
Thinking of selling? Or just nosey? Get a free instant home valuation now
Rightmove vs Zoopla Associated Brands
Many of the property sites you'll stumble across online are actually linked to each other. Prime Location was once a big name in property portals along with the likes of FindaProperty.com and Globrix. Zoopla Group bought all three brands and closed the latter two. And most recently Zoopla snapped up Hometrack, the property information website.
In 2015, Rightmove replaced Zoopla as the exclusive portal partner for London Evening Standard. Indeed, you'll see on lots of the smaller property websites the term "powered by" usually followed by either Zoopla or Rightmove.
OnTheMarket
With Zoopla and Rightmove clearly dominating the property market a number of estate agents across the UK launched OnTheMarket – their own property portal. Agents know that avoiding the big two completely would be shooting themselves in the foot. They want to sell the properties on their books and they know that's where buyers look first. But in order to take control over the situation, properties will first appear exclusively on On the Market for 24 hours (the site currently only gets around 21 million visitors per month).
Take a look at our guide Clever Questions to Ask When Choosing an Estate Agent agent
It's crucial therefore that when you choose an agent to market your property you find out firstly if they are part of On the Market and secondly, if they are, whether they also list with Rightmove and Zoopla.
The Aggregators
The home buyers amongst you might also like to know about Home.co.uk and Nestoria. They are separate companies but both offer a similar service: if you don't want to have to spend time checking several property portals (we're busy people!) these sites save you the time by collating properties from across the various portals – including each other. They're essentially search engines for property listings across the web.
Are there any other portals I should know about?
There are quite a few smaller portals around but while we may like to do our bit for small businesses, when it comes to selling a home you want the widest audience possible and there's no disputing Rightmove and Zoopla are streets ahead on that front.
Which is the most helpful?
Unsurprisingly, both Zoopla and Rightmove have apps you can download, as too does On the Market. When it comes to tools for buyers and sellers however Zoopla edges out the competition. While all three have information on house prices and will link you up with an agent to offer a valuation on your property, Zoopla will also give you an instant valuation of your property (although obviously this should only be used guide).
Zoopla's nifty tools include one that lets you define search area by drawing on a map and a travel time tool for locating properties that are for sale and, for example, a 20 minute drive from your work address.  
Portals v Agents
It's important to differentiate between online agents and online portals. Estate agents, whether online only or high street, list their properties on property portals. Prospective buyers who spot a property they like on an online portal then contact the agent marketing that property (this can be done via a link on the property portal). Online and traditional estate agents will only list the properties they are marketing on their own websites, whereas property portals feature properties listed by a variety of agents.
How do you find the best estate agent? Click here to search and rank your local agents according to how successful they are
Can I list on property portals myself?
Not on Zoopla and Rightmove, no. You have to instruct an agent in order to have your property appear on these portals, however you could save money by using an online agent rather than a traditional agent with a high street presence.
You are able to list properties yourself on some of the smaller sites – such as The House Shop, where you can list your property for free. But bear in mind you won't be getting the type of reach you'd get from Zoopla and Rightmove – The House Shop says it  receives 600,000 visits every month and has over 300,000 property listings.