In the rush to build more homes – worry that new homes standards are slipping
The need to build more homes was a recurrent theme of the 2015 General Election. And about time too. But the new Government's drive to deliver on it's promise of 200,000 new homes could be undermined by a public put off by new builds
June 17, 2015
According to the 2015 Homeowner Survey by HomeOwners Alliance and BLP Insurance, the British public are shunning new homes because they are seen by some as being poorly built, characterless and with too small rooms.
The survey's findings throw down the gauntlet to both the house building industry and the new government as it looks at how it will meet their promise of building much needed new homes. The key findings are as follows:
Twice as many people prefer an old home over new
New homes have such a poor reputation that according to the survey conducted by YouGov only one in five (21%) would prefer to buy a newly built home, whereas nearly a half (47%) would prefer an old home (built ten or more years ago).  Why is this? New homes may be less popular because they are seen to be poorly built, with 38% citing low build quality as a disadvantage of new homes.
Participants in the survey said things like: 
"…Most have small rooms, low ceilings, small gardens and zero charm"
"New houses are rabbit hutches thrown up….with small rooms, small gardens, thin walls, dubious build quality"
But it's not all bad….
New homes are expected to have lower ongoing maintenance and energy costs
51% of people see this as an advantage of new homes. These are high on the wish list of potential buyers as 72% of UK adults say they would be interested in having information at the point of sale about the estimated annual cost of their energy bills and more than half would be interested in having the estimated annual cost of maintaining the property (56%)
New homes are thought by some to offer the best chance of getting on the housing ladder
…as schemes like Help to Buy are seen to be more widely available on new homes.
Younger and older buyers are more likely to prefer a new home
This was the case for 26% of under 35s, 18% of 35-54s and 22% of those age fifty-five or older
Participants in the survey said things like: 
"A new built home should mean there will be no hidden problems like old pipes or wiring needing replacing and energy ratings should be up to date which will help save money.""
"Easier to get help with a mortgage, e.g. Help to Buy, on a new property"
"It's the easiest way to get on the property ladder."
"Potentially still have a builder warranty in case of problems."
"Having 10 years peace of mind on repairs."
Paula Higgins, chief executive of HomeOwners Alliance, said:
"We need more new homes, but they have to be homes that people want to live in, not homes that are quick, easy and cheap for house builders to throw up. What we need to solve the housing crisis are quality homes of character and space, and challenge the housing industry to deliver. After the war, they built homes fit for heroes. All we want is homes fit for homeowners. Homes shouldn't be built just for a quick profit, but to last for generations to come."
Image of New Homes – Perceived Advantages/ Disadvantages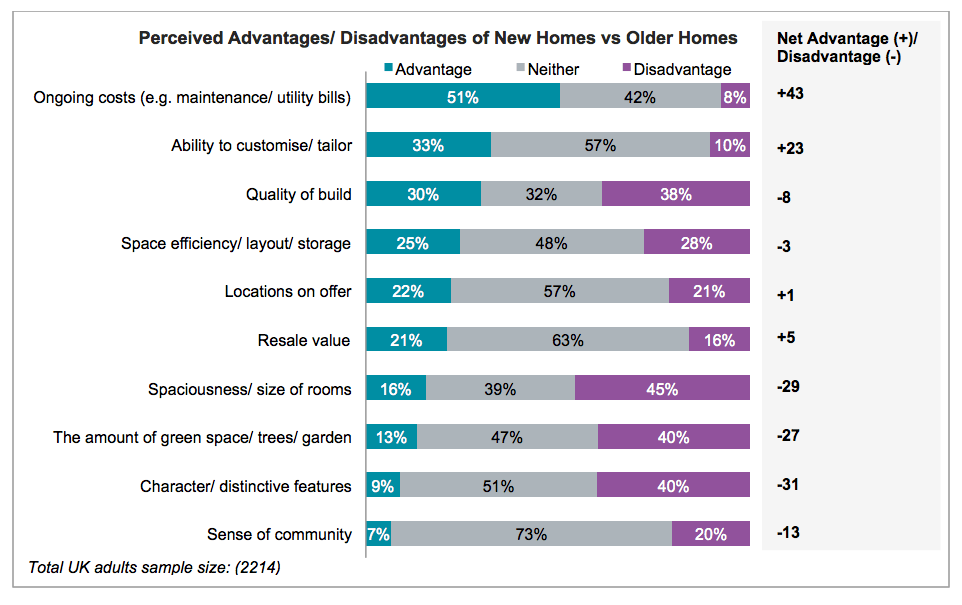 Sign up to our

FREE

weekly newsletter

for the latest news, advice and exclusive money saving offers
Let us help you…