How to host an open house
Hosting an open house is a brilliant way to create a buzz about your sale and get plenty of potential buyers through the doors in one go. We look at all the advantages and disadvantages to an open house, tips for success and whether they actually work.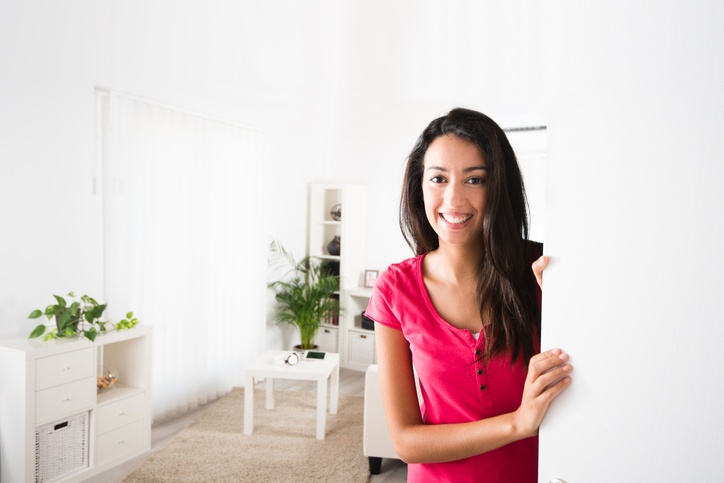 What is an open house?
An open house replaces the need for successive numbers of viewings. Instead of conducting viewings as and when, you set aside a few hours on a particular day for viewings. It might be that anyone can come and take a look during that time or your estate agent schedules back-to-back appointments to fill the time you have allocated. Most sellers prefer the appointments to be scheduled rather than allowing people to just drop by unarranged.
An open house doesn't replace listing your property online with the top property portals like Rightmove and Zoopla – marketing your property on these sites through a high street or online estate agent is essential to getting your home seen by prospective buyers.
With the growth in the market place of online estate agents, where the home owner is more likely to conduct viewings themselves, an open house is an appealing option to confine viewings to a single day.
What are the advantages of holding an open house?
Open days are particularly beneficial to sellers. Using an open day means you can get a whole block of viewings done at once so you only have to get your home looking its best for that day and you can either focus your energy showing everyone around on that day or let the estate agent handle the whole thing while you escape.
It will save you from having to constantly clean and keep the place ever-prepped for potential viewings, which is ideal if you have children or pets and a full time job to juggle as well.
The other benefit is that by having lots of people viewing your home at once it can build a sense of urgency among potential buyers. If interested viewers can see potential competition from all the other people visiting your home, it may make them more serious and more likely to put in an offer faster and possibly closer to asking price than they might do in another situation.
When is the best time to hold an open house?
You want your house to look its best without off-putting rush hour traffic or fading light. So, avoid evenings. You also want as many people as possible to be able to attend, so don't go for a weekday.
The best day to have an open day is a Saturday. Allow enough time in the morning for you to get up and give the house a final clean. From 10am until around 2pm is the golden time to get lots of people through the door. But if there's more demand for viewing slots, your estate agent may want to go into late afternoon. Cram appointments in to give the open day energy and make the property appear popular.
Our Estateagent4me tool is free and instantly allows you to find local agents and compare them in terms of how quickly they sell homes like yours, how often they achieve asking price and fees.
Marketing your open house is key
Make sure people know about your open house. As well as advertising your open day on your property listing on Zoopla and Rightmove, ask your estate agent to create a brochure to send to potential home buyers in advance and to hand out on the day.
Your estate agent should also promote your open day in the property listing on their website, in their branch and in local newspapers. They should ring round anyone on their books interested in a property like yours and encourage them to attend.
How to prepare for an open house
You should start preparing for an open house weeks beforehand. Tidy up your house and either sell, donate or store your clutter elsewhere.
Once the place is tidy have a look around for any little jobs that need doing. Do you need to touch up the paint-work, or get a broken socket fixed, or buy some new rugs to cover tired carpets?
Kerb appeal is more powerful than most sellers realise, so make sure the front of your house is looking appealing too. Tidy up the front garden, trim any hedges, you could even consider giving the front door a fresh lick of paint if it is looking a little tatty.
In the final run-up to your open day make sure your house is sparkling. Get the windows cleaned inside and out, dust, hoover and clean the whole house.
All your personal possessions should be stowed away out of sight. Make sure you pack away anything valuable and any sensitive documents too.
And discuss with your estate agent how offers will be handled after the open house. One option is for buyers to put in sealed bids with the deadline set a couple of days after the open house.
What to do on the day of your open house
On the morning of your open house make sure you tidy and give a final clean. Have your brochure with property particulars available for people to take away or have to hand as they walk around, along with any other local information you might want to showcase.
Join us today and let us help you every step of the way through the home selling process.
What are the disadvantages of holding an open house?
Obviously open days can restrict potential buyers who perhaps can't view on that specific day.
How good your estate agent is will be critical to the success of the day. They will need to market your home heavily to fill slots, get people in and out, and make the open day worthwhile. Whether you remain in your home during the open house or not depends on how much you trust your estate agent to do a good job. If in doubt, we would recommend being present to answer questions from potential buyers and push the positive points of your home. If during the first viewing your estate agent delivers a brilliant service, you may decide to give them space and leave them to it.
You will also need to decide with your estate agent how you are going to handle unexpected viewers. While the marketing material for your open house will encourage people to book a slot on the day to attend, some people may turn up unexpectedly. You won't want to turn people away, so how many estate agents will be there on the day to accompany additional viewings? What questions will they ask before showing unscheduled visitors round your home?
You need to make sure the estate agent is disciplined at ticking viewings off their list of booked viewings or registering unexpected viewings. You may feel concerned about security. For this reason you may want to be present for the open day. Not only will you be able to keep an eye on visitors roaming your home, you will also be on hand to answer questions.
Another disadvantage of an open house approach to marketing your home is the argument that some buyers make rushed decisions because of the pressure of the day. They might be tempted to overstretch themselves and realise later on reflection that the price they have offered isn't workable, so any offers made in haste could fall through later on. While other buyers may be deterred from visiting altogether because they don't want to put themselves into a high-pressure situation or end up in a bidding war.
Do property open days work?
The jury is out. Speak to your estate agent about the pros and cons and ask for previous cases where they have run an open day and what the outcome was in terms of viewings, offers and achieving asking price. Go with their advice on what would work best. They should know the local market and whether your target audience would respond well to an open day.