How to cut the plastic in your home
Want to make your home less plastic and more environmentally fantastic? If like us you've ditched plastic carrier bags and straws and are phasing out the plastic water bottles for metal ones, then good for you. Here are some other *easy* things you can do to make a difference?
May 9, 2018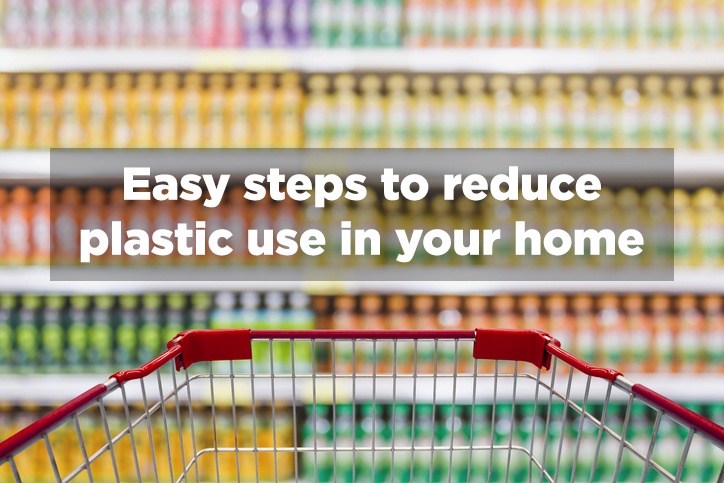 Start by looking at your weekly shop.
By making small changes that will have very little impact on our day to day lives we can make a big difference to the environment.
1.Ditch the liquid soap
Do you currently opt for liquid soap for your bathroom over traditional bars of soap. Switching to bars is a much more environmentally-friendly option as it eliminates the need for unnecessary plastic packaging. It's also good for your bank account as research shows around 60% of the cost of a bottle of soap goes on the packaging and the pump.
2.Biodegradable bin bags
Buy biodegradable bin bags instead of the standard type, which don't break down and can therefore linger on the earth for hundreds of years! Sainsburys currently offer biodegradable bags at £3 for 25 bags while Asda charge £2.20 for 20.
3.Back to basics
Go back to the good ol' days. Remember when everyone would get their milk from the friendly neighbourhood milkman? If we all did that now we could significantly reduce the amount of plastic milk cartons being produced. The Milk and More campaign (www.milkandmore.co.uk) launched by national dairy chain Dairy Crest aims to encourage people to be more sustainable by offering a drop-off service for a range of household goods, including milk and fruit juice, which come in reusable glass bottles, and vegetable and fruit boxes delivered in crates.
Buying your milk this way will cost you more, however (with Milk and More a pint will set you back 81p, compared to around 49p in most supermarkets) but hey, you can't put a price on doing your bit for the planet, can you?
4.Go retro
Consider what your family drinks. If you're a fan of fizzy water or pop it's worth investing in a soda stream (from £75 on Amazon.co.uk) rather than constantly buying – and then disposing off – plastic bottles.
5.Get wrapping
Cut down on cling film by opting for beeswax food covering and wrap instead. It's more expensive (at around £14 for three wraps) but it last years so in the long term you're bound to make up the cost. Plus who doesn't want to feel like a organic deli-visiting trendie, unwrapping your pretty paper wrapped cheeses and bowls of last night's leftovers?
6.Do it yourself cleaners
Finally, go green when you clean! Instead of buying household cleaning products – almost all of which come in plastic packaging – make your own. Try one part white vinegar and three parts warm water for a surface cleaner that really works.
Sign up to our

FREE

weekly newsletter

for the latest news, advice and exclusive money saving offers