10 Truths of Household Budget Planning
Financial anxiety is at an all time high with the cost of living on the rise. Don't lie awake at night worrying about your finances. Get control back with our tools, tips and techniques for setting and sticking to a household budget.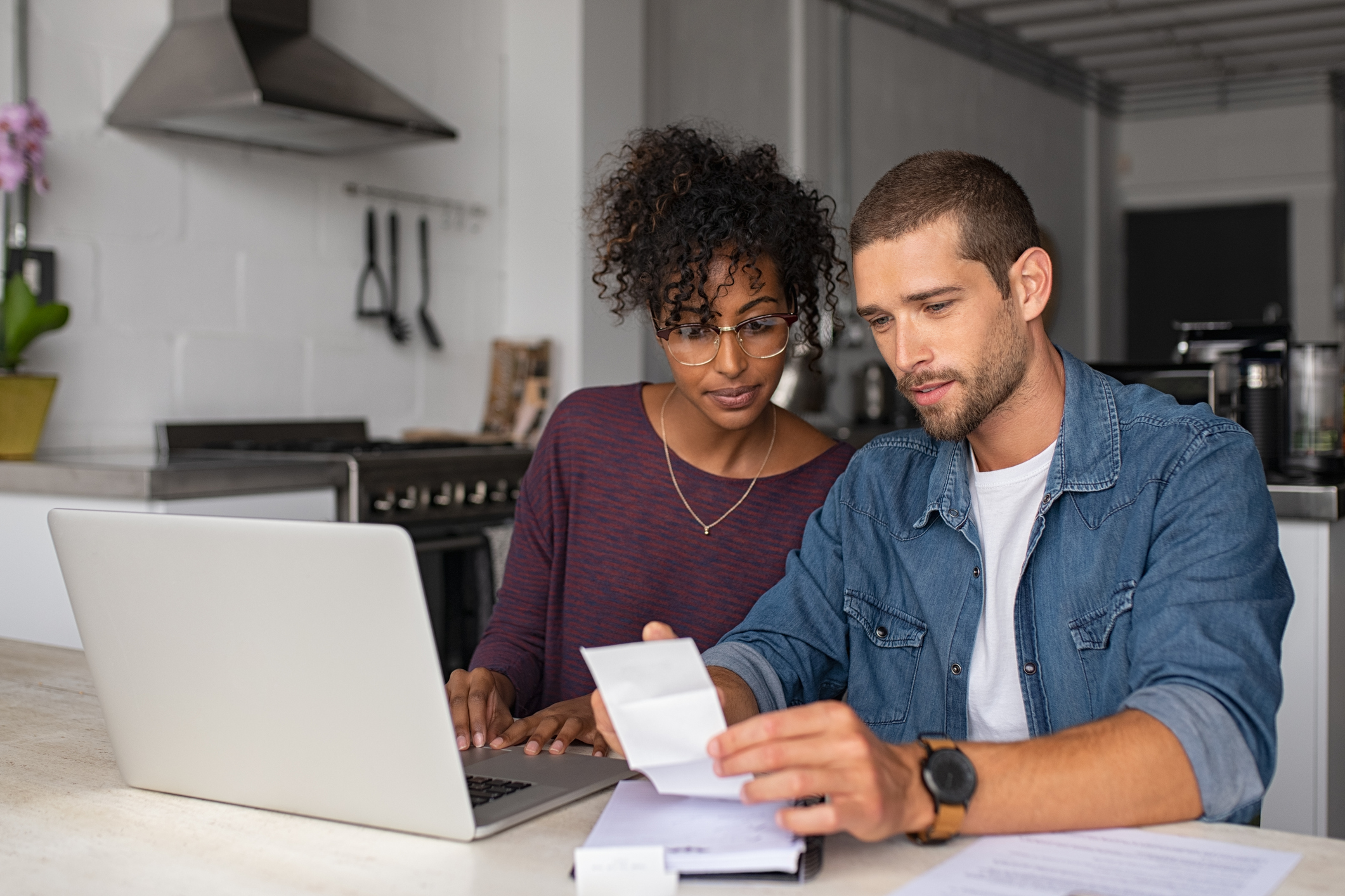 1 . The truth is no one wants to budget
It's not fun or glamorous. But it is essential to set a household budget if you want to avoid that sinking feeling when you get to the end of the month and are left wondering where the money went. So stop free-falling and keep reading.  If you are saving to buy your first home, you'll want to get an idea of how much you will need to afford to buy.
2. Get your bank app working for you
All banks have a free app to help you manage your money online, make payments and review your spending. Get it glued to your home screen and check out what tools they have that can notify you of your balance on a regular basis and warn you when you are about to become overdrawn. Start using it daily and you'll feel a lot more in control of where your money is going.
3. Consider a budgeting app
Budgeting apps on your phone allow you to easily record what you spend your money on so you can find out where every penny is going and make changes. You can set a monthly household budget and the app can help you stick to it. There are loads out there, such as:
Mint A free app that allows you to see all your accounts in one place, categorises where your spending is occurring and stays up to date with recent transactions. And it's smart watch compatible
Fudget A budget planner, personal finance and expenditure ledger that creates simple lists of incomings and expenses so you can keep track of the balance
4. Grow your savings by making ISA contributions
If you can put away a little bit of money each month into an ISA, you may be able to grow your savings depending on how this is invested. Another option is a Lifetime ISA, or LISA, which is a type of account designed to encourage people to save for their first home or their retirement.  You can save up to £4,000 a year and the government will top this up with a 25% monthly bonus.
5. Compare prices & cut your bills
Whether you're buying a product or service, shopping around online and researching your purchase is the best way to ensure you're not paying over the odds.
Whatever you're about to buy in a shop, if it's something you don't need today, you may be able to find it cheaper online and have it delivered tomorrow. Yes, you should support local high street businesses where you can, but not at your expense. Use Google to check prices, and don't forget the delivery charge.
Switch, switch, switch! Why pay more for your home insurance, internet or broadband contract when you don't have to. Everyone's doing it and if they're not, it's because they can afford to throw money down the drain.
There is no brand loyalty for staying with one company all your life. They are not likely to be charging you any less than a brand new customer.
So when it comes to controlling your household budget, it's worth digging out all your regular bills – insurance and broadband – and making a note of the date the contract ends, at which point, you need to switch to save money.
6. Online food shopping
Online grocery shopping is booming. And it's a great way to manage costs and avoid being tempted to spend above your budget.
If you prefer to feel before you buy, then create a meal plan for the week and write a shopping list or take pictures on your phone of the contents of your fridge, freezer and food cupboards before you head to the supermarket, to stop you doubling up and minimise waste. The Aldi and Lidl websites show weekly offers so you can go with an idea of the bargains you want to bag.
If you see non-perishable everyday items on offer such as toilet roll or shampoo, it makes sense to buy it in bulk.
If after all this you're still over spending, find out where the problem area is. Keep your delivery receipts so you can write down everything you buy, put each item into categories and try to work out how you could do better.
7. Use more cash
In a post-covid "don't touch" world, cash is a dirty word.  Contactless payments are encouraged far and wide, while an increasing number of "No Cash" signs are popping up. While it's wonderfully convenient, contactless also makes spending far easier. If you are trying to keep to a budget, then using cash to limit how much you spend on small items across a week, such as coffee, or on nights out could help you stay in control.
8. Strip back on subscriptions
During lockdown, subscription spending rose by nearly 40 per cent as consumers broadened out to meal kits and wine deliveries, according to research by Barclaycard. Households now have an average of seven contracts at a cost of £552 a year.
We can talk ourselves out of cancelling the small stuff. But when you consider all these outgoings in the round, they soon add up. If you're trying to control your monthly outgoings, then look carefully at your annual and monthly subscriptions, especially direct debits and those that might auto-renew.
9. Remortgaging
If you own your own home, then your biggest outgoing will be your mortgage. Given this, remortgaging should be top of your list of money saving measures. And with interest rates on the rise, there is no better time to do it.
Many people know one reason to remortgage is to secure a better deal. But it's also possible to remortgage to pay off debts to make your monthly outgoings more manageable.  You may be able to remortgage to a cheaper deal, to reduce your monthly mortgage payment, freeing up money to pay off debts, or you may be able to remortgage to release equity in a lump sum to pay off your debts.
Mortgage Finder
Get fee free mortgage advice from our partners at L&C. Use the online mortgage finder or speak to an advisor today.
Find a mortgage
10. Want vs Need
Now you've got the tools you probably need a mantra too. Try these three questions: Do you really need it? Will you use it? Is it good value for money? They're critical questions you need to ask yourself before you buy anything.