£50k in 7 days! How to add value to your home
It's possible to add almost £50,000 to the value of your home in just seven days, according to new research from the Federation of Master Builders (FMB) and the HomeOwners Alliance, with the The Guild of Property Professionals.
March 25, 2018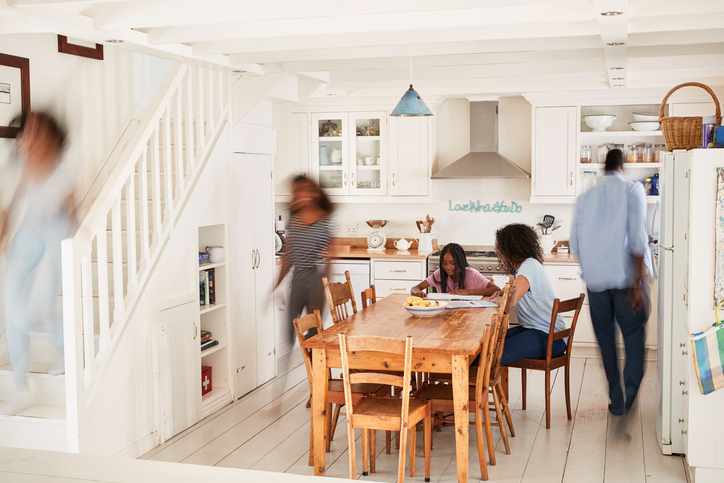 If you've got plans to improve rather than move, then you might be interested in our recent research which shows the projects that can add the most money to the value of your home, in the shortest space of time and depending on where you live. We asked over 300 FMB member tradesman from across the country and estate agent members of the Guild of Property Professionals and found that:
Removing an internal wall to create an open plan kitchen and diner can add the most, at an estimated £48,417 in seven days to an averagely priced home in London;
Building a garden room or outside playroom for the kids can add £35,611 in 14 days to an averagely priced home in Surrey;
Investing in kitchen improvements such as new flooring, a new worktop and new cabinet doors can add £26,838 in eight days to an averagely priced home in Dorset;
Converting a cupboard under the stairs into a downstairs toilet can add £26,708 in seven days to an averagely priced home in Surrey;
Converting part of the master bedroom into an en suite bathroom can add £14,525 in 11 days to an averagely priced home in London;
Building a new driveway can add £13,354 in nine days to an averagely priced home in Surrey;
Installing decking and lighting in the back garden can add £8,946 in seven days to an averagely priced home in Dorset.
Invest in high-return, low-cost projects
Brian Berry, Chief Executive of the FMB, said: "By investing less than £3,500 on the creation of an open plan kitchen and diner, home owners in London can add a whopping £50,000 to the value of their home in just one week. If you're looking to move up the property ladder, it's obviously in your best interests to increase the value of your home as much as possible. By investing in low cost, high return projects, not only will you make your home a more pleasant place to live, you'll also by increasing its value significantly. Better still, these projects take no time at all so the hassle factor will be kept to an absolute minimum."
But beware….
Paula Higgins, Chief Executive of the HomeOwners Alliance, said: "This research is encouraging news for home owners; improving your home to make it more enjoyable to live in can also give you a big financial boost when it comes to sell. There is a caveat though; if your primary aim is to increase the value of your home, you should consult the experts in order to ensure you will see a return. We always recommend finding your best performing local estate agent using our free, instant online tool 'EstateAgent4Me' and inviting a few agents to give you a property valuation and advice on your proposed project. The best local estate agents will be able to tell you what refurbishment projects other homes have benefited from along your road, or in your area, and how much value those projects have added."
What estate agent's say in your region:
Simon Bradbury, Thomas Morris in Cambridgeshire
"Our experience in the East of England, certainly in Cambridgeshire, Bedfordshire and Herefordshire, is that additional accommodation such as a garden room will certainly add the most amount of value. Also, paying for quality improvements from an approved local supplier (as opposed to simply opting for the cheapest) will definitely reap rewards."
Katie Griffin, Sawdye & Harris, Dartmoor
"Generally, we find that decking in the garden and an outside playrooms are "nice to have's" rather than "must have's", the same with repairing a driveway this might make it more appealing and attractive to a potential buyer but won't necessarily gain you any more money. Additional bedrooms will, creating an en suite may add additional value but if you lose a bedroom to create this, it simply won't increase the value! Kitchens and bathrooms sell houses so it is always worth paying particular attention to these areas of the home as these are likely to add the most value."
Chloe Snowsill, Homecare Estates, Surrey
"I would say by adding an extra bedroom/room/loft conversion onto a property would add value to a property as long as you are not losing a room in the process. Adding a new kitchen onto a property typically could add around 4.6% in value to the property, this is subject to the kitchen being at a good standard and making sure for example if the property is worth around £250,000, that they should spend anymore then £25,000 on a kitchen or you won't see your money return on it.
"Here in Wallington in Surrey, we would say having a driveway for parking, garden, and being close to transport links is very popular for us and that's what a lot of people look out for when finding a property."
Vicky McGrath, Joplings, North Yorkshire
"Up-to-date and nicely finished bathrooms and kitchens definitely make a property more popular, tidy outside space obviously more positively markets the property but not necessarily decking or a garden room.  An internal space like a playroom would be more popular.  An en suite is still very popular, more so than a downstairs loo, unless there is not an en suite then a separate toilet is very handy.  Open plan living does depend on the age and situation of the purchaser.  It appeals to younger couples or families or people who prefer modern living to a character property."
Simon Etson, Drivers & Norris, London
"With regards to the points above and whether having the work carried out would increase value, Central London has many limitations. Most properties are flats/apartments except for some very expensive houses, the properties again have a limit on what you can change or add. Adding an en suite or additional WC would be very difficult. In our opinion, any changes to make additional space will always add the most value, removing walls to make open plan living, removing built-in cupboards or airing cupboards, anything to improve space will see better returns."
Related Reads
Research methodology
The Federation of Master Builders' research into home improvement projects was carried out in the week commencing 29th January 2018. The survey was carried out among estate agents from different parts of the UK who are members of the Guild of Property Professionals and builders who are FMB members. FMB members were asked how long it would take to carry out the following improvements and how much it would cost. 313 FMB members participated in the survey. Thomas Morris (Cambridgshire), Corbens (Dorset), Sawdye & Harris (Dartmoor), Roseberry Newhouse (North East England), Homecare Estates (Surrey), Joplings (North Yorkshire) and Simon Etson (Drivers & Norris) were then asked to estimate how much the work would increase the value of a typical property in their area. All property prices are according to UK House Price Index, in December 2017.
Sign up to our

FREE

weekly newsletter

for the latest news, advice and exclusive money saving offers
Let us help you…
Let us help you…