Sep 2020 House Price Watch
House prices accelerate at fastest rate in over three years – up 1.1% on average over the month and up 4.9% on average over the past year
The housing market recovery continues with activity fueled by pent up demand from the lock-down period, more people considering moving as a result of life in lock-down (particularly among second-steppers seeking more space), and the stamp duty holiday. Forecasters expect renewed activity to continue in the near term but with unemployment figures rising, the market is expected to cool in the quarters ahead as this plays through to the wider economy.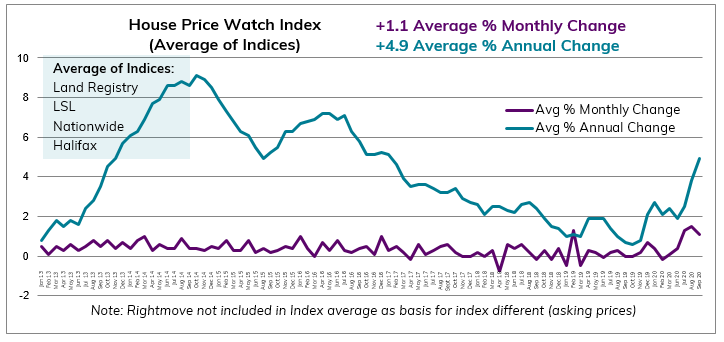 Regional house prices – up in all areas over the past year
Annual house prices have risen fastest in the East Midlands (+3.5%), London (+3.5%) and the North West (+3.5%).  Areas with the biggest growth in house prices this month include: Wales (+2.1%), the South East (+1.6%) and the North West (+1.4%).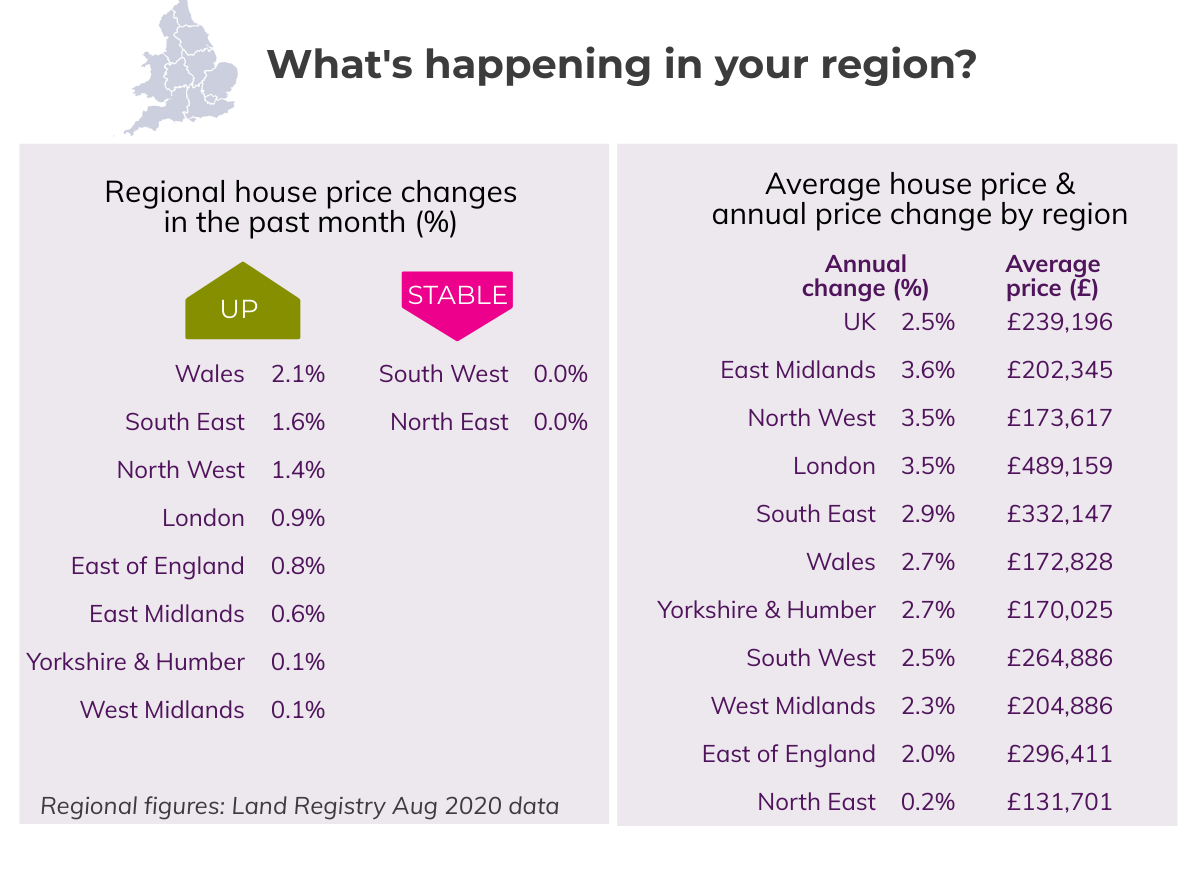 Transaction levels are up significantly over the past month
UK residential property transaction data indicates home sales increased 16% in August (up on July), although transactions are still below pre-lockdown and levels in the same month a year ago. RICS residential market survey results show sustained activity through September with buyer enquiries, agreed sales and new instructions all up for the fourth month in a row.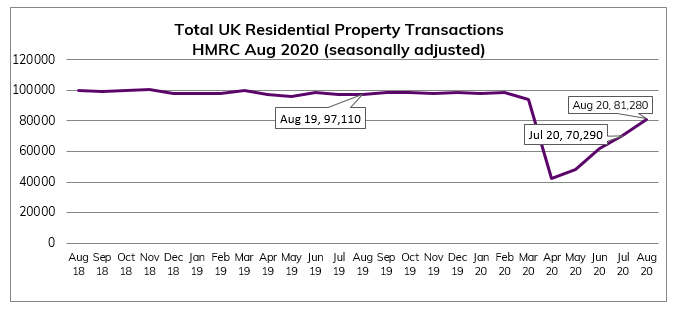 Sales of larger homes and among second-steppers are up in particular
Rightmove report: "The trend of up-sizing to a larger home has continued at pace over the past month, leading to record asking prices in the second-stepper sector. This price record has been fueled by buyers looking for more space, including both those who need extra space for their families and those looking for room to work from home."
The strongest sector is 'top of the ladder', which includes four-bedroom detached homes and larger. Sales agreed for this sector, compared with the same period last year, more than doubled, up 104%. While in the second-stepper sector (three or four-bedroom homes excluding four-bedroom detached) they were up by 55%. The first-time-buyer sector of two bedrooms or fewer, although not as strong, still saw sales agreed up by 36%. (Source: Rightmove)
Moving to a less urban area and access to outdoor space are priorities
Nationwide research indicates behavioural shifts may also be boosting activity as people reassess their housing needs and preferences as a result of life in lockdown. Of those considering a move, around a third (35%) are looking to move to a different area, while nearly 30% are doing so to access a garden or outdoor space and the majority want to move to less urban areas.
Forecasters predict the market will cool in the medium term
Halifax say "across the last three months, we have received more mortgage applications from both first time buyers and homemovers than anytime since 2008. It is highly unlikely that the housing market will continue to remain immune to the economic impact of the pandemic. As employment support measures are gradually scaled back beyond the end of October, the spectre of increased unemployment over the winter will come into sharper relief."
RICS have a similar outlook: "respondents still foresee sales weakening further ahead amid the challenging macro-economic environment, evidenced by the twelve-month expectations series moving deeper into negative territory in the latest returns."
See previous House Price Watch reports and How we calculate the House Price Watch average
Sign up to our

FREE

weekly newsletter

for the latest news, advice and exclusive money saving offers