Oct 2020 House Price Watch
Annual house price growth reaches 4 year high: +6.0% on average over the past year and up +0.9% over the past month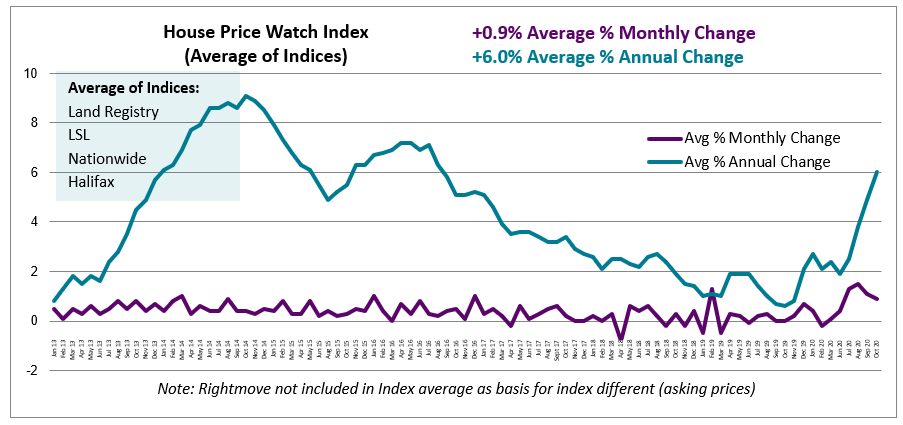 Monthly shifts in house prices reported by the major indices: Land Registry +1.7% (Sept), Halifax +0.3%, Nationwide +0.8%, Rightmove +1.1% (Oct). The average of the major indices indicates house prices are up +0.9% over the past month and the average annual rate of house price growth is 6.0%; the fastest annual rate of growth since September 2016.
Regional house prices – up in all areas over the past year
Annual house prices have risen in all areas but fastest in the South West (+6.4%) and North West (+6.0%)
Areas with the biggest growth in house prices this month include: South West (+3.3%), North East (+2.8%) and the East of England (+2.6%)
Transaction levels increased significantly over the past month
UK home sales increased 21% in September (up on August).  Transactions are similar to September a year ago.
RICS residential market survey indicates buyer enquiries, agreed sales and new instructions continued to rise into October.
Mortgage approvals rose in September to the highest level seen in 13 years. The latest Bank of England figures show the number of mortgages approved to finance house purchases, rose by 7% in September vs August to 91,454. Year-on-year, the September figure was 39% above September 2019. Source: Bank of England, seasonally-adjusted figures)
What the indices say?
HomeOwners Alliance: "House prices accelerated this month at the fastest rate in four years and agents are reporting a sellers market with demand outstripping the supply of homes for sale. Mortgage applications are at a 13 year high further pointing to buyer demand. Home mover activity looks set to continue in the near term but with predictions of rising unemployment, we are likely to see a dampening effect on activity and house prices in the medium term."
Halifax: "Overall we saw a broad continuation of recent trends with the market still predominantly being driven by home-mover demand for larger houses. Price inflation is underpinned by unusually high levels of demand, with latest industry figures showing home-buyer mortgage approvals at their highest level since 2007, as transaction levels continue to be supercharged by pent-up demand as a result of the spring/summer lockdown, as well as the Chancellor's waiver on stamp duty for properties up to £500,000. Though the renewed lockdown is set to be less restrictive than earlier this year, it bears out that the country's struggle with COVID-19 is far from over. With a number of clear headwinds facing the housing market, we expect to see greater downward pressure on house prices as we move into 2021."
Nationwide: "Annual house price growth rose to its highest level since January 2015. Data suggest that the economic recovery has lost momentum in recent months with economic growth slowing sharply in August. Labour market conditions also weakened with unemployment rising.  Nevertheless the housing market activity remained robust.  Mortgage approvals for house purchase climbed to the highest level since 2007.  The outlook remains highly uncertain and will depend heavily on how the pandemic and measures to contain it evolve as well as the efficacy of policy measures to limit the damage to the wider economy."
Rightmove:  "Despite the effective market closure between late March and mid-May, 2% more sales have been agreed so far this year than in the same period in 2019, so this is not just a release of delayed pent-up demand. There is new demand too, which is continuing at pace, although there are some signs of it easing slightly. Average time to sell of 50 days is quicker than ever before, leaving agents with more properties marked as sold than available for sale for the first time ever."
RICS: "The October 2020 RICS UK Residential Survey results point to another strong month for housing market activity across the country. Moreover, with current guidelines permitting the market to stay open during the second lockdown, respondents expect this latest upturn to continue over the near term. However, the longer term outlook for sales remains subdued, with the diffi cult economic backdrop expected to weigh on activity once govern
See previous House Price Watch reports and How we calculate the House Price Watch average
Sign up to our

FREE

weekly newsletter

for the latest news, advice and exclusive money saving offers