Oct 2018 House Price Watch
Annual house price growth slows to 1.9% — slowest rate of growth in nearly 5 years
The average rate of annual house price growth has slowed to (1.9%).  This is the slowest rate of average annual house price growth since March 2013.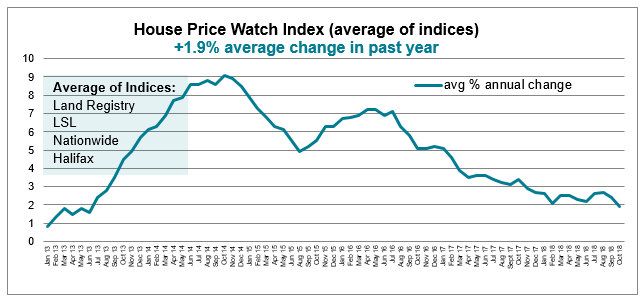 UK house prices are up on average 0.3% in the past month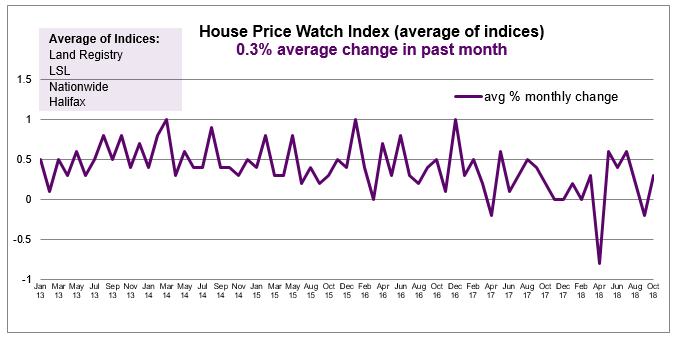 *Rightmove excluded from averages as basis for house prices is different to other indices – asking prices
The major indices report the following changes in monthly house prices:
Halifax (0.7%), LSL (0.4%) and Rightmove (0.9%) report a rise in house prices.  Land Registry (0%), Nationwide (0%) – stable house prices.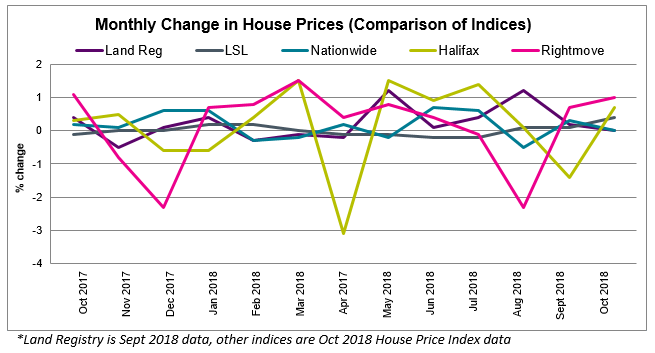 Annual house price growth highest in Midlands and Wales and lowest in London
Regions with the biggest annual rise in house prices include: The West Midlands (6.1%), East Midlands (6.0%) and Wales (5.8%). London is the only region to be experiencing falling house prices – down 0.3% over the past year.
Divided regional picture in terms of shifts to monthly changes in house prices
On the up this month include: West Midlands (+1.1%), East Midlands (1.1%), North East (+0.8%), Wales (0.5%) and South West (0.3%).  Down this month include: Yorkshire & Humber (-1.1%), North West (-0.8%), London (-0.4%), South East (-0.2%), East (-0.1%).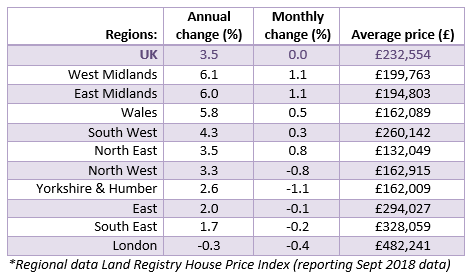 Home sales down 2.7% year on year
The seasonally adjusted estimate of the number of residential property transactions decreased by 0.5% between August 2018 and September 2018. This month's seasonally adjusted figure is 2.7% lower compared with the same month last year. (HMRC Seasonally adjusted residential property transactions)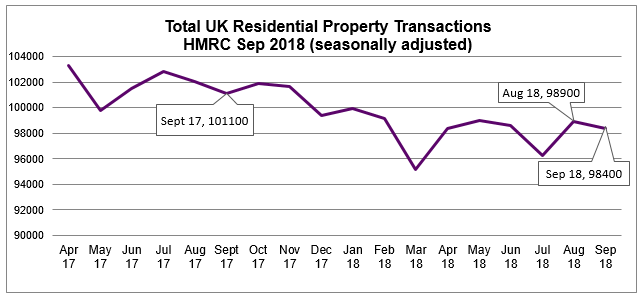 Further softening of buyer enquiries, alongside falling new instructions
Demand has fallen now for three successive months and most regions report a decline in new sales instructions.  Affordability pressures, political uncertainty and a lack of fresh homes available for sale are seen to be impeding overall activity.  Average stock levels on estate agent books remain close to an all-time low. (RICS Oct, 2018 UK Residential Market Survey)
Market commentary:
HomeOwners Alliance: "On a national level, all of the major indices report a slowdown in the annual rate of house price growth. The lowest level seen in close to five years. This has been mirrored by a slowdown in transactions in October – down 2.7% year on year.   Demand has stalled which is not surprising given the current climate of political and economic uncertainty. Still, there are pockets of the country where house prices are climbing rapidly – notably the Midlands and Wales."
RICS: "A sustained softening in demand over recent months has likely driven the weaker price trends in parts of the country.  Affordability pressures, political uncertainty and a lack of fresh stock coming onto the market all continue to hinder activity to varying degrees."
Halifax:  "The annual rate of house price growth has fallen to 1.5% in October, which is the lowest rate of annual growth since March 2013.  House prices continue to be supported by the fact that the supply of new homes and existing properties available for sale remains low.  Further house price support comes from an already high and improving employment rate and historically low mortgage rates which are creating higher rates of relative affordability."
Nationwide: "October saw a slowdown in annual house price growth to the lowest level since May 2013.  However, this was broadly in line with our expectations, as the squeeze on household budgets and the uncertain economic outlook is likely to have dampened demand, even though borrowing costs remain low by historic standards."
Rightmove:  "The annual rate of increase drops to 0.9%, the lowest annual rate since February 2012, which was the start of the price recovery that led to average new seller asking prices rising by over a third in less than seven years.  Stretched buyer affordability and a slowdown in price rises are the natural outcome of property prices increasing over the past seven years at a far faster pace than average wages."
To see how we calculate our House Price Watch click here and to see previous reports click here
Sign up to our

FREE

weekly newsletter

for the latest news, advice and exclusive money saving offers