May 2019 House Price Watch
House prices up on average 0.2% in the past month and up 1.9% in the past year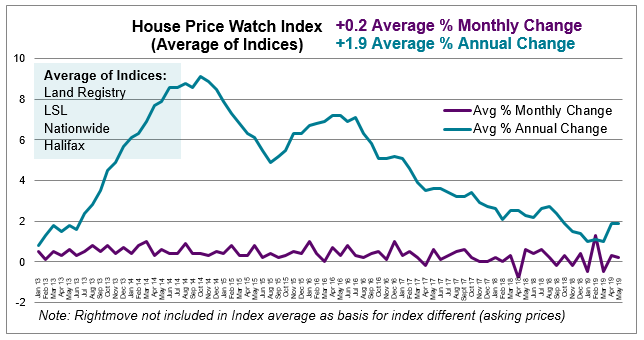 No major shifts in house prices from indices – rate of annual house price growth steady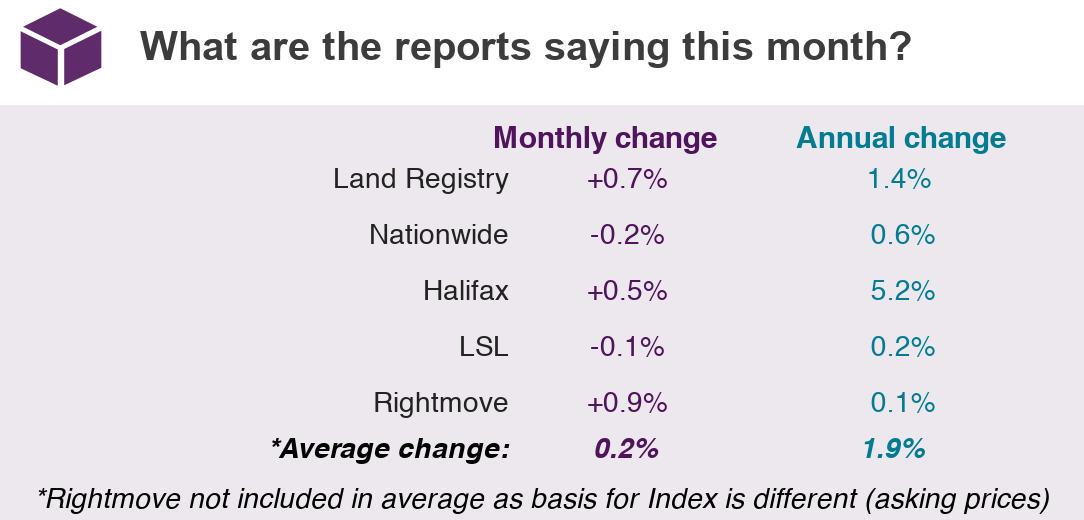 Most regions experienced an uplift in house price growth this past month
House prices are on the up this past month in: the North East (+5.0%), Wales (+2.4%), London (+2.4%), the East Midlands (+0.9%), the North West (+0.6%), Yorkshire & Humber (+0.3%) and the East of England (+0.3%).  House prices are down in: the West Midlands (-0.2%), South West (-0.1%) and South East (-0.1%).
Annual house price growth fastest in Wales and slowest in London and South East
House prices are up over the past year in all regions except London (-1.2%) and the South East (-0.8%).  The biggest annual rise is in Wales (+6.7%).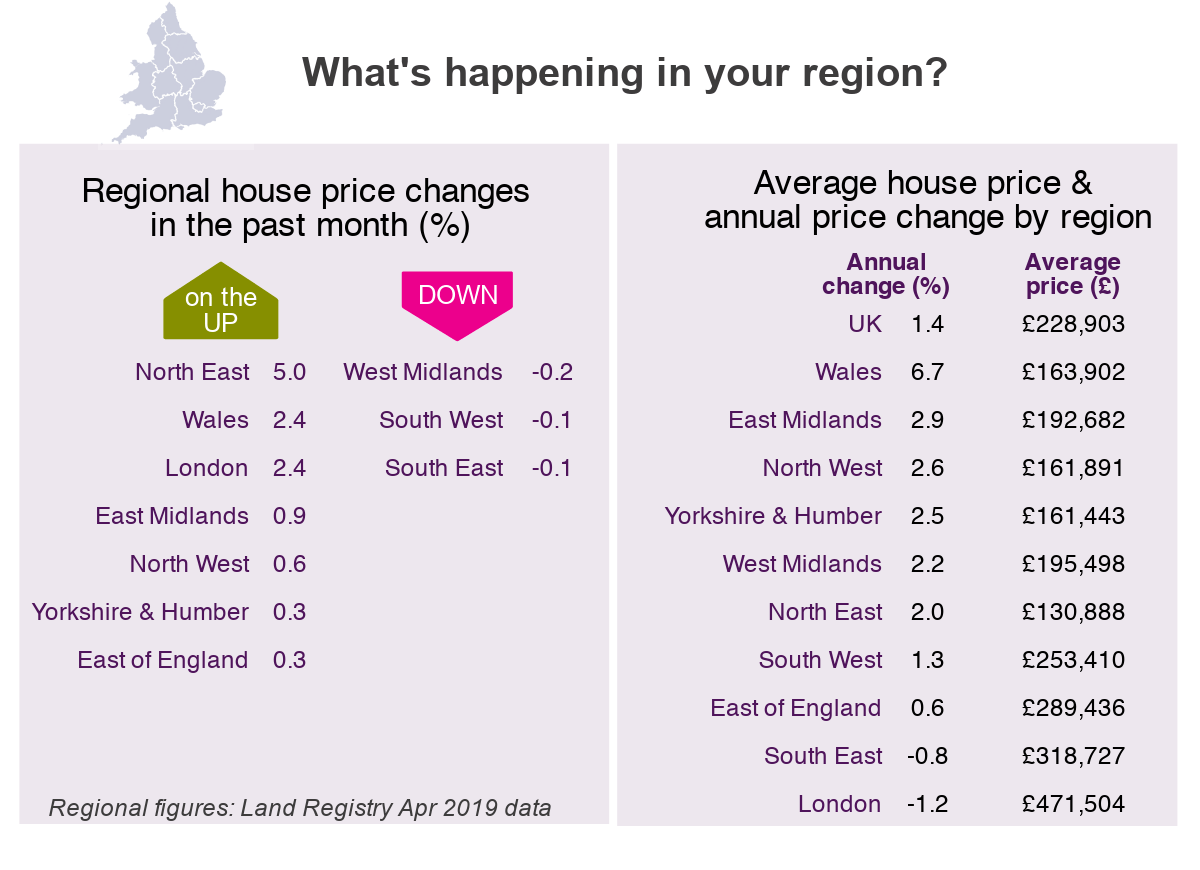 Buyer enquiries steady but seller instructions continue to fall
Buyer demand is steady in May. New instructions to sell declined yet again during May.  This is the eleventh consecutive month in which instructions have fallen. Price expectations remain negative for the country as a whole, although less so than in recent months. (RICS May 2019 UK Residential Market Survey).
What the indices say
HomeOwners Alliance: "We are seeing a stable picture with overall house price growth nationally. Buyer demand has also stabilised this month.  Regionally, there is a varied picture with annual house prices continuing to rise in many areas outside London and the South East. Wales, in particular, has had a steep climb in house prices over the past year."
Rightmove:  "Price increases are the norm at this time of year, with only one fall in the last ten years, as 'new to-the-market sellers' price aspirations are under-pinned by the higher buyer demand that is a feature of the spring market. Indeed the 0.9% monthly rise is consistent with the previous two years' average rise of 1.0% over the same period. What will seem inconsistent to some, given the ongoing uncertainty of the Brexit outcome, is that four out of eleven regions have hit record highs for new seller asking prices."
Nationwide: "Housing market trends are likely to continue to mirror developments in the broader economy. While healthy labour market conditions and low borrowing costs will provide underlying support, uncertainty is likely to continue to act as a drag on sentiment and activity, with price growth and transaction levels remaining close to current levels over the coming months."
Halifax: "We saw a slight increase in house prices between April and May, but the overall message is one of stability. Despite the ongoing political and economic uncertainty, underlying conditions in the broader economy continue to underpin the housing market, particularly the twin factors of high employment and low interest rates. This is supported by industry-wide figures which suggest no real change in the number of homes being sold month to month, while Bank of England data show the number of mortgages being approved rose by almost 6% in April, reversing the softness seen in the previous month."
RICS: "The results point to a slightly more stable picture coming through over the month. Indeed, new buyer enquiries held steady, while the negative trend in agreed sales, new instructions and prices diminished to a certain degree. Having said that, near term expectations are still a little downbeat, although sentiment on the twelve month outlook for both sales and prices still signals a modest recovery further out."
To see how we calculate our House Price Watch click here and to see previous reports click here
Sign up to our

FREE

weekly newsletter

for the latest news, advice and exclusive money saving offers