May 2018 House Price Watch
UK house prices fall on average 0.8% in the past month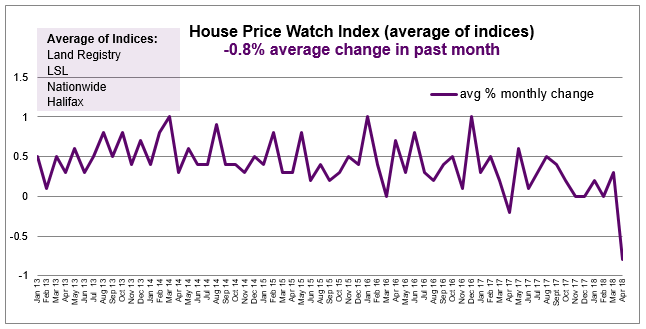 The average rate of annual house price growth remains at 2.5%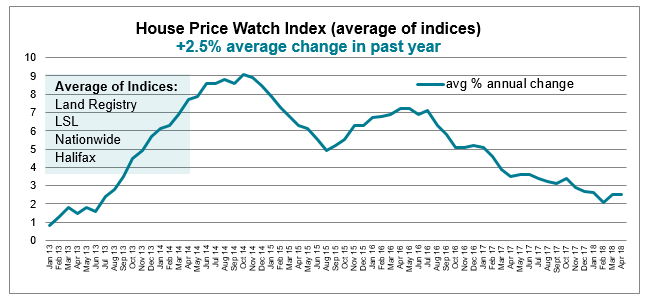 Most of the major indices report a fall in house prices
Halifax (-3.1%), Land Registry (-0.2%), LSL (-0.1%)
Nationwide (0.2%) and Rightmove (0.4%) report a rise in house prices
The average of the major indices indicates house prices have fallen over the past month (0.8%). The average rate of annual house price growth is steady (2.5%). (Rightmove is excluded from the average). Land Registry refers to March data. Other indices refer to April house price data.
House prices fall in most regions this month
All areas except the East of England had a fall in monthly house prices.
However, over the past year, house prices have risen everywhere except London (-0.7%).
House prices are rising fastest over the past 12 months in: East of England (5.8%), East Midlands (5.6%), North West (5.2%), West Midlands (5.1%) and South West (4.9%).
Home sales dip in March, pick up in April but remain softer than a year ago
UK home sales fell 2.7% between February and March 2018 to 96,800 but recovered in April. There were 100,190 residential transactions in April, up 3.5% on March. However, compared to April last year, sales are 2.7% lower. (Source: HMRC seasonally adjusted figures 22 May report)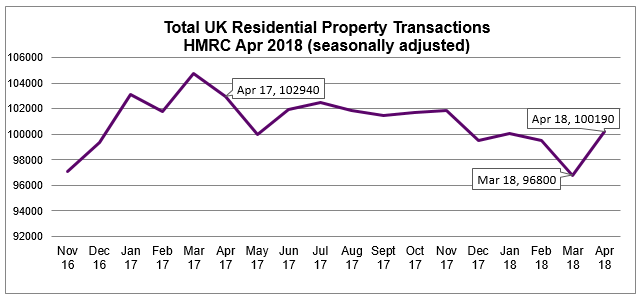 Stable buyer enquiries and falling instructions mean stock is tight
After 4 months of falling demand, the level of buyer enquiries held steady in April. New sales instructions continued to fall. Consequently, average stock levels on estate agents' books are at near record lows.
RICS reports the upper and middle priced tiers of the market are proving the most challenging. Three in four (74%) respondents (up from 56% in January) say sale prices are coming in below asking price for properties valued at between £500K and £1 million.  (Source: RICS residential market survey)
Market commentary:
HomeOwners Alliance: "The fall in house prices this month seems to reflect the cautious mood of buyers reluctant to pay over the odds for a property.  Recent figures suggest activity is picking up but that price sensitivity remains. In particular, certain parts of the country and properties above the £500K mark are more likely to be achieving sales below the asking price. With stable buyer demand and the number of homes for sale on estate agent books at near record lows, it is likely that the fall in house prices this month was a blip. We are likely to see house price growth resume in the months ahead."
RICS: "Steadier trend emerging for sales activity across the UK, with key indicators more stable relative to recent months. Nevertheless, prices continue to fall in some parts, with London and the South East in particular showing further weakness. Upper and middle priced tiers of the market (£500K+) are proving the most challenging. While near term indicators are generally flat for both sales and prices at the national level, twelve month expectations point to a modest pick-up further out."
Rightmove:  "In the more popular locations and for the property with the right specifications, buyer demand is helping to push prices higher. A lack of choice is nudging prices up to test the ceiling of what the market will pay. It's not rampant price inflation, and buyers can easily spot a speculative price and ignore a property that is out of line with others nearby, and is also likely to be out of kilter with their pocket."
Halifax:  "Housing demand has softened in the early months of 2018, with both mortgage approvals and completed home sales edging down. Housing supply – as measured by the stock of homes for sale and new instructions – is also still very low. However, the UK labour market is performing strongly with unemployment continuing to fall and wage growth finally picking up. These factors should help to ease pressure on household finances and as a result we expect annual price growth will remain in our forecast range 0-3% this year."
Nationwide: "Looking ahead, much will depend on how broader economic conditions evolve, especially in the labour market, but also with respect to interest rates. Subdued economic activity and the ongoing squeeze on household budgets is likely to continue to exert a modest drag on housing market activity and house price growth this year."
To see how we calculate our House Price Watch click here and to see previous reports click here
Sign up to our

FREE

weekly newsletter

for the latest news, advice and exclusive money saving offers