April 2021 House Price Watch
House prices up on average +1.8% this month and +8.5% this year
Record monthly rise and highest annual rate of house price growth in more than six years.
"Buyer demand surged this month with the stamp duty holiday extension, greater availability of low deposit mortgages and savings boost from lockdown. New listings are up but have not kept pace with the current level of demand, resulting in buyers competing for the few homes available to buy, pushing up house prices and reducing the time to sell. The current trend is set to continue in the near term until we see a greater supply of homes available for sale."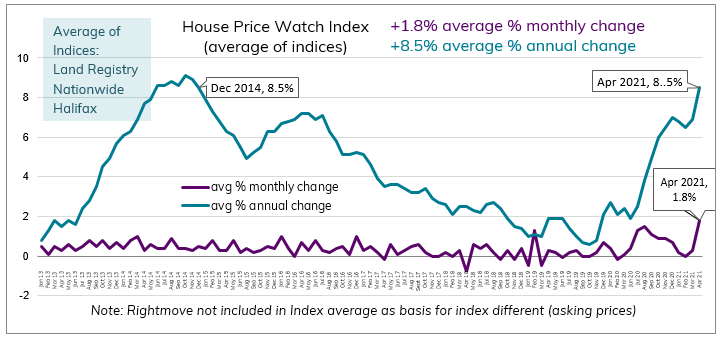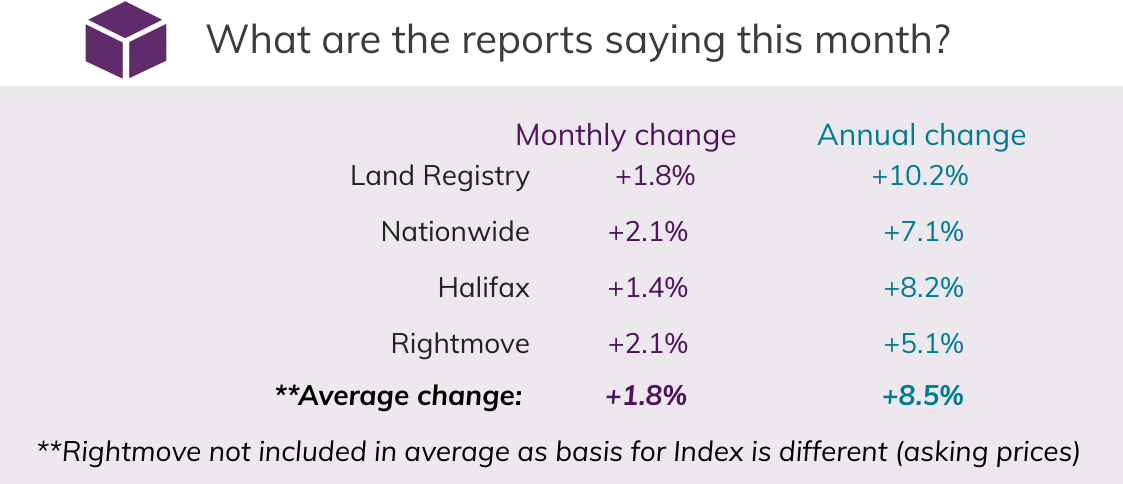 House prices in your area
Annual house prices are up in all regions with the biggest rises in the north of England: Yorkshire & Humber (+14.0%), North East (13.7%) and North West (+12.8%).
Shortage of homes for demand pushes house prices up and reduces time to sell
RICS reports that new buyer enquiries and new instructions from sellers are up this month, but the availability of fresh homes for sale is not enough to match current levels of demand.
Similarly, Rightmove say that the stock of homes available to buy is at an all time low resulting in a buying frenzy when homes come on the market.
The average days to sell of 45 days is a record low and with 23% of homes selling within a week, this is a record high. Two and three bedroom semi-detached homes are selling the fastest.
What the indices say
Halifax: "The stamp duty holiday continues to add impetus to an extremely active market, magnifying the shortage of available homes. The influence of the stamp duty holiday will fade over the coming months as it's tapered out but low stock levels, low interest rates and continued demand is likely to underpin prices. Savings built up over the months in lockdown have given some buyers more cash to invest in their dream properties, while the new mortgage guarantee scheme may have eased deposit constraints for some prospective homebuyers."
Rightmove:  "This is only the second time in five years prices have increased by over 2% in a month, so it's a big jump, especially bearing in mind lockdown restrictions are still limiting the population's movements. The stars have aligned for this spring price surge, with buyers' new space requirements being part of the constellation alongside cheap mortgages, stamp duty holiday extensions in England and Wales, government support for 95% mortgages and a shortage of suitable property to buy. There's also growing optimism due to the vaccination roll-out, helping to drive the momentum for a fresh start in fresh surroundings."
Nationwide: "Just as expectations of the end of the stamp duty holiday led to a slowdown in house price growth in March, so the extension of the stamp duty holiday in prompted a reacceleration in April. Housing market activity is likely to remain buoyant over the next six months as a result of the stamp duty extension and additional support for the labour market included in the Budget, especially given continued low borrowing costs and with many people motivated to move as a result of changing housing preferences in the wake of the pandemic."
RICS: "The April 2021 RICS UK Residential Survey results point to buyer demand remaining firm across the market, while the flow of properties being listed for sale has lost impetus of late. As a result, respondents frequently highlight this mismatch between supply and demand to be a critical factor in driving up house prices, with growth reportedly accelerating further across all parts of the UK."
See previous House Price Watch reports and How we calculate the House Price Watch average
Sign up to our

FREE

weekly newsletter

for the latest news, advice and exclusive money saving offers