What is Build to Rent?
Build to Rent are new build developments designed specifically for renting. They come with a range of perks from longer tenancies to a dedicated on-site manager and purpose built communal spaces, as well as a premium price tag. Here's everything you need to know about Build to Rent.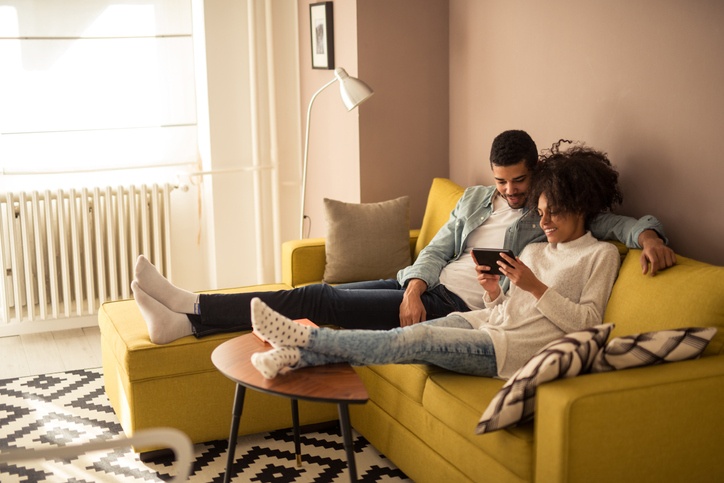 Renting comes with its issues. According to our 2019 Annual HomeOwners Survey conducted by YouGov, four in ten renters are stuck in cold, damp properties that their landlord's refuse to repair. Meanwhile 17% of renters are on short-term leases with no security that they will be able to live in their home for the long-term. While improvements to the rental sector are slowly trickling through, the issues highlighted in our research are likely to be a feature of a private rental sector for years to come. Buying a home addresses a lot of the insecurities and unattractive aspects of renting, that's not an option for everyone. So how can the relatively new trend of Build to Rent properties help?
What is Build to Rent?
Build to Rent describes new build apartment blocks that have been built specifically for renters. They have to include at least 50 homes and they are all owned and managed by one landlord.
They have been created to address many of the problems that renters face from short-term leases to unscrupulous landlords to sky-high fees.
The number of Built to Rents currently available is small – there are 20,800 across the UK – but it is a growing area. There are a further 118,000 under construction or in the planning stages. The British Property Federation predict that there will be 200,000 Build to Rent sites being developed within the next two years.
Given that there are an estimated five million rental properties in the UK, Build to Rent represents a very small percentage, but it is growing.
Can you afford to buy a home? See how much you can afford to borrow with our free online calculators
What are the benefits?
Here at the Homeowners Alliance our 2019 Annual HomeOwners Survey found renters face a litany of problems in the private rental market. Build to Rent could address a lot of these problems.
| Problems with renting | Benefits of Build to Rent |
| --- | --- |
| One in six renters are on short-term leases | Build to Rent homes have longer tenancy options of over three years |
| One in six renters say their rent was unfairly increased | The rent is clearly laid out including any basis for increase, which should be linked to a formula |
| More than a third of renters struggle to get their landlord to carry out essential repairs | Developments will be maintained by one landlord and must provide on-site management |
| Over a third of renters face high upfront charges for example for inventories or references | They don't charge up-front fees other than deposits and rents in advance |
The big benefit is having one landlord responsible for managing and operating the whole development. This should make it easier for tenants to get in touch with the landlord and get problems resolved quickly.
But, an added benefit is the landlord must have a complaints procedure in place and be a member of a recognised ombudsman scheme. This means if things do go wrong tenants should have a clear way to complain and get issues addressed.
Will Build to Rent make things better for renters?
Our research suggests the benefits of Build to Rent could be significant. Almost half of renters told us that paying no additional up-front fees beyond a deposit and rent advice would have a major positive impact on their rental experience.
On top of that, 40% said they would appreciate renting directly from a responsible company or housing provider rather than a private landlord or lettings agent.
Over a third said renting a high-quality home which complied with safety and energy efficiency standards would significantly improve their rental experience. That's hardly surprising when you consider that more than a third of renters can't currently get their landlords to perform basic repairs or provide them with a warm, dry home, according to our research.
The disadvantages
So, are there any disadvantages to Build to Rent? Yes. Firstly, there aren't enough developments and they are very concentrated in London at present. As of March 2019, there were 20,800 Build to Rent homes across the country, with 12,000 of those in London.
Secondly, you may not qualify to live in the existing Build to Rent developments. That's because many of the ones that are already built are targeted at specific demographics such as over 55s or young professionals or people with pets.
Finally, and most significantly, living in a Build to Rent property isn't cheap.
Is Build to Rent affordable?
All the benefits of Build to Rent don't come cheap. The extra facilities and services mean the average rent on these developments is higher than the norm. JLL's Build to Rent Report 2018 found that the average rent on a Build to Rent home was 9.3% higher than the average rent for the local area. In London Build to Rent homes cost an average 8.4% more than other rental homes.
With many offering communal workspaces, laundry services, concierge, event spaces and gyms it isn't surprising they can come at a premium. But this high-spec living is only likely to be affordable for high earning young professionals.
Paying a premium for your rent is going to make it even harder to save if you are hoping to one day buy your first home. If you are looking at rental but one day want to afford to buy, take a look at our saving for a deposit guide. Other government schemes (Rent to Buy and Shared Ownership  for example) may also enable you to get on the property ladder while renting.
Considering buying? see how much you can borrow and get mortgage advice today
Mortgage Finder
Get fee free mortgage advice from our partners at L&C. Use the online mortgage finder or speak to an advisor today.
Find a mortgage
Build to Rent developers
There are a number of Build to Rent developers. These include:
Dolphin Living
Essential
Fizzy Living
Get Living
JLL
The Collective
Tipi
Uncle
Homeviews.com reviews and rates properties built by Build to Rent developers. It's a great place to look to see what existing residents think of their place. They have named their top 5 Build to Rent developments with Dressage Court in Tower Hamlets, London coming in at number one. Dressage Court and Vantage Point (in North London) which takes third place are both built by Essential Living.
Meanwhile Fizzy Hayes in West London is in second place and Fizzy Stepney Green in fifth place. Both of these are, as the name suggests, built by Fizzy Living.
Unfortunately, there isn't a centralised hub where you can search for your local Build to Rent. Your best bet is to check out these developer's websites to see if they have anything in your local area.
Alternatively,  if you are looking at a rental property in a new development, you can use HomeViews.com to see verified reviews and ratings by current and former residents.
Living in a Build to Rent property? Let us know what you think in the comments box below!