Homeowners and masks: How the new rules affect you
After the relaxation of restrictions on Monday 19th July, what happens now when estate agents or tradespeople visit your home? 
July 19, 2021
4 minute read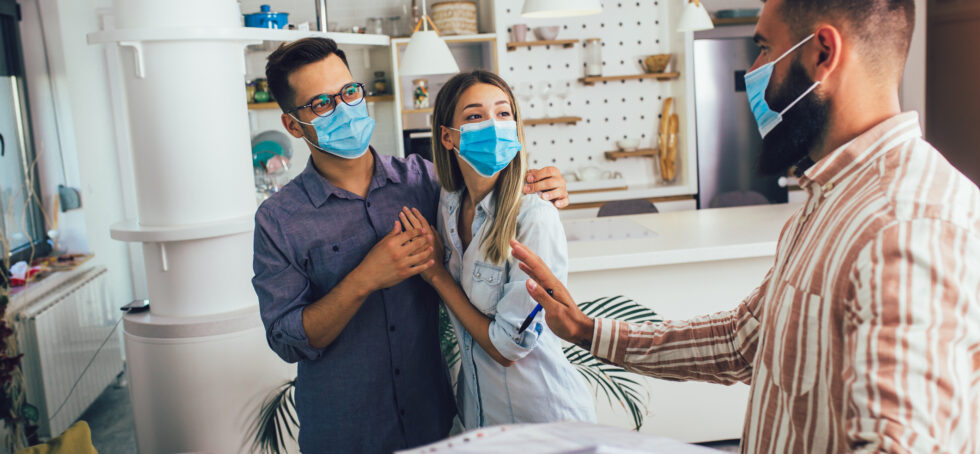 From Monday 19th July, people in England were no longer legally obliged to wear face coverings. However, the government's guidance says we'll still be expected to wear masks in some indoor settings.
So, if you are likely to have an estate agent, tradesperson or other people in your home, here's what you need to know
Will estate agents need to wear masks?
When you go into an estate agent's office or have one visiting your home, the estate agent will no longer be required by law to wear a mask. This applies to people viewing your home too.
But that doesn't mean they won't be wearing one; each agency will be able to decide its own policy. Industry body Propertymark has issued updated guidance to its members on the association's website. It says, 'face coverings will not be legally required but they are advisory for agents and clients. It is important that agents are sensitive to vulnerabilities and anxieties that clients and staff alike may have.'
And a recent survey by Property Industry Eye found 60% of estate agents in England will require face coverings for staff and visitors in branch. And 70% will require them for staff, homeowners and applicants while on valuations and viewings.
What if I don't want mask-free viewings in my home?
Ultimately, it's your home so if you don't want people entering it without a mask, that's your choice. But you may risk losing out on potential buyers if you exclude certain people from viewing it.
The best course of action is always to have a conversation with your estate agent. If it's the estate agency staff that don't plan to wear masks, then express your concerns directly with them. If they know this is important to you and it may be a dealbreaker, they may agree in order to secure your business. And if it's people wanting to view your home who don't want to wear masks, it's a good idea to ask your estate agent to have a chat with them. You may find they're happy to wear one if they know you're anxious about it. Estate agents are in the business of selling houses so it's likely they'll be keen to find a workable solution.
What about builders and other tradespeople?
Similarly, as the legal obligation on masks have been lifted, builders won't need to wear them. However, the government says its advice on working safely during coronavirus, last updated on 14th July, still stands. In its section on construction and other outdoor work, it repeats its message that the 'government expects and recommends that people continue to wear face coverings in crowded, enclosed spaces.' And within the guidance there is a section relating to 'working in other people's homes'.
In terms of construction, these include recommending that builders:
Should communicate with households before any visits, to discuss how the work will be carried out to reduce risk for all parties.
Shouldn't carry out work in households that are isolating because one or more family members has symptoms, unless you're remedying a direct risk to the safety of the household or the public.
When you're working in a household where somebody is clinically vulnerable, make prior arrangements to avoid any face-to-face contact.
It also lists various factors to consider. These include taking breaks outside where possible and limiting the number of workers within a confined space.
Find a local tradesperson with Checkatrade
How do I broach the subject of masks with property professionals?
Again, it's your home, it's up to you to decide on what you're comfortable with. Indeed you may be medically vulnerable in which case you are being advised by government to take extra precautions. So don't be afraid to address this with the property professional visiting your home.
Whether you're having your home decorated or your washing machine fixed, or if you've got a surveyor visiting as part of selling your home, make sure you have a conversation up front.
HomeOwners Alliance Chief executive Paula Higgins says, 'We don't expect property professionals will object to wearing a mask inside if requested.
'The majority of people working in the housing sector are professional, customer-service orientated and aware of the disruption they may cause working in the home. Putting on a mask if asked is a common courtesy, alongside removing dirty shoes at the door or tidying up after themselves at the end of a day.
'The key is to address your concerns in advance to make sure there is no misunderstanding once work has started.'
Have you been worried about people visiting your home without a mask? How easy did you find resolving your concerns? Let us know below.
Sign up to our

FREE

weekly newsletter

for the latest news, advice and exclusive money saving offers